Scaramucci Says the GameStop Saga Is Positive for Bitcoin:
(Bloomberg) The growing number of retail traders sidestepping Wall Street to power rallies in stocks like GameStop Inc. points to a positive backdrop for Bitcoin, according to SkyBridge Capital's Anthony Scaramucci.
That's because the phenomenon exemplifies financial decentralization, the guiding idea behind Bitcoin, he said. Smartphones and low-cost trading are "democratizing" the formerly insular and highly concentrated business of money management, he added. SkyBridge has an overall Bitcoin exposure of around $385 million.
"The activity in GameStop is more proof of concept that Bitcoin is going to work," Scaramucci said in an interview. "How are you going to beat that decentralized crowd? That to me is more affirmation about decentralized finance."
Bitcoin, which has more than tripled in the past year, is underpinned by a digital ledger distributed across computer networks rather than a central authority. Proponents argue it's emerging as an alternative to gold for investors seeking to hedge risks such as faster inflation. Critics see a speculative mania reminiscent of Bitcoin's boom and bust three years ago.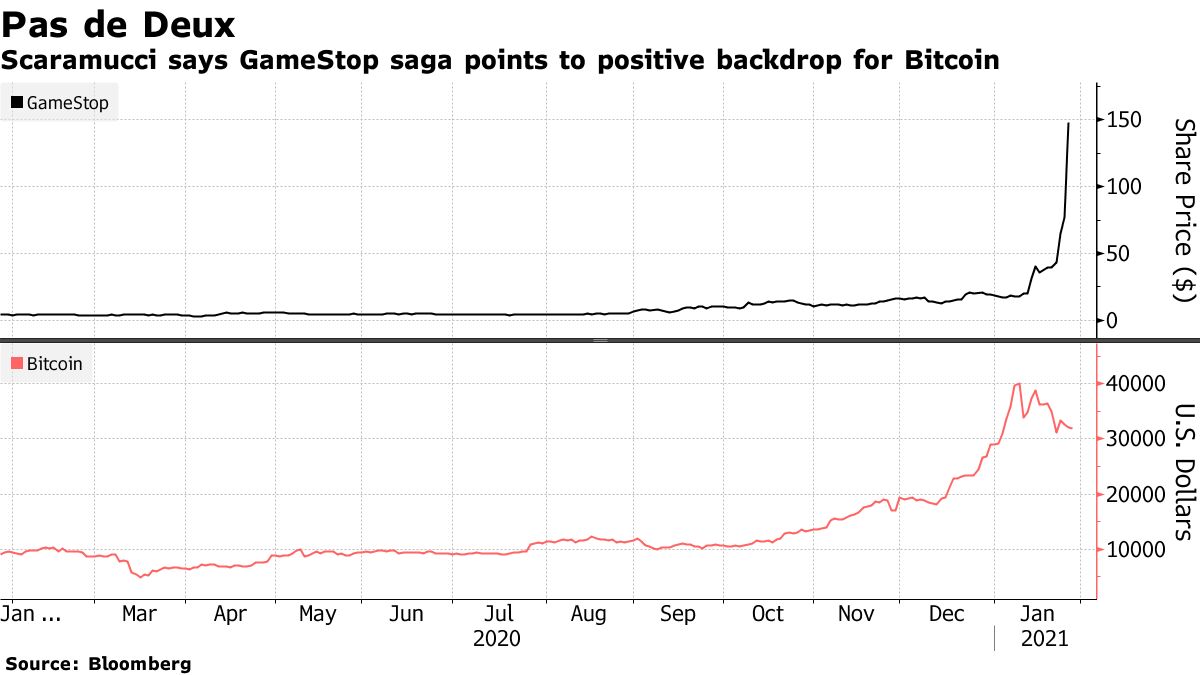 The recently launched SkyBridge Bitcoin Fund LP now has about $60 million, according to Scaramucci, a longtime financier who served briefly as White House Director of Communications under Donald Trump in July 2017. The cryptocurrency reached a record in early January of almost $42,000, then Wednesday crossed back below $30,000. It was down 7.7% to $29,554 as of 10 a.m. in New York on Wednesday.
"It's the age of the micro investor and you better take it seriously, otherwise you'll get taken to the cleaners," Scaramucci said.