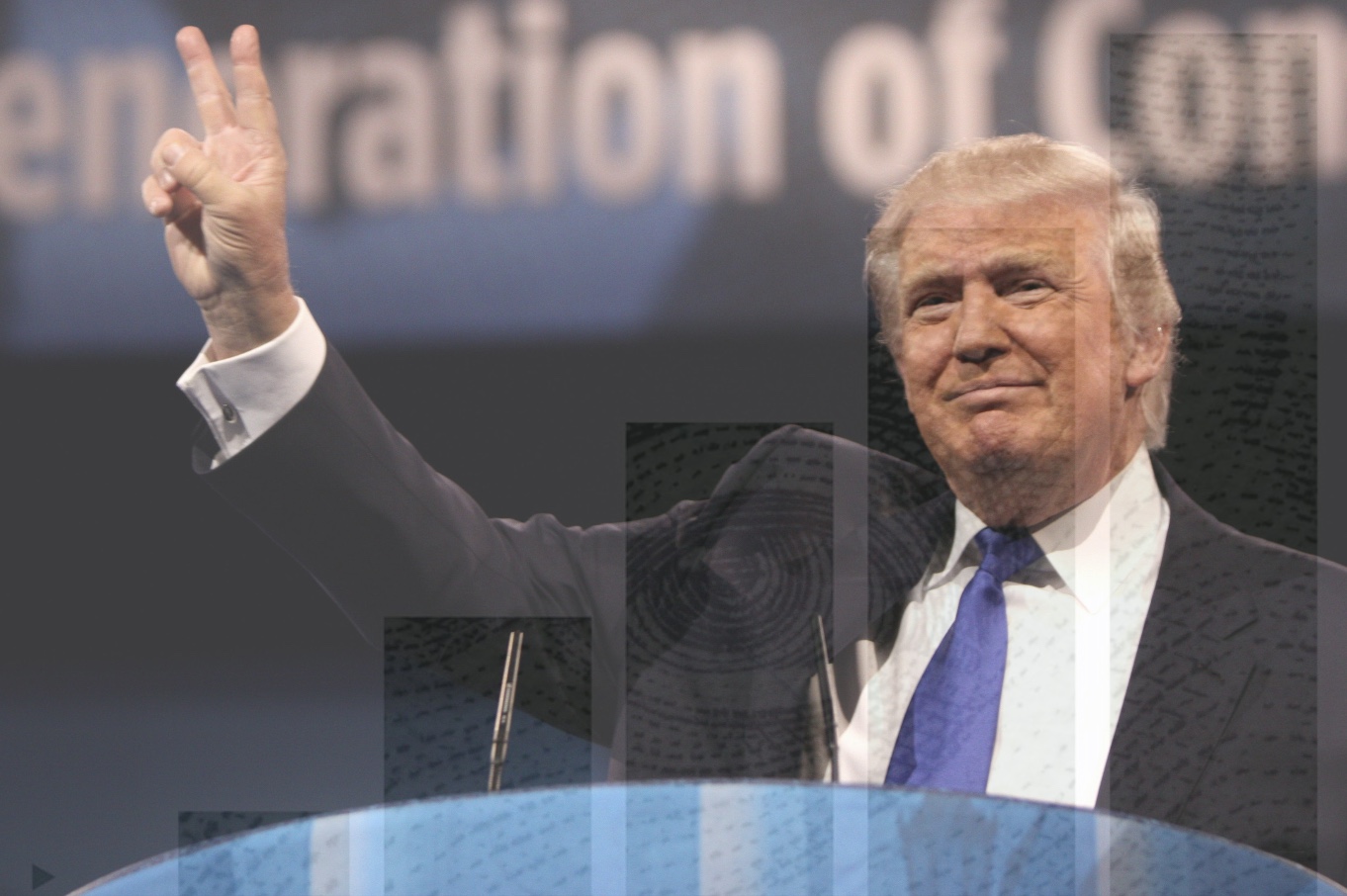 Source: Pixabay, Market Rebellion
Stock ownership used to be a key part of how Donald Trump managed his fortune. Ahead of his 2016 presidential campaign, Trump disclosed that he had sold all shares of individual companies in June of the same year to prevent any potential conflict of interest. Now that Trump is free from his elective duties, we assume that the self-proclaimed champion of capitalism is back at it again. 
Among some of the companies Trump sold in 2016 were big banks like JPMorgan (JPM), tech giants like Apple (AAPL) and Microsoft (MSFT), household names like PepsiCo (PEP) and many more. However, this was during a period where Trump's stock choices were managed by JPMorgan. It's a different world now — over the past six years, Trump has found many new allies and burned several bridges, and we imagine that's reflected in Donald Trump's stock ownership. 
We asked some of our analysts which stocks they think Donald Trump holds these days, and they came up with these five…
Ready to start trading the technicals? Try Rebel Weekly. Ride the waves of market momentum with two actionable trade ideas designed to capture technical break outs and break downs — delivered to your inbox every week.
Palantir (PLTR)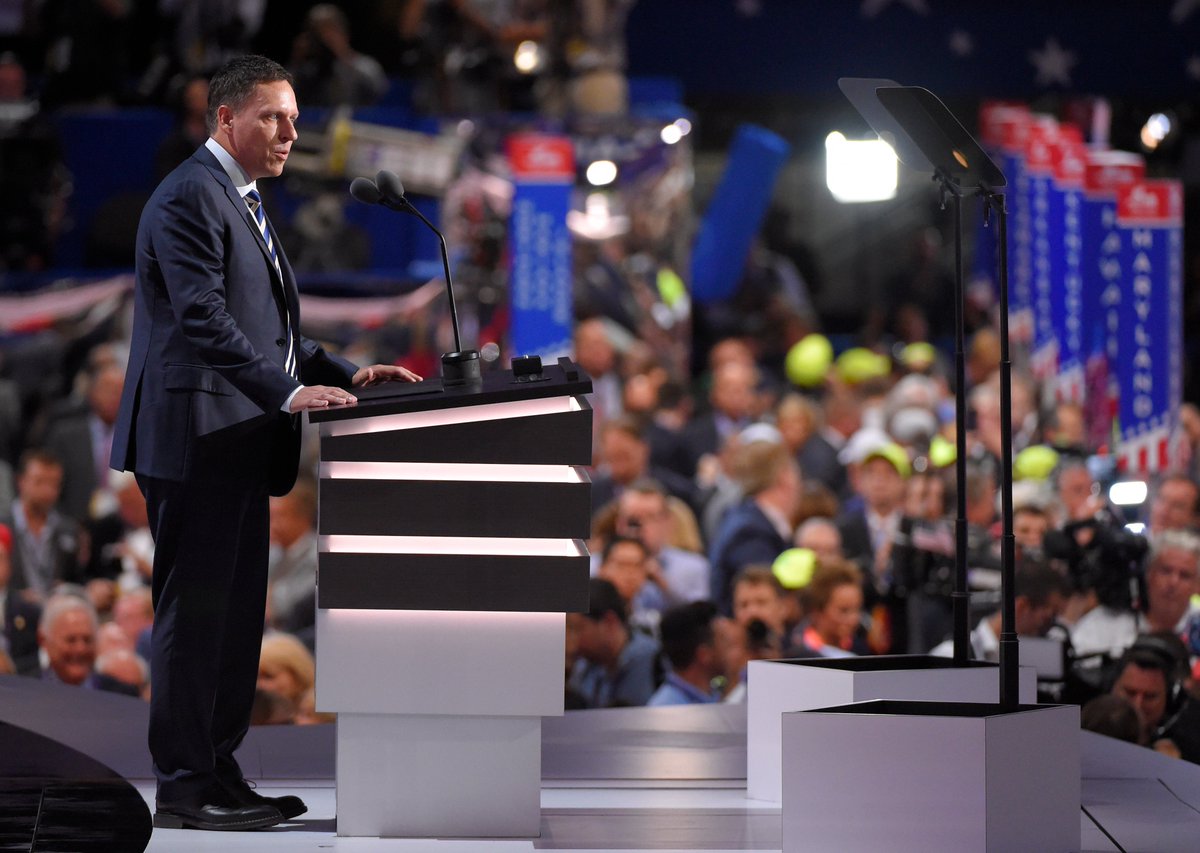 Peter Thiel, Palantir's co-founder Peter Thiel, speaking at the 2016 RNC in support of Trump. Source: Wikimedia Commons
Palantir's billionaire co-founder Peter Thiel is no stranger to voicing his political opinions. In 2016 he supported Donald Trump in his presidential campaign. Thiel's company, data-analytics giant Palantir, received numerous government contracts under Trump's presidential tenure. 
Thiel is one of Silicon Valley's only outspoken Trump supporters, so it makes sense that Donald Trump would want to own a piece of his friend and supporter's company. Additionally, we know the "deal-maker" would love the deep discount on shares of Palantir relative to its price when he was in office.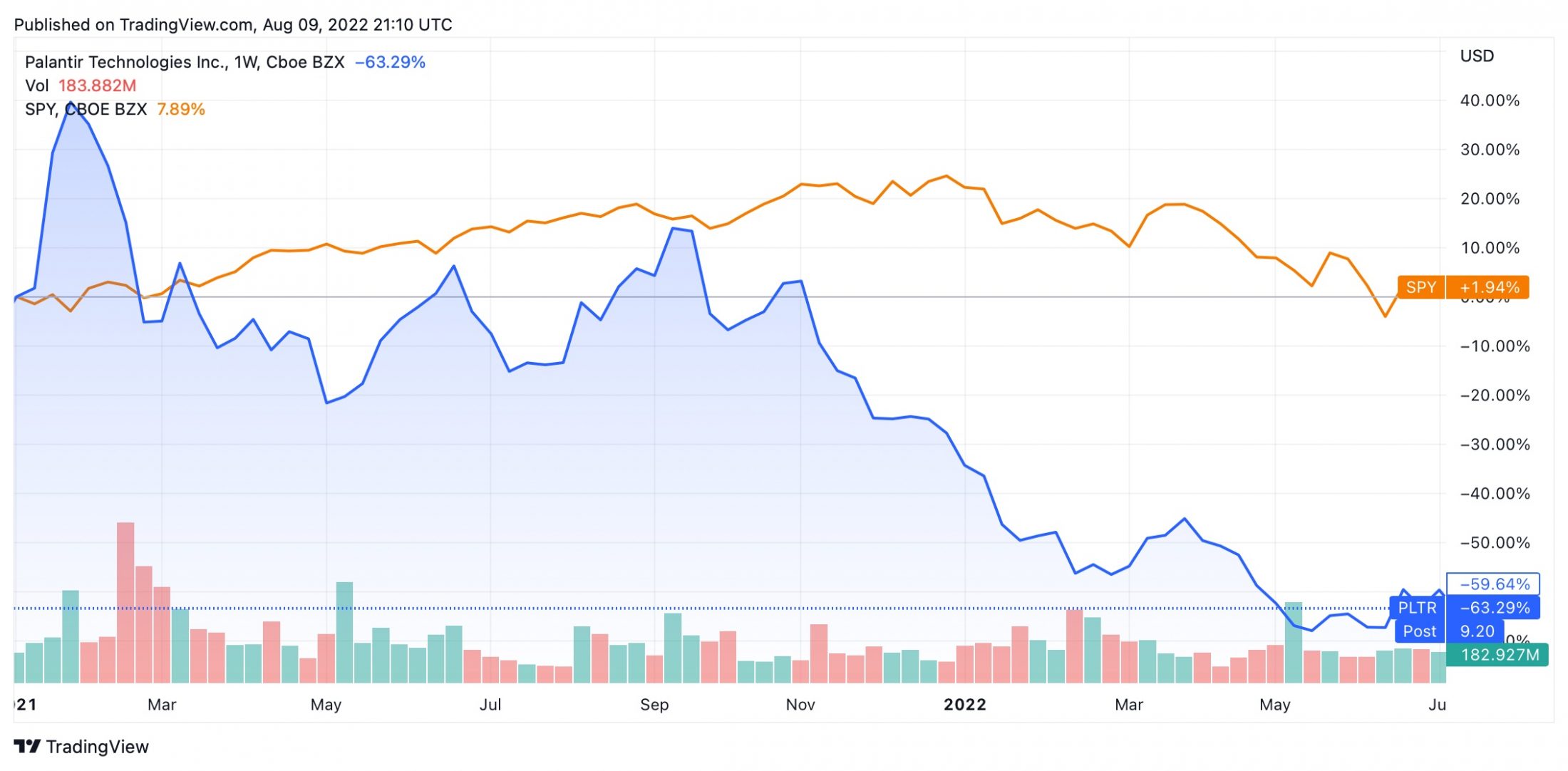 Source: TradingView
Ready to start trading? Try Unusual Option Activity Essential. Learn how you can follow the "smart money" with a fresh UOA trade idea each week – including technical levels so that you know where to enter and exit!
Coke (KO)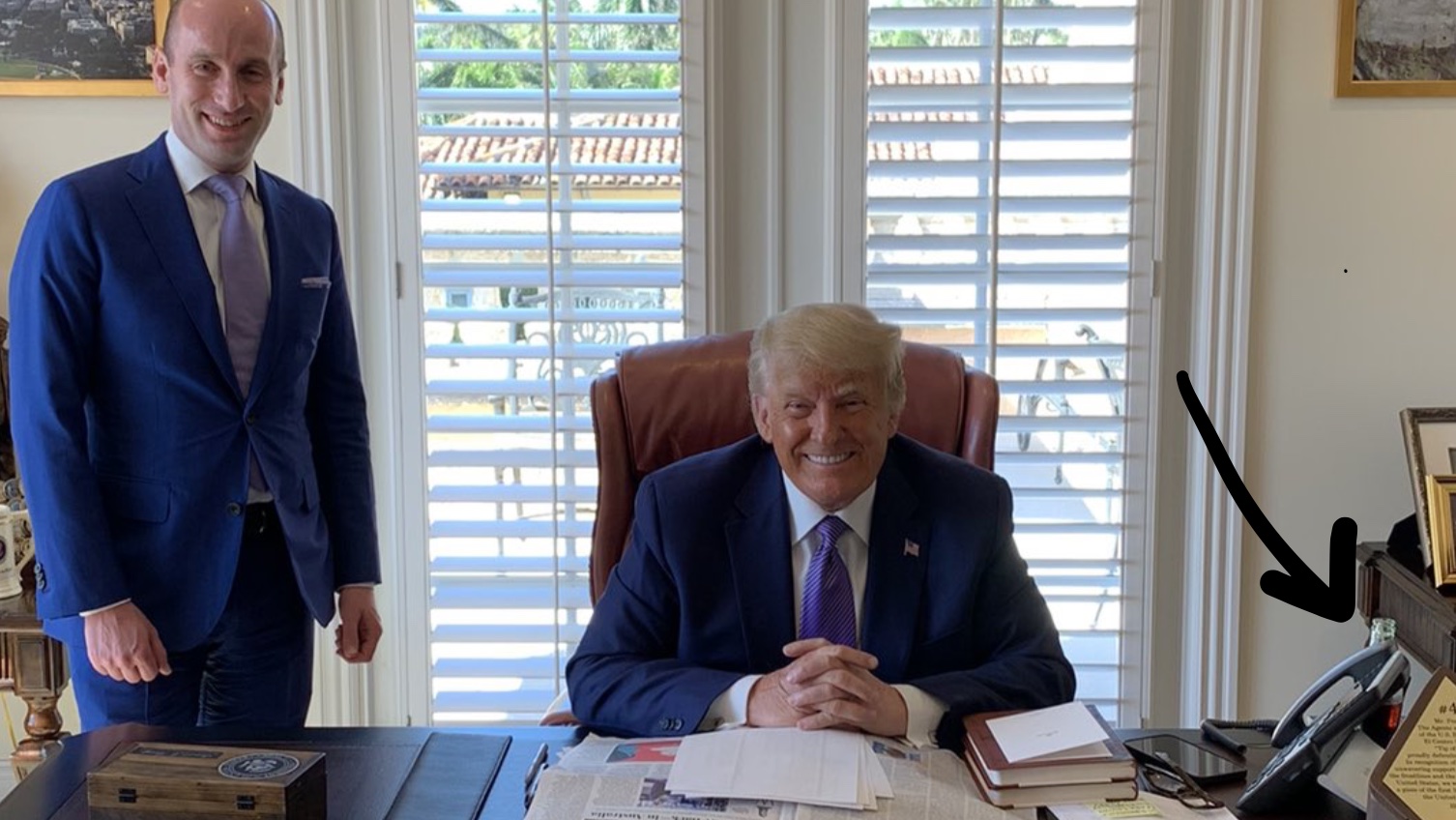 Photo-op taken with ex-Trump Aide Stephen Miller inside Trump's office. Notice the bottle of Diet Coke hidden behind the phone. Source: Twitter, @StephenM
Diet Coke was part of Former President Donald Trump's daily routine, with sources close to him stating that he regularly drinks 12 Cokes per day! (Coke (KO) is also one of legendary investor Warren Buffett's favorite stocks.) 
Based on Donald Trump's previous holdings in several value names including Pepsi (PEP), we think it's likely that Trump is invested in his favorite soft drink, Coke (KO). That wouldn't be such a bad move, either. Coke (KO) is one of the few stocks that is higher year-over-year, and is outperforming the S&P 500 on a YTD basis by more than 20 percentage-points.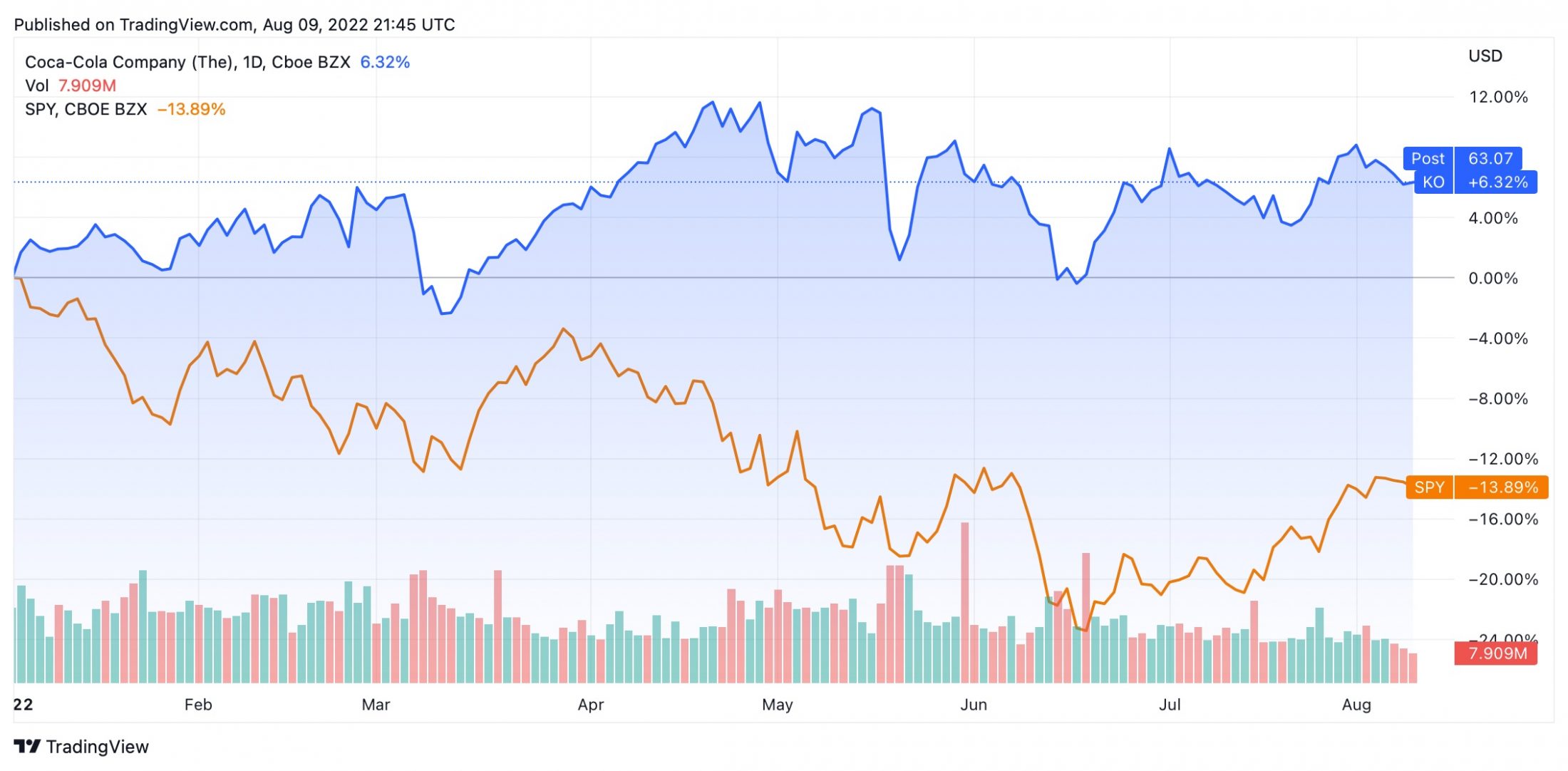 Source: TradingView
Truth Social (DWAC)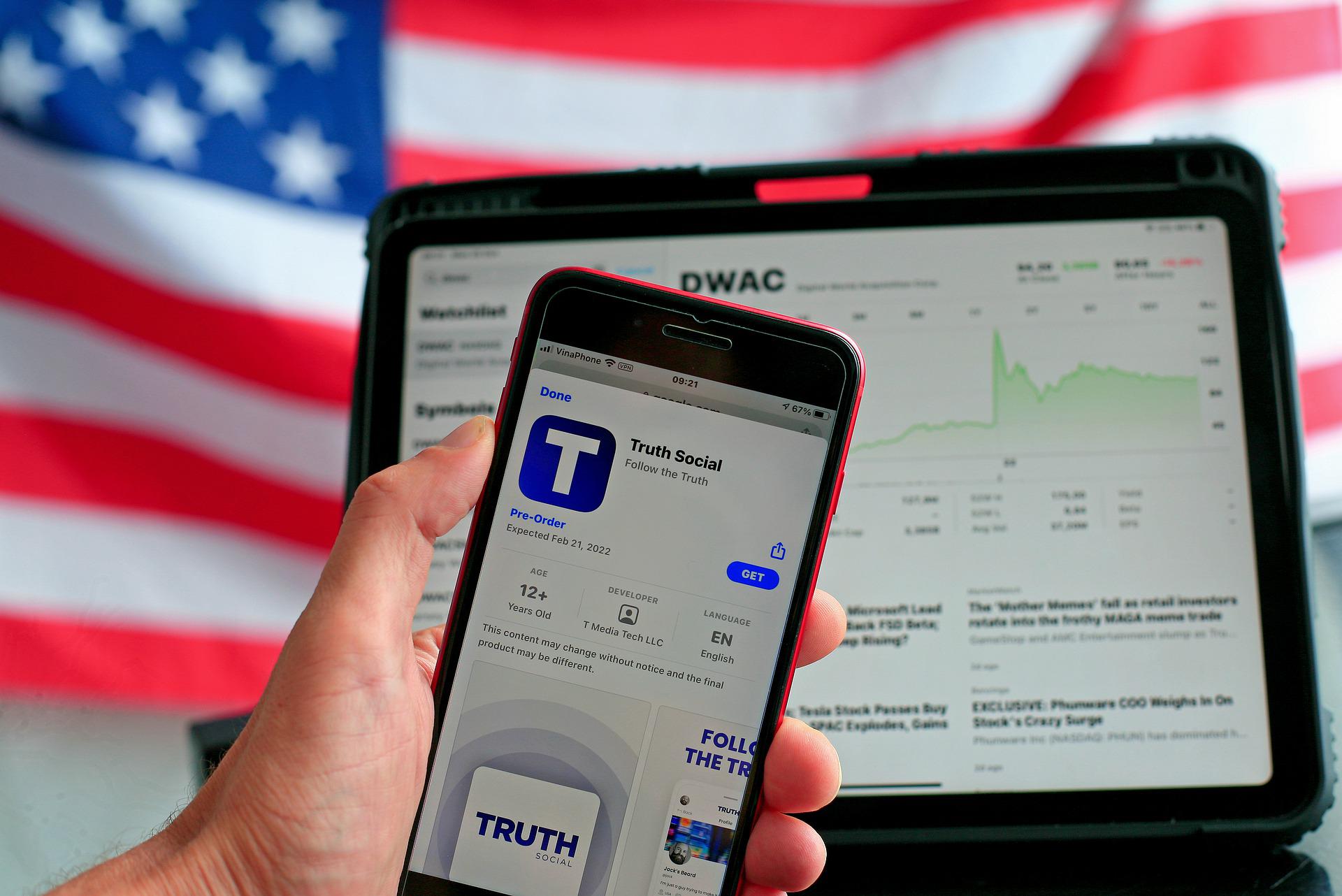 Source: Pixabay
In 2022, all of Trump's communications (including his most recent statement regarding the raid on his Mar-a-Lago residence, which saw FBI agents break into Trump's privately-owned safe) have been filtered through his own social media network, Truth Social. While it has been alleged that Trump left the board in July of 2022, that's an allegation that Truth Social vehemently denies. The social media network said in a statement: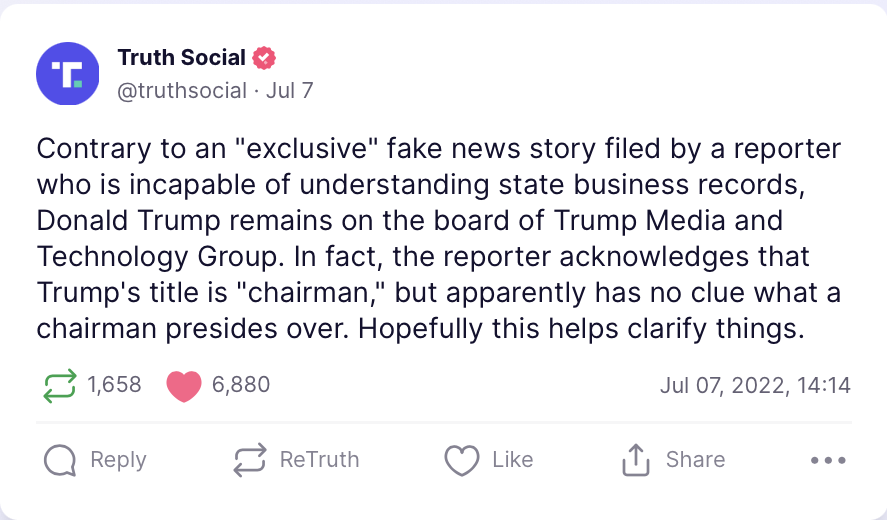 Source: Truthsocial.com
Originally a SPAC, DWAC has seen a high amount of volatility since it declared its interest in merging with Trump's Truth Social — spiking as high as $175 on the initial announcement. It has since fallen back down to earth, trading at $30.00 at the time of writing, however DWAC is still handily outperforming the S&P 500 since IPO.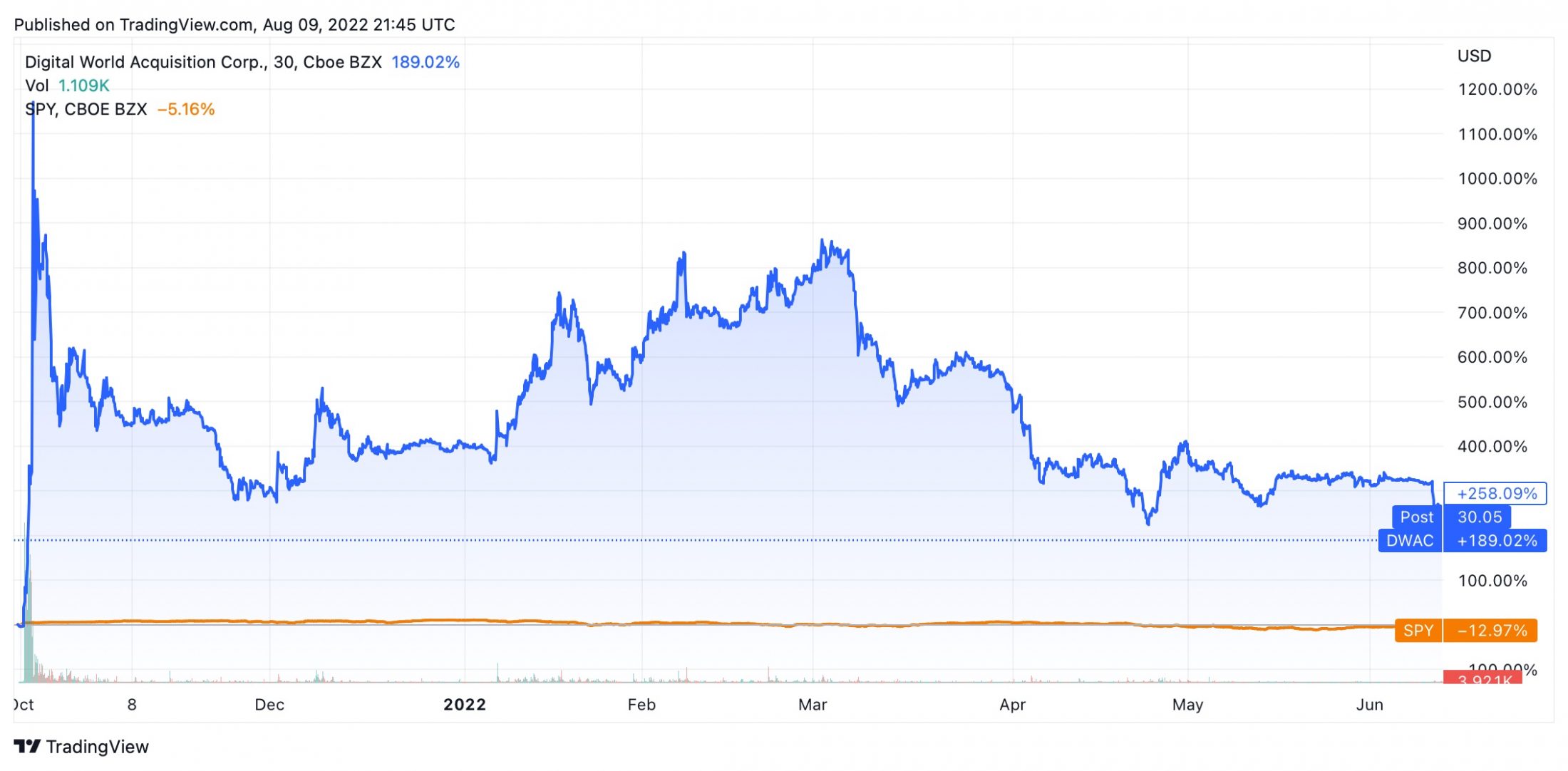 Source: TradingView
Of all the stocks that Trump could own, DWAC is by far the most likely candidate. It isn't just about his persistent use of the platform as both a method of addressing his supporters, or the fact that he is seemingly still working as Chairman of Truth Social's board, or even the fact that Truth Social is now the home for Trump's newest campaign-style videos. It's about the fact that, to Trump followers, DWAC is the literal stock market embodiment of the 45th President of the United States. It's highly unlikely that Trump could resist owning something so closely representative of himself. That's why Truth Social (DWAC) takes the number one spot on our list of stocks that Trump is most likely to own in 2022. 
Honorable Mention: Twitter & Tesla

Source: WikiMedia Commons
If you asked us in 2017 what Trump's top stock pick would be, we probably would have said Twitter (TWTR). The Former President frequently used Twitter to energize his base, sometimes tweeting several-hundred times in a single day. Even in the post-Twitter-ban era, when it looked like Elon Musk was preparing to buy Twitter, news that Trump could be welcomed back onto the platform was immediately headline worthy — and evoked a positive response from the Former President. Before that, Trump likened Musk to Thomas Edison, calling him one of America's "great geniuses" — during the Trump presidency, that was reflected in the form of numerous subsidies and bills that positively effected Tesla.
However, after a twitter spree from Elon in which he said that he would support Ron Desantis rather than Trump if he were asked to choose an ideal 2024 candidate, a feud erupted between the two.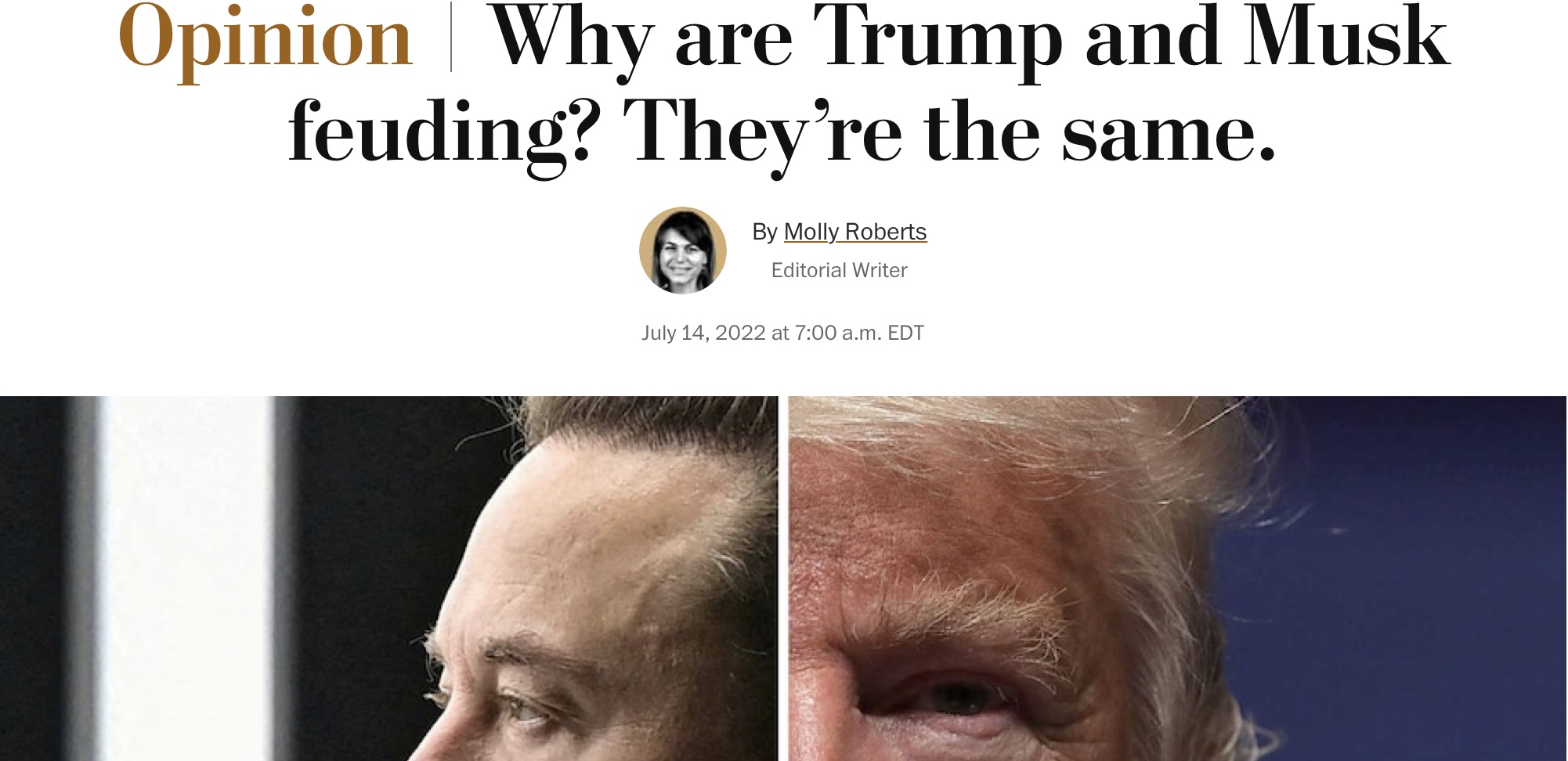 Source: Washington Post
Trump spoke at a rally following Elon's tweet, calling Elon Musk a "bull**** artist", and saying that Musk would have "dropped to his knees and begged" if Trump asked. The two continued to trade barbs for days, going back and forth on on their respective social media accounts.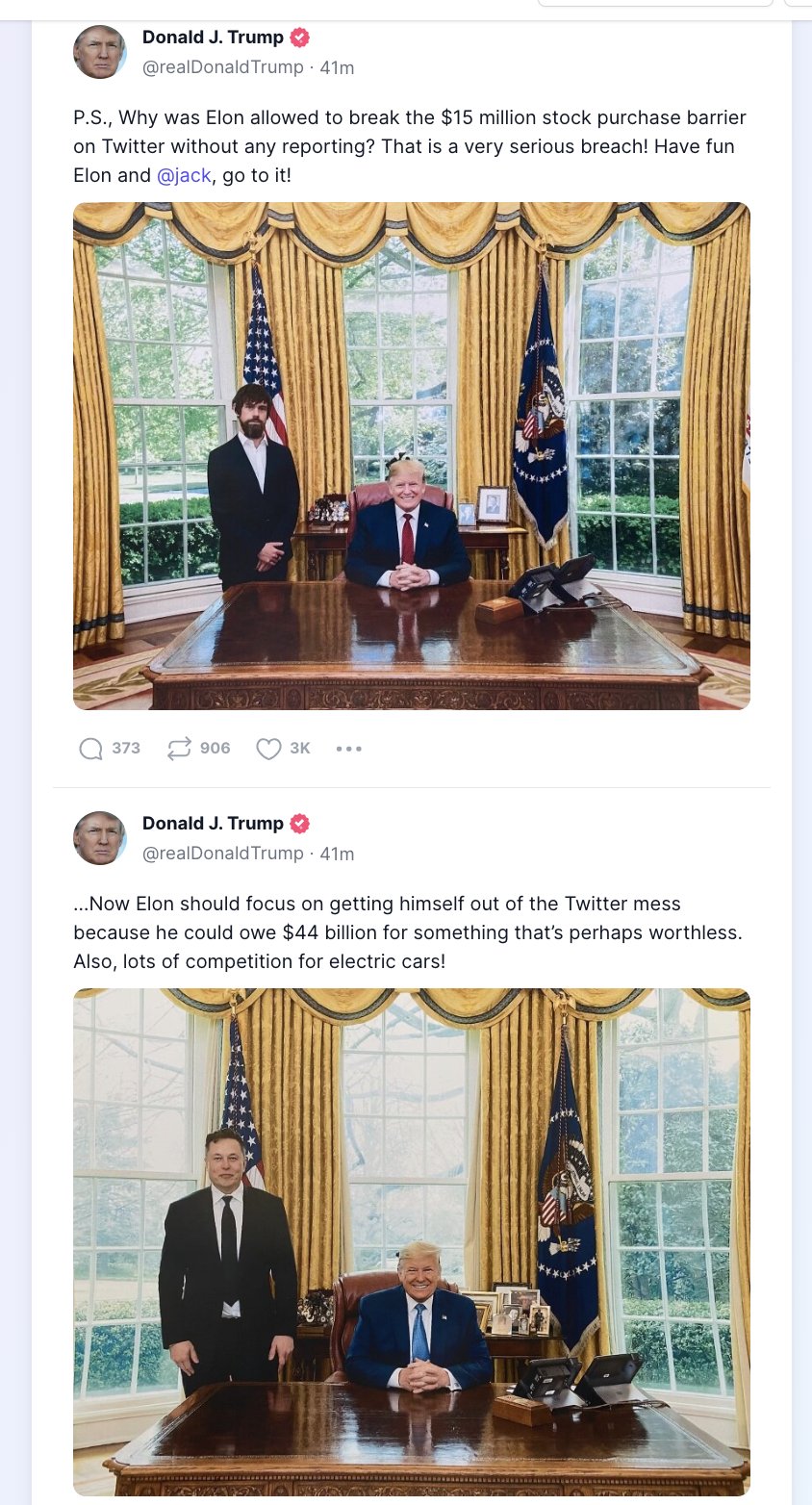 Source: TruthSocial, @realdonaldtrump
But it's important to note: anything can change. Musk has said he is likely to vote Republican in 2024, and if Trump is the candidate that Republicans choose, Elon's outlook on Trump could change in kind. If that happens, it's likely Trump will need every venue he can get access to — including Twitter — to aide his re-election campaign. So it's possible that if things shake up the right way, Trump could see himself supporting Twitter — and even Tesla — once more. After all, Donald Trump and Elon Musk have a lot in common.
They're both businessmen with loyal followings. Media moguls who rely heavily on their social media presence. Trump loves American-made products and American-based businesses — and Musk's Tesla fits the bill. Likewise, having Trump back on Twitter is probably the best move (from a business and traffic perspective) that Musk can arrange for the social media company — if he ends up being forced to buy the platform. If Trump is as sentient of these possibilities as we are, it's possible that he's still keeping a close eye on Twitter and Tesla — you never know.