Good morning Rebels! Futures are down following July, otherwise known as the "best month for stocks since 2020"! Meanwhile treasury yields are up to start the month, an indicator that "we're in a recession!" sentiment is backing off — though the 2/10 yield curve is still inverted, which is often considered a sign of an impending recession.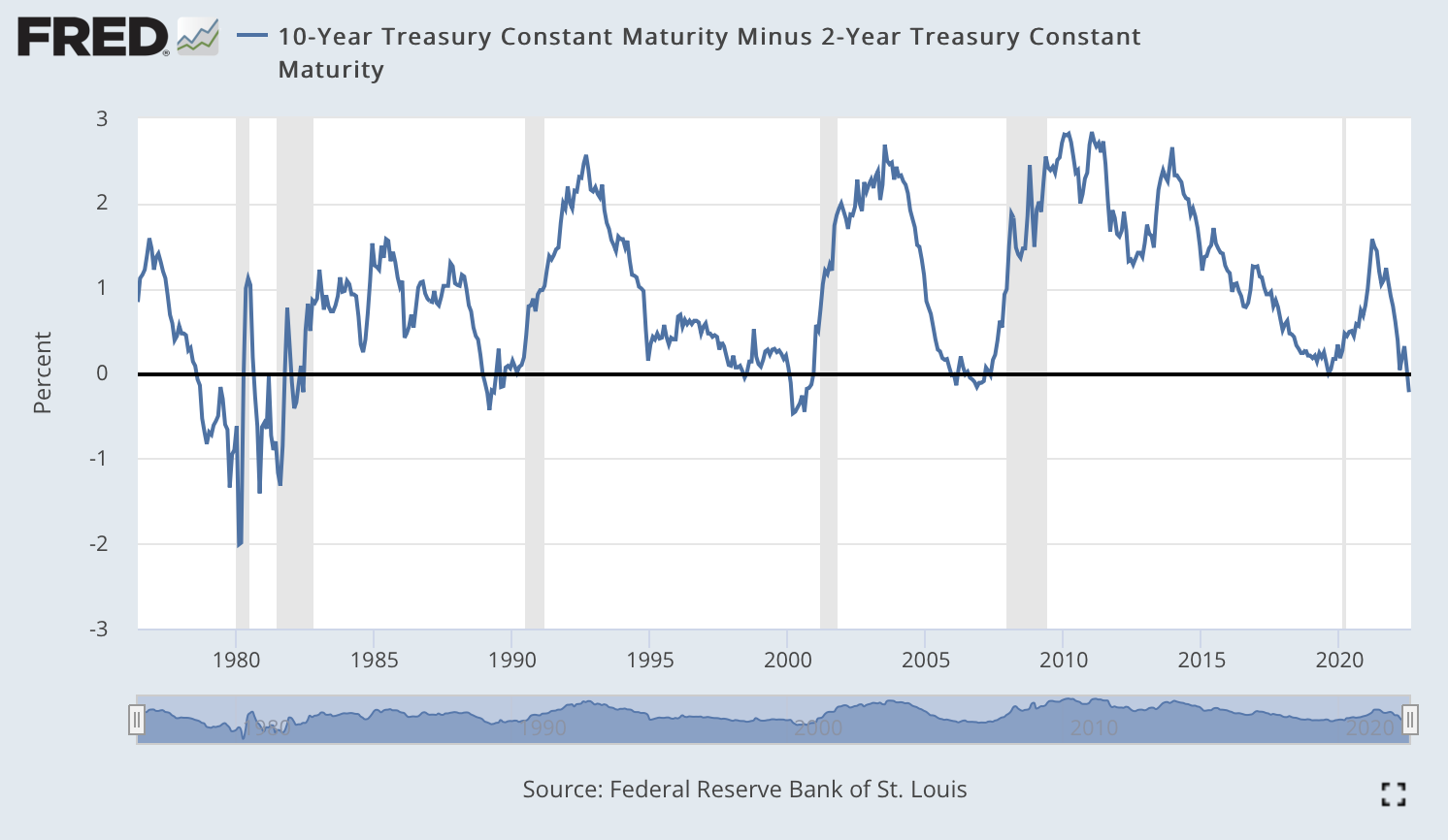 Not nearly as bad as the 1980's, though. Source: Federal Reserve Bank of St. Louis
This comes as Neel Kashkari (Federal Reserve Bank of Minneapolis president) spoke to CBS' Face the Nation with the typical Fed talking points, like, 
"We're going to do everything we can to avoid a recession, but we are committed to bringing inflation down, and we are going to do what we need to do."
Yawn. We know that already. Did this need an interview? The interview was read by many headlines as relatively hawkish, with Kashkari seemingly implying that it didn't matter if the US went into a recession, as fighting inflation comes first. Of course, it does matter if the US enters recession, and the Fed absolutely does care — but that's not what you tell CBS' Face the Nation. 
On the end of the "that's ridiculous" scale… Here's Peter Schiff
It's likely that the U.S. economy will never be in a #recession again. If we no longer have an objective standard to define one, government will always be able to find some excuse to claim the economy isn't in one. Ironically, we're not in a recession now. We're in a #depression.

— Peter Schiff (@PeterSchiff) July 29, 2022
Our 1930's ancestors would be scoffing at us for calling this a depression.
Gold-investor, economist, and "guy who has called 200 of the last 3 recession" Peter Schiff says the US is currently in a depression. For context, Peter Schiff has been calling for the downfall of everything but gold for many, many years. All the while, the S&P 500 has handily outperformed gold. 
Another Busy Week, August 1-5 Earnings List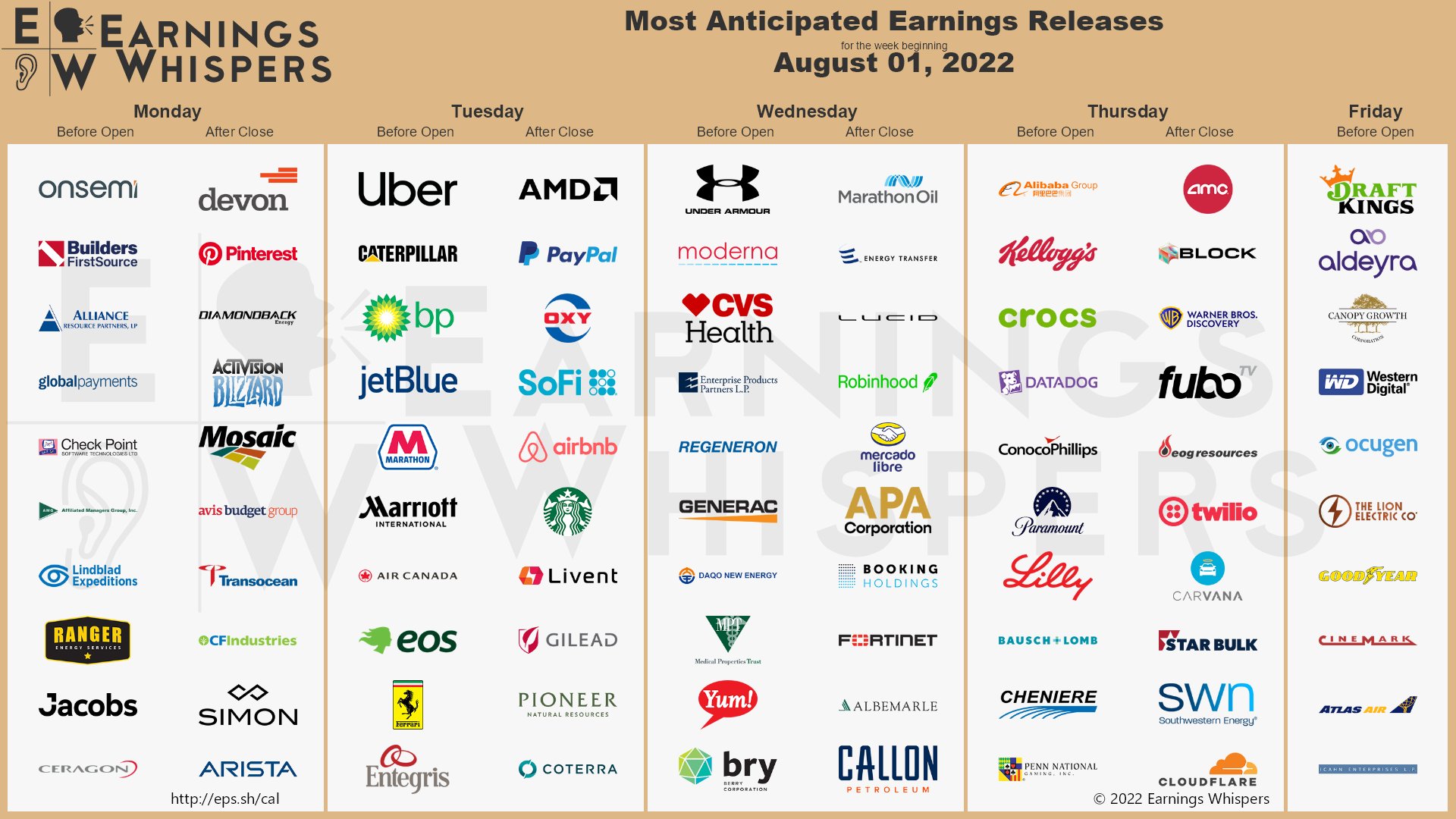 That's a lot of growth stocks. Source: Earnings Whispers
This morning saw On Semiconductor (ON) report a top and bottom line earnings beat. ON also issued a guidance raise on EPS and revenue for Q3. This kicks off another important week of earnings, which will see names like Pinterest (PINS), Uber (UBER), JetBlue (JBLU), Airbnb (ABNB), SoFi, AMD, Starbucks (SBUX), Paypal (PYPL), Alibaba (BABA), Datadog (DDOG), and more report. It'll be interesting to see if the market allots the same room for forgiveness to these companies that they did to FAANG companies last week.
More Brief Market Headlines for Monday, August 1st
Boeing (BA) will resume deliveries of 787 Dreamliner — BA is up 3.8% in the premarket.

Nio (NIO) will open its first plant outside of China (Hungary) this September — NIO is up 1.2% in the premarket.

Alibaba (BABA) says it will do everything it can to remain listed on the NYSE following recent de-listing concerns. BABA is down 0.6% in the premarket.

Valvoline (VVV) sells its global products business to Saudi Aramco — VVV is up 2.4% in the premarket.

EVO Payments is acquired by competitor Global Payments for $34 per share — EVOP is up more than 20% in the premarket on the news.

Nikola (NKLA) to buy battery pack supplier Romeo Power for $144M. NKLA is down 2.6% in the premarket.

For more quick takes on this morning's market-moving news, check out 60 Seconds With Jon Najarian!
https://twitter.com/jonnajarian/status/1554094769353248768