Beyond Meat Fails to Meet Expectations

Shares of Beyond Meat (BYND) are trading lower by -3.6%  on the back of an earnings disappointment trifecta: a miss on EPS, revenue, and guidance.
Revenue: $147.0M vs $151M Expected

Adjusted EPS: -$1.53 vs: -$1.18 Expected

Adjusted Ebitda: -$69M vs -61M Expected

Gross margin of

negative

$6.2 million – meaning their cost of goods sold is more than their revenue. 

Cutting global workforce by 4%

Full Year 2022 Revenue Guidance: Revised

down

to $470M-$520M (+1-12%) vs $560M-$600M (+21-29%) Expected
Or as one twitter user put it: 
The guys at $BYND put the "Gross" in gross margins https://t.co/bODekXgkYH

— Kingdom Capital (@kingdomcapadv) August 4, 2022
If you want to save the cows, eat some vegetables. Otherwise, with all that sodium you may as well just eat a real burger. 
Block Gets Blocked

Shares of Block (Formerly Square, SQ) are trading lower by -7.5% after beating EPS and revenue estimates. The drawback: Bitcoin.
Unlike Tesla, Block elected to hold their Bitcoin through the massive Q2 drop, resulting in a Bitcoin-related revenue loss of $36 million dollars.If you look past that though, things look pretty good.
Revenue: $4.4B vs $4.3B Expected

EPS: $0.18 vs $0.16 Expected

Cash App generated $1.79B in Bitcoin transactions and $41M in gross profit, down 34% and 24% YoY, respectively.

DASH Dashes Higher

DoorDash on Thursday reported continued growth in Q2, saying that its food-delivery business remains healthy despite economic uncertainty.
Revenue: $1.61B vs $1.52B Expected

EPS: -$0.30 vs -$0.39 Expected

Full year 2022 Revenue: $51-$53B vs $49-51B Previous

Adjusted EBITDA $200-$500M vs $0-500M Previous

Total Orders: 426M, +23% y/y
"Low current levels of penetration suggest a large opportunity for growth if we execute well."
Doordash's CEO said, optimistically.
The stock is currently higher by 6.5%, after briefly trading higher by up to 17% in the after hours on Thursday. 
Cloudflare Earnings Surpasses All Expectations and Guides Up

If you live in the year 2022, you know that cyberthreats aren't going anywhere. If you disagree, you should talk to the President of Taiwan. Cloudflare earnings was able to ride this trend to its full potential this quarter, beating expectations on every metric and guiding up on revenue.
Revenue: $234.5M vs $227.4M Expected

Adjusted EPS: $0 vs -$0.01 Expected 

Operating income: -$0.9 vs -$1.3 Expected

Operating margin: -0.4% -0.6% Expected

Q3 2022 revenue guidance: $251M vs $247M Expected

Full Year 2022 revenue guidance: $970M vs $958M Expected
As expected, shares of Cloudflare are soaring by 16.72%. That's a lot, but still less than the 24% that they were up during yesterday's after hours session.
AMC Posts Lukewarm Earnings, Raises Money With APEs



Revenue: $1.17B vs $1.16B Expected

EPS: -$0.20 vs -$0.19 Expected

Attendance 59M vs. 39M in Q1

U.S. markets attendance 43.5M vs. 25.7M in Q1

International markets attendance 15.6M vs. 13.3M in Q.

Average screens 10,148 vs. 10,099 in 1Q22
AMC is trading lower by 8.79%.
Well, this is a new one. AMC plans to issue a dividend in the form of shares under the ticker symbol "APE". The shares will carry the same voting rights as the existing shares, and shares of APE will be listed on the NYSE. 
On the topic, CEO Adam Aron said: 
"In addition to releasing today our handsomely improving second quarter 2022 earnings, we also broke out the 3-D chess board and got creative. A big move that addresses so many of your asks. TODAY…WE…POUNCE. […] Shareholders will receive one AMC Preferred Equity unit for each company issued share of AMC common stock that they own."
Ultimately, this is really just a creative way to raise more cash and sell more shares (which is basically AMC's side gig at this point) without having to lobby shareholders for another share dilution – something that they handily voted down last quarter. While AMC is currently issuing 517M shares of APE, they have approved the additional sale of up to 4.5B APE. 
"This new AMC Preferred Equity gives AMC a currency that can be used in the future to strengthen our balance sheet," said the CEO.
In other words…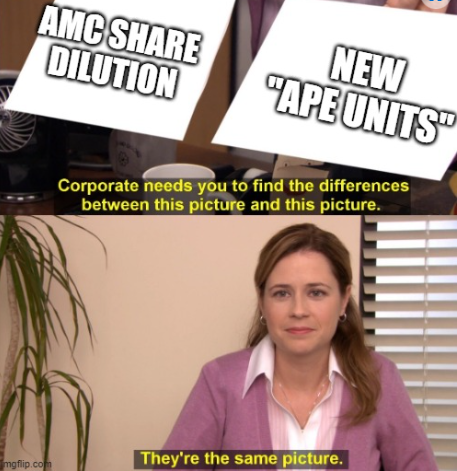 Source: Imgflip.com
Shares of APE will start trading on August 22nd.
Ready to start trading the technicals? Try Rebel Weekly. Ride the waves of market momentum with two actionable trade ideas designed to capture technical break outs and break downs — delivered to your inbox every week.