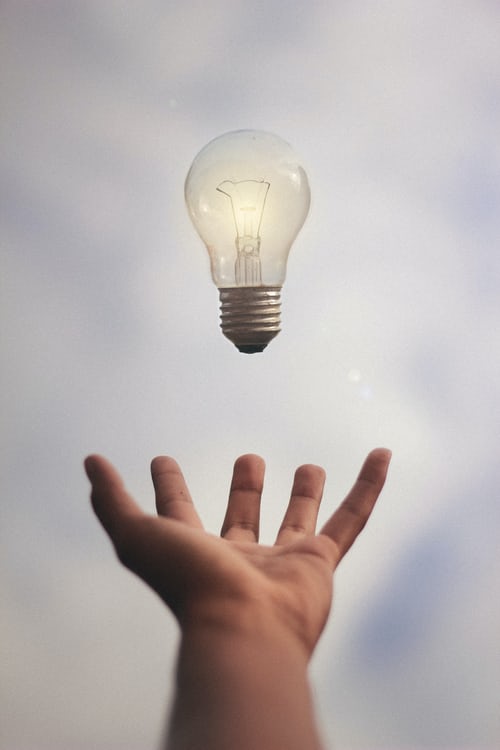 Jon and Pete Najarian are known for unusual options activity. But few people understand how they uncover UOA in the first place.
Their secret is a computer algorithm called Heat Seeker®. It's proprietary software that scans every options trade to find trades placed by individuals who seem to know things the rest of us don't.
In a nutshell, Heat Seeker gives Jon and Pete the opportunity to ride the coattails of the smart money. After all, why wouldn't they follow in the footsteps of someone who might know of upcoming news or be accumulating a massive position in the stock?
Luckily for the average retail trader, Market Rebellion analysts share the same unusual options activity with our subscribers. They do so by breaking down the options order flow and presenting the information in easily consumable trade ideas for you to consider.
Each service has its own characteristics. Let's dig into some of the specifics.
Unusual Option Activity Essential
Looking to get your feet wet in the world of unusual options activity? UOA Essential could be a great place to start. It's an entry-level service that will introduce you with the core concepts of unusual options activity.
UOA Essential gives subscribers a new trade idea each week. Chief Options Strategist Ryan Mastro and Options Analyst Wayne Razzi analyze the order flow identified by Heat Seeker to determine if a particular trade checks all the boxes for UOA. If they think it could be a good opportunity to deploy a trade of your own, they'll send out a trade alert.
For instance, here's a trade idea posted on October 12 following unusual options activity in Plug Power ($PLUG) and Mosaic Co ($MOS):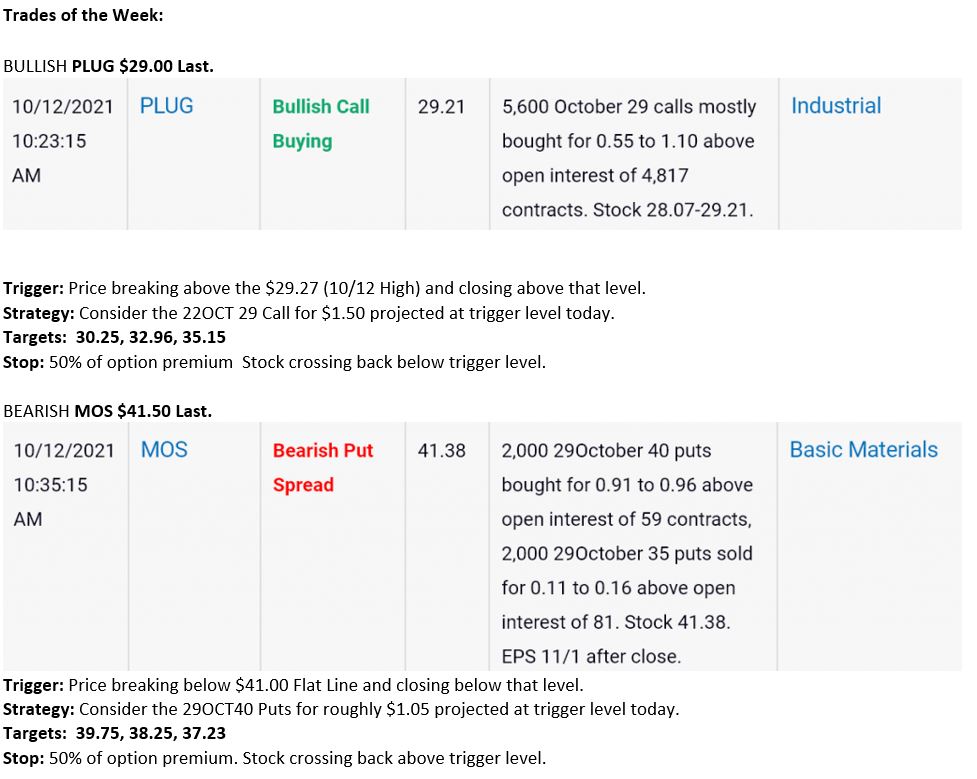 As you can see, Ryan and Wayne share the unusual activity and present members with a potential strategy to consider. For the PLUG idea, they give a trigger level they feel will be a comfortable area to enter a similar trade, while also providing a specific strike price to consider. In this example, it was the PLUG 22 OCT $29 call for $1.50. As of October 15 at noon CT, that call was trading at $2.93 — a 95% return on risk at present.
In fairness, the MOS trade, if taken, did not work out as well. The price closed below $41, on October 13, however closed above the $41 trigger level on October 14. That should have taken traders out of the trade if managed as Ryan and Wayne suggest by the "Stop" recommendation. At present, the MOS $40 OCT 29 put is trading at $0.55 mid-price. A technical stop, as Ryan suggests, at a break above $41 would have saved traders additional losses that have been incurred since.
Even so, equally sized (with 1.4 MOS contracts per each 1 PLUG contract), the 95% return on risk in PLUG vs. the max of 50% losses incurred would have resulted in 30% return on total risk… in three days!
In addition, every Tuesday, Ryan breaks down the strategy behind the idea as well as the general state of the market in a LIVE weekly webinar. Ryan takes your questions and applies his vast knowledge to help guide you. He'll even throw in some bonus names when applicable to give you every opportunity to take advantage of the conditions.
If you have questions about current trade ideas, UOA Essential provides a members-only forum so that you can pose those questions directly to the team. You can even chat with other members and share insights with one-another.
So, if you're striving to learn the basics of what unusual options activity is all about, check out UOA Essential.
Unusual Option Activity Pro
UOA Pro will take you deeper into trading unusual options activity. It's high-speed and offers even more trade ideas.
For this service, our team delivers trade ideas each day throughout the trading session. The total depends on the amount of unusual options activity they're seeing, but members can expect to receive several potential opportunities each day. This is great for a more active trader who is around their trading platform throughout the day.
Trade ideas for UOA Pro are listed on the member's-only Trade Log. It's an intuitive resource that allows you to view all the unusual options activity alerts simultaneously. The Trade Log provides you with the ticker, direction of the trades, potential trigger and target levels, and a summary of the unusual options activity identified.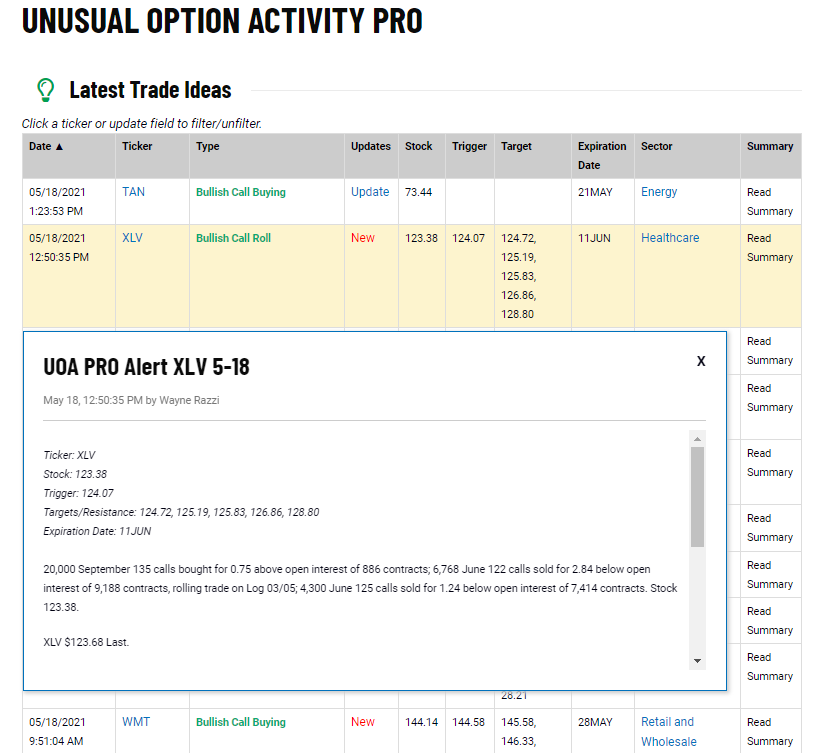 And just like UOA Essential, members receive access to a forum specific to UOA Pro. That means you'll have the chance to converse with our analysts and other members to your desire.
If you're already an active options trader, UOA Pro could be a great fit.
Unusual Option Activity Elite
Unusual Option Activity Elite takes trading UOA to the professional level. The service is a view at each UOA trade that Heat Seeker and our analysts identify. UOA Elite maximizes opportunities and helps you get the most out of our trading community, centered around a live chat that Jon and Pete Najarian interact with throughout the day.
Unusual options activity our team uncovers is posted on the log immediately. Trade ideas are explained in real-time inside the Unusual Activity Chat, a feature unique to UOA Elite. This gives members an in-depth look at the data, charts, and commentary straight from a team of three analysts.
Analysts Mike Yamamoto, Bryan McCormick, and Chris Sykora provide much more than just trade ideas. They'll walk you through everything they see and use their expertise to provide technical analysis of charts. You can even chat with them and other users directly.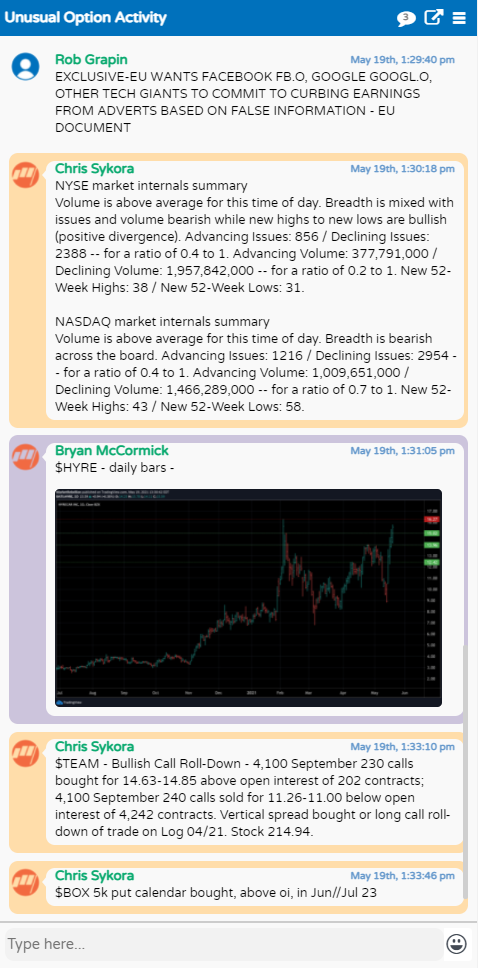 Along with receiving real-time information, UOA Elite includes market notes, charting tools, and education to enhance your options trading experience. So, if you're looking for an all-inclusive UOA experience, Unusual Option Activity Elite might be the right place for you.
The bottom line
Market Rebellion's UOA services can help you understand unusual options activity and offer potential trade ideas from some of the best minds in the industry. They'll give you everything you need to trade with confidence.
Determine your skill level and decide if you're ready to start following the smart money. If you want to learn more about unusual options activity, check out our Insider's Guide to Trading Unusual Options Activity.