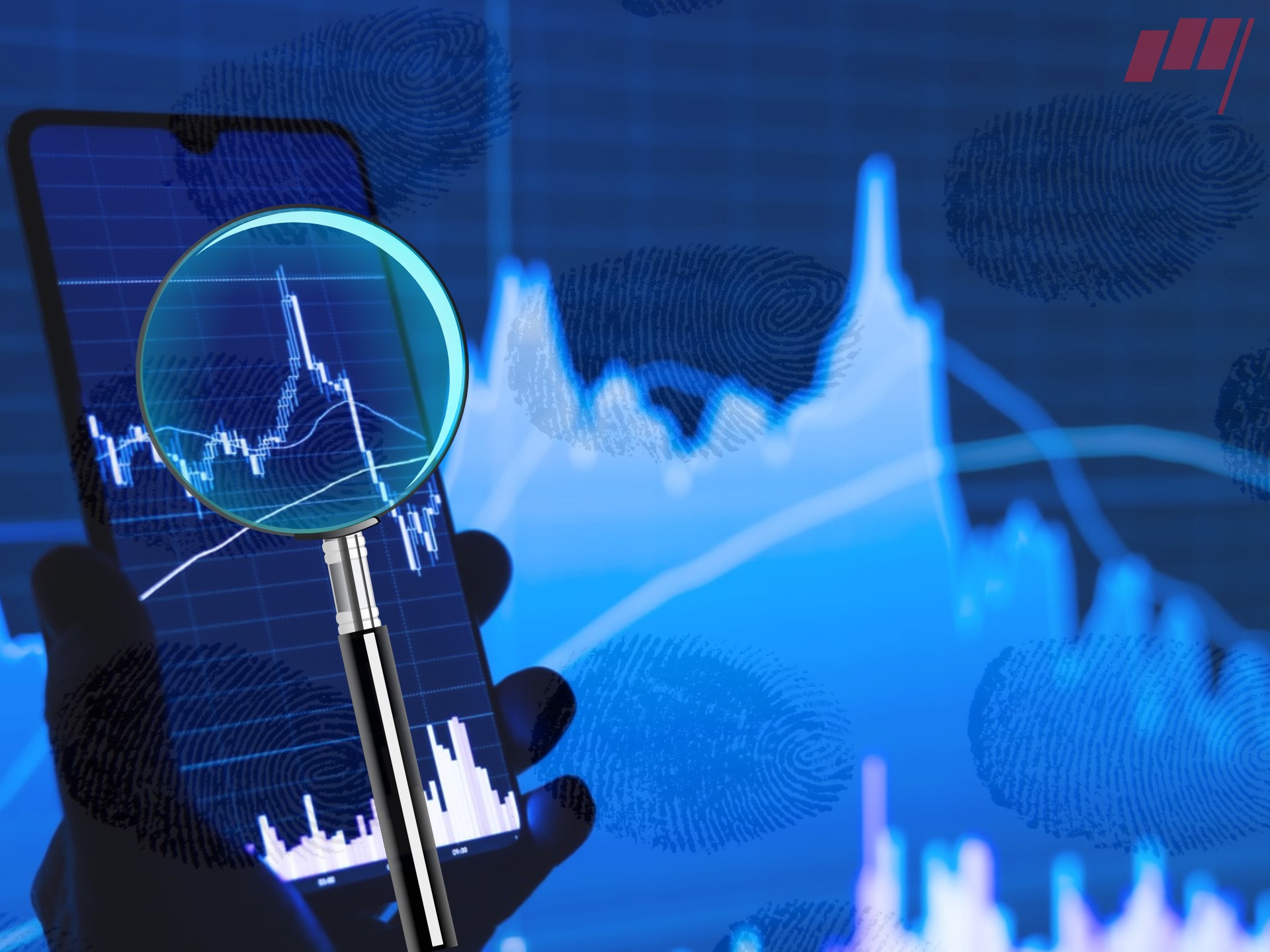 Unusual options activity isn't a secret. Each day, our team filters through all (yes, all) of the trades in the options market to find exciting opportunities from unusual options activity. But it takes more than just jumping into every UOA trade you see to be successful. So read on, and we'll teach you how to trade unusual options activity like a Market Rebel.
TABLE OF CONTENTS:
1. Unusual Options Activity: Meaning
2. How to Trade Unusual Options Activity
3. Three Real-Life Examples of Unusual Options Activity
a. Riot Blockchain (RIOT): Big Buying, Bigger Opportunity
b. Suncor Energy (SU): Proving Patience is a Virtue
c. Fortress Transportation and Infrastructure Investors (FTAI): Understanding Unusual Spreads
4. The Bottom Line
Unusual Options Activity: Meaning
What does unusual options activity mean?
Unusual options activity is an order flow strategy that looks at where options are being bought — in what quantity — and why. Put another way, unusual options activity isn't "someone bought some calls in AAPL." Unusual Options Activity looks more like,
"Someone bought thousands of calls expiring next week in a stock you've never heard of — oh, and they're 20% out of the money."
They aren't always so pronounced, but when they are, they might look something like this set of +20% OTM $70-strike calls bought against very low open interest, in the obscure software company ZenDesk. These call options were like a polar bear walking around in a desert — just plain unusual. That is… until the news broke that ZenDesk was getting bought out for $77.50 per share. Hmm… certainly makes the $70 strike price that the buyer chose seem a little more… unusual. 
But that's why unusual options activity is so important to follow. Next to having actual insider information, unusual options activity is the number one way that traders can act on "behind-the-scenes" data. 
So in short, what does unusual options activity mean? It means watch out: Someone with a lot of money is buying a lot of options and building an aggressive position in a stock that people usually don't bat an eye at.
Now that you've learned what UOA is, it's time to take the next step: learning how to trade unusual options activity.
How to Trade Unusual Options Activity
Trading unusual options activity can be a powerful strategy. Whether you're a beginner or advanced trader, unusual options activity levels the playing field, allowing traders to look inside the minds (and wallets) of the Wall Street elite — many of whom have access to powerful data-harvesting teams whose sole purpose is to find tradable data before the market becomes aware.
To put it bluntly: They have access to resources that normal traders don't have. But by following their trades, we can take advantage of their hard work and assets without breaking a sweat.
But to make the most of unusual options activity, it takes more than just following their institutional trades. At Market Rebellion, we use unusual options activity to help construct a directional bias: That means it helps us know if someone really thinks a particular stock is going up or down. But rather than copying the trades outright — many of which are made far-out-of-the-money, we like to analyze the technicals.
Ready to start trading? Try UOA Essential. Learn how you can follow the "smart money" with a fresh UOA trade idea each week – including technical levels so that you know where to enter and exit!
By fusing technical analysis from licensed Chartered Market Technicians, Market Rebellion traders can develop a better understanding of where exactly the stock price is likely to fall if a major bullish or bearish event arises. After we determine where the technical levels of support and resistance are, we set a trigger — a nearby area of support or resistance which, if broken, signals that the stock may be ready to move to the next key level. From there, we target that next level according to our directional bias, and prepare to roll at each level that follows (a position management strategy where we look to collect some profit while maintaining exposure to the trade). When/if the stock falls back below the trigger, that's our escape — where we cut our losses, and move onto the next trade.
This strategy combines technical analysis, options risk management, and unusual options activity to give us a three-pronged plan of attack in every unusual options activity trade we make — thereby putting additional probability in our corner.
Three Real-Life Examples of Unusual Options Activity
Now, let's look at a few situations where we used these three trading tenets to make powerful trades based on unusual options activity.
Riot Blockchain (RIOT): Big buying, bigger opportunity
On February 9th, Heat Seeker identified a BIG trade in which someone bought 7,500 of the February 19 $40 call options while Riot's stock was trading between $33.91 and $40.55.
Through our analysis, we found this trade hit a lot of the markers for unusual options activity. These contracts had just over a week until expiration. And the purchasers kept buying as the stock surged more than 20%. All of this is significant because it indicates that the people behind the trade expected something. They were making a huge bet on an upside move and had a very small window of time to be correct.
Open interest on the $40 call was only 3,196 contracts, meaning the 7,500 contracts we identified could not simply be someone closing an existing trade. It was well above the number of contracts already being held. The trade also represented a potential $30 million position in the stock.
But we also ran that trade through the story of the greater context behind Riot and its industry. Riot Blockchain is in the business of mining Bitcoin, which was on a tremendous run of its own at the time. The euphoria surrounding Bitcoin confirmed our thesis and led to a UOA alert to our UOA Weekly subscribers. Chief Options Strategist Ryan Mastro presented them with the following strategy to consider that day: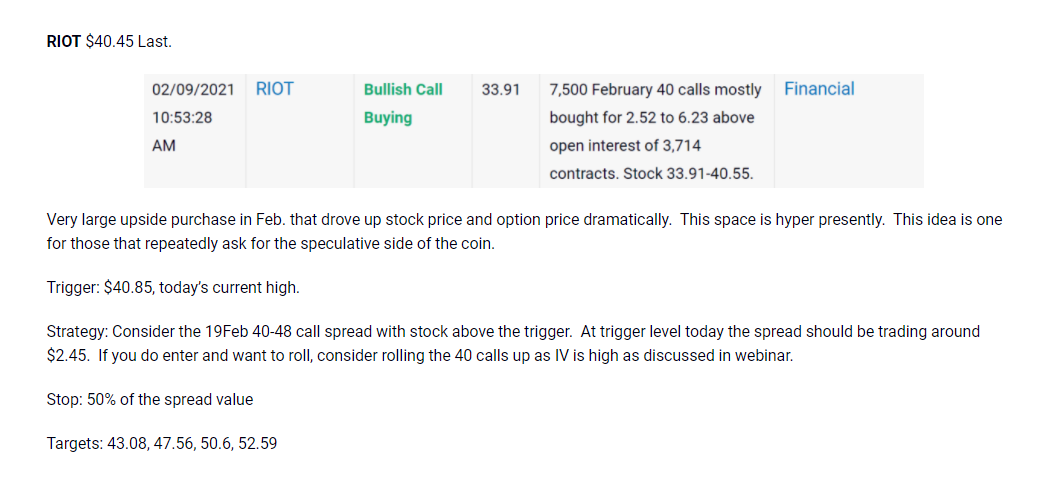 For all of our trade idea services, we include weekly educational webinars to analyze the action more thoroughly and give subscribers the best opportunity to understand what we see and the strategies we're employing. It's not just about giving the fish; we want subscribers to understand why so they can better judge whether this idea is right for them.
The trade alert proved to be spectacularly timed. In the next five days, Riot's stock absolutely skyrocketed, jumping from $40 all the way to $84.49. And once the Feb 19 $40 – $48 call spread reached its maximum value, we sent an update to subscribers letting them know to close or manage their position.
Ready to start trading the technicals? Try Rebel Weekly. Ride the waves of market momentum with two actionable trade ideas designed to capture technical break outs and break downs — delivered to your inbox every week.
Suncor Energy (SU): Proving patience is a virtue
Suncor is a Canadian oil and gas company that popped up on our radar on February 8th. SU's stock was trading at about $17.63 when our scanners flagged potential unusual options activity.
Traders came in for 2,600 of the June $18 calls, which they bought between $1.80 and $1.95. To put that in perspective, these traders paid about $500,000 to potentially establish a $4.7 million position in the stock. That's equivalent to 260,000 shares!
Large monetary commitment – check.
But dollar value of a trade is just one of the many boxes our team considers before following unusual options activity.
Like all of our UOA recommendations, this trade was well above the open interest of 1,933 contracts. So just as with RIOT, we were able to determine this was not just someone closing their position. That checked another box for us.
But again, you never want to get overly excited about order flow alone. It's important to connect data with technical indicators that support the activity. And why go it alone? Our analysts work hard to identify specific trend lines as well as support and resistance levels to consider before entering a trade.
While it's true you could miss an opportunity by not jumping right on the UOA, sometimes it's best to wait until you determine an appropriate time to buy in. SU is a perfect example of why you need to consider the technicals and remain patient.
We included Suncor in our UOA Weekly service as a bonus name on February 9th. (In the weekly live webinar, Ryan Mastro will offer additional examples and ideas of unusual options activity that we see—trade ideas that we call bonus names.) Our analysts gave subscribers guidance to consider a trade on SU if the stock were to break above resistance seen at $17.79, targeting $18.50, $19.07, $19.65, and $20.23 as areas to consider taking profits.
The stock traded back and forth under the $19 level before eventually grinding to a high of $23.69 over the next month.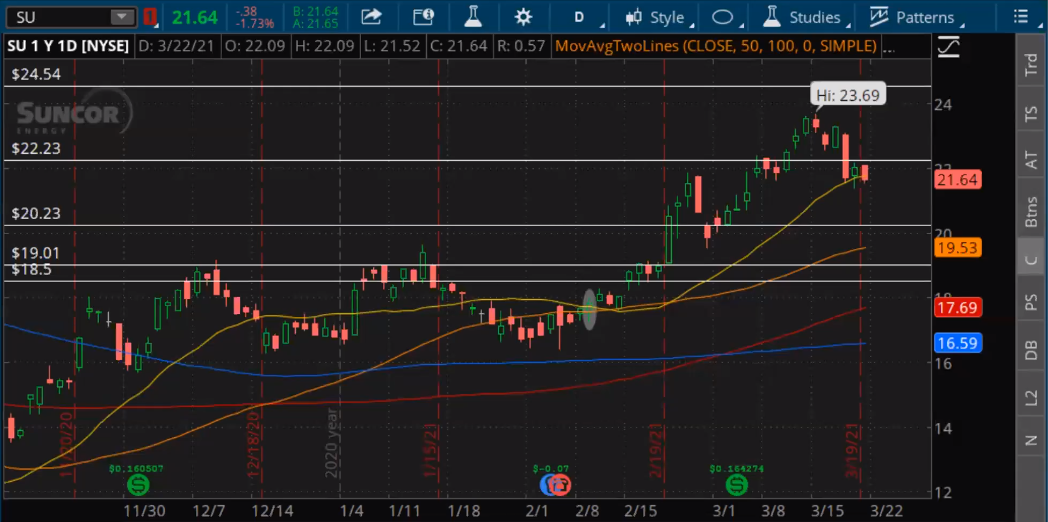 Fortress Transportation and Infrastructure Investors (FTAI): Understanding unusual spreads
Fortress owns and acquires infrastructure and equipment for the transportation of goods all over the world. FTAI is another example that highlights the importance of understanding order flow when it comes to trading unusual options activity.
On March 1st, Heat Seeker® identified a very large bullish call spread purchased when the stock was trading at $27.87. In this case, someone came in and bought 3,500 of the August $32 calls between $1.84 and $2.20, while simultaneously selling 3,500 of the August $40 calls against the lower strike.
A spread like this means the trader believes the stock might rise to at least $40 by the time the options expire in August (but probably believes that it won't rise much above $40).
We knew these trades were placed together because there was no open interest on either strike price, and both legs were executed at the same time. But pinpointing exactly what's happening in spreads can be difficult for the average trader simply staring at the options chain. Most people choose not to access the real-time data.
However, our analysts are able to utilize Heat Seeker® to determine which portion of the trade took place on the bid vs. that occurring on the ask. This is important because it tells us who the instigator of the trade was, which indicates whether it was actually bullish or bearish. For instance, if the instigator of the trade was the person selling a 32/40 call spread, that would indicate that they expected the stock to stay below $32. If, as was the case here, the instigator was the person buying the 32/40 call spread, then that indicates that it was a bullish trade.
Once our team was able to decipher the direction of the spread, we sent a trade idea to members letting them know what we were seeing. We also provided a potential entry trigger level of $28.48 on the stock based on technical analysis, which could be a comfortable area to enter the trade if breached.
Over the next four trading days, FTAI broke through that $28.48 level and continued as high as $31.81. While that move might not be as impressive as RIOT's, it turned into a nice little trade as the $32 calls gained in price more than the $40 calls did. That resulted in a net profit on the trade.
The bottom line
Trading unusual options activity is really a philosophy. It means finding the right UOA trades and marrying them with potential catalysts, data, and technical analysis. It is not just blindly following large trades.
At the end of the day, you must analyze all the information at your disposal. Then, decide if you agree with the unusual order flow and consider the best way to follow the smart money. That's how we trade at Market Rebellion.
For more information about how we pick our trades, check out Jon and Pete Najarian's F.R.A.M.E. method.