The Jackson Hole Economic Symposium is a yearly gathering of the "who's who" of finance. Central Bankers from around the world will be reporting in and speaking out about the economic situation of their jurisdiction, and what they want to do to monetary policy to fix it. Notice we said, "fix". These meetings are usually kind of a snooze fest. This one, titled "Reassessing Constraints on the Economy and Policy." probably won't be. At least, not for the market. 
The Jackson Hole Economic Symposium comes on the heels of this morning's US Personal Income and PCE Data, which showed notable slowing in US Personal Spending and slowing in US Personal Income. That's not great news for the strength of the economy. However, the July PCE Core Price Index showed a month over month change of just +0.1%, which (depending on who you ask) is good news for an economy that has been ravaged by soaring prices and inflation for so many months.


The Numbers: July PCE Core Price Index, Personal Spending, Personal Income
U.S. Personal Income: +0.2% v +0.6% Estimated

U.S. Personal Spending: +0.1% v +0.5% Estimated

PCE Core Price Index: +0.1% month-over-month, +4.6% year-over-year

PCE Price Index: -0.1% month-over-month, +6.3% year-over-year
Atlanta Fed President Bostic Responds to PCE Data
Fed President Bostic responded to the data live Friday morning on an episode of CNBC's Squawk Box. The key points from Bostic's response:
"This is a sign that the economy is responding to economic policy."

Bostic hopes to get to a Fed Funds Rate of 3.5%-3.75% by the end of 2022. 

Bostic rebuked the idea of cutting rates — "it's premature to think about cutting […] I want to get to the target and hold."

Bostic is "leaning toward 50 basis points" in September.

Despite slowing economic data, Bostic does not have a recession built into his forecast.
Fed Chair Jerome Powell Speaks — "Inflation feeds mostly on itself."
Fed Chair Jerome Powell said he would be shorter and more direct this year with his remarks than he has been in previous years. With the market falling sharply, Powell took the stage, invoking Paul Volcker and many mentions of the 1970. Powell made these key points:
Powell continued walking the "data-dependent" line he often walks: September rate action "Will depend on the totality of the incoming data"
Powell said that lower July inflation data was welcomed, but they are far short of what the Fed needs to see.
"The Federal Open Market Committee's main focus right now is to bring inflation back down to our 2% goal."
Powell echoed Bostic's early morning interview when he said, "At some point", the Fed will be able to slow the pace of rate hikes — a comment that bulls likely enjoyed hearing.
Powell harkened back to the "lessons" of the 1970's and 1990's, while providing assurance that the Fed knows exactly what it needs to do in order to combat inflation.
The stock market reacted strongly to Powell's speech. When Powell took the stage, the S&P 500 began falling almost sharply, losing roughly a percentage point in a matter of seconds. When Powell said, "at some point, the Fed will be able to slow the pace of rate hikes", that seemed to remedy the markets, with the S&P 500 spiking back to even. However, once Powell said that the fight against inflation would likely bring pain to households and businesses, it felt like the market had given up. By close, the market had fallen dramatically in it's worst day since June 12th.
The Market Didn't Like Powell's Speech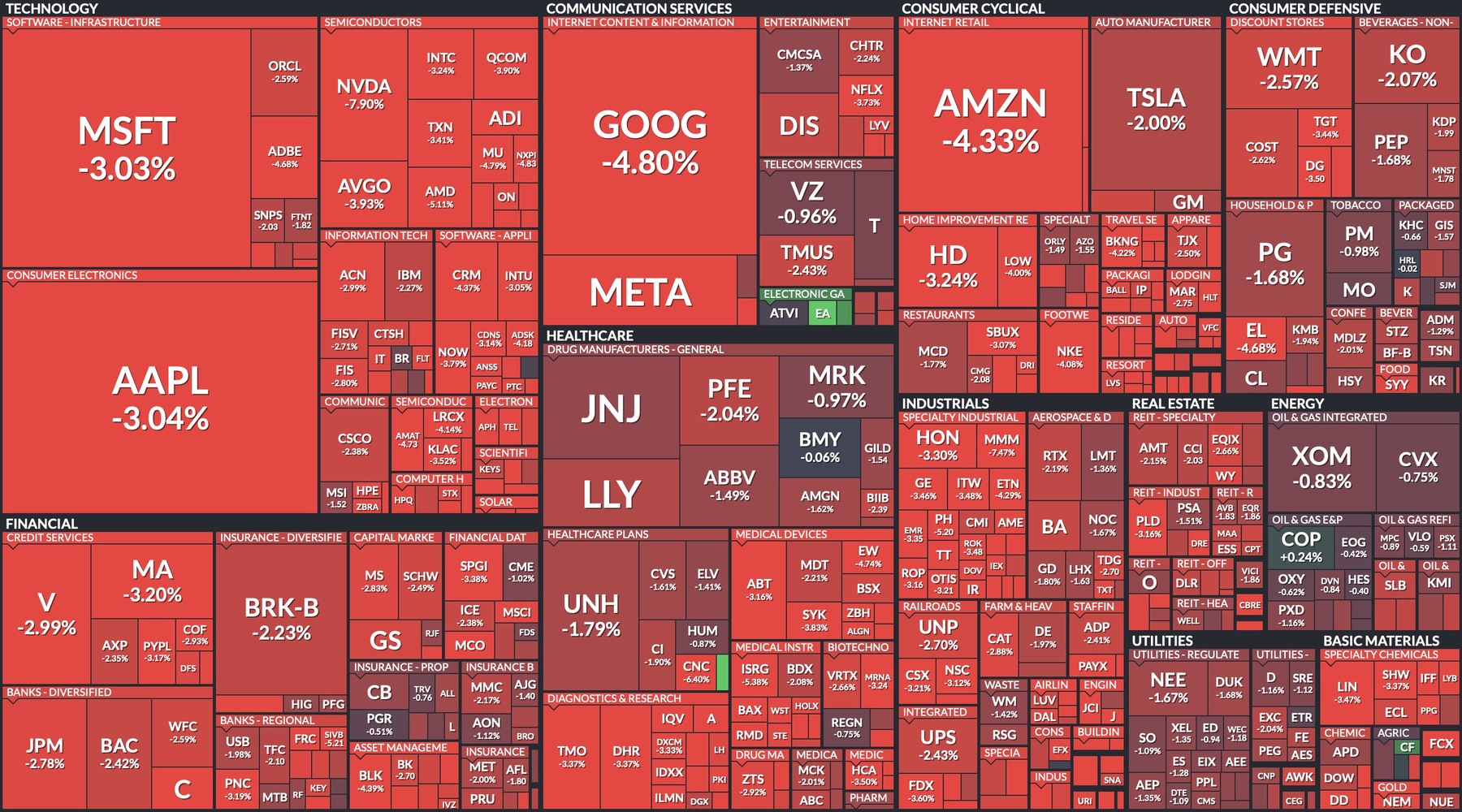 Source: FinViz