Good morning Rebels! Stocks are indicating a lower open this morning after last weeks decisive victory for the bulls which saw a four-day rally.

Source: FinViz
With Wednesday's all-important CPI Report in full view, you can expect the market to do it's usual pre-data anxiety-dance. But that's the macro — there are still plenty of interesting things happening under the surface, such as…
Elon Musk Terminates Twitter Deal
Chuckmate?
After hours on Friday, Tesla CEO Elon Musk indicated that was terminating the deal to buy social media company, Twitter (TWTR). Musk still credits the higher-than-reported bot count as his reason. 
As a result, shares of Twitter are down more than 6% this morning. 
The issue: Musk waived his right to due diligence in an effort to close the deal faster. Translation: This likely is not a suitable defense. And it looks like Twitter is going to take this to court. After Musk's declaration, Twitter brought in star-powered law firm, Wachtell, Lipton, Rosen & Katz.
Its founding members are credited with inventing the poison pill (Marty Lipton), and is as a firm they specialize in M&A agreements where the buyer has attempted to back out (IBP vs Tyson being a similar example which will likely be referenced in the litigation of this case). 
In response: …Elon musk is tweeting memes. 
— Elon Musk (@elonmusk) July 11, 2022
The SEC looking into this matter: pic.twitter.com/dUnpe9zkWl

— 💸💸💸 (@itsALLrisky) July 11, 2022
— Elon Musk (@elonmusk) July 11, 2022
The newest development in what has now been a several month long saga has invited everyone from Finance-TV to Former President Donald Trump to chime in. 
While Elon may be in hot water over this Twitter deal, there's one aspect of his finance life that's performing well this morning:

Tesla's China Shipments Set Record
After broad concern about Chinese lockdowns and Tesla's (TSLA) potential slow-start after reopening its Shanghai factory, Tesla has blown away expectations. 
According to InsideEV's, Tesla's YTD total production (563,987) is up 46%, with Model 3/Y production (533,358 produced YTD — the majority of Tesla's produced) up 39%, and Model S/X production (30,629 produced YTD) up by 1,208%. YTD Deliveries are also considerably higher. Model 3/Y deliveries were up 40% YTD (533,857 delivered — 499 more than were produced during the same period). Model S/X deliveries are 687% higher (30,886 delivered — 257 more than were produced during the same period).
The question that the market must grapple with now: Is Tesla's data an outlier, or this indicative of 'back to business as usual' for companies operating in China? 
Don't ask the other China-related stocks…
China-Related Stocks Fall: Wynn Resorts, Las Vegas Sands, Alibaba, JD, Pinduoduo, Baidu, Tencent
Shares of Wynn Resorts (WYNN) and Las Vegas Sands (LVS) are both trading down this morning by roughly 5% on news that Macau, a region that both casinos do business in, is beginning a one-week lockdown in an attempt to rid the region of Covid. 
As part of a one-two punch, shares of Alibaba (BABA), Tencent (TCEHY), JD.com (JD), Pinduoduo (PDD) and Baidu (BIDU) are all lower in the premarket by between 3-5% after the Chinese government fined many tech companies for failing to disclose certain transactions. 
CNN's Fear and Greed Index
While last week's rally was certainly notable, it's still important to remember where we are on a grand scale. After setting a multi-year low in investor confidence on May 12th (scoring a 7 — deep into extreme fear territory), the index is beginning to claw back towards normalcy: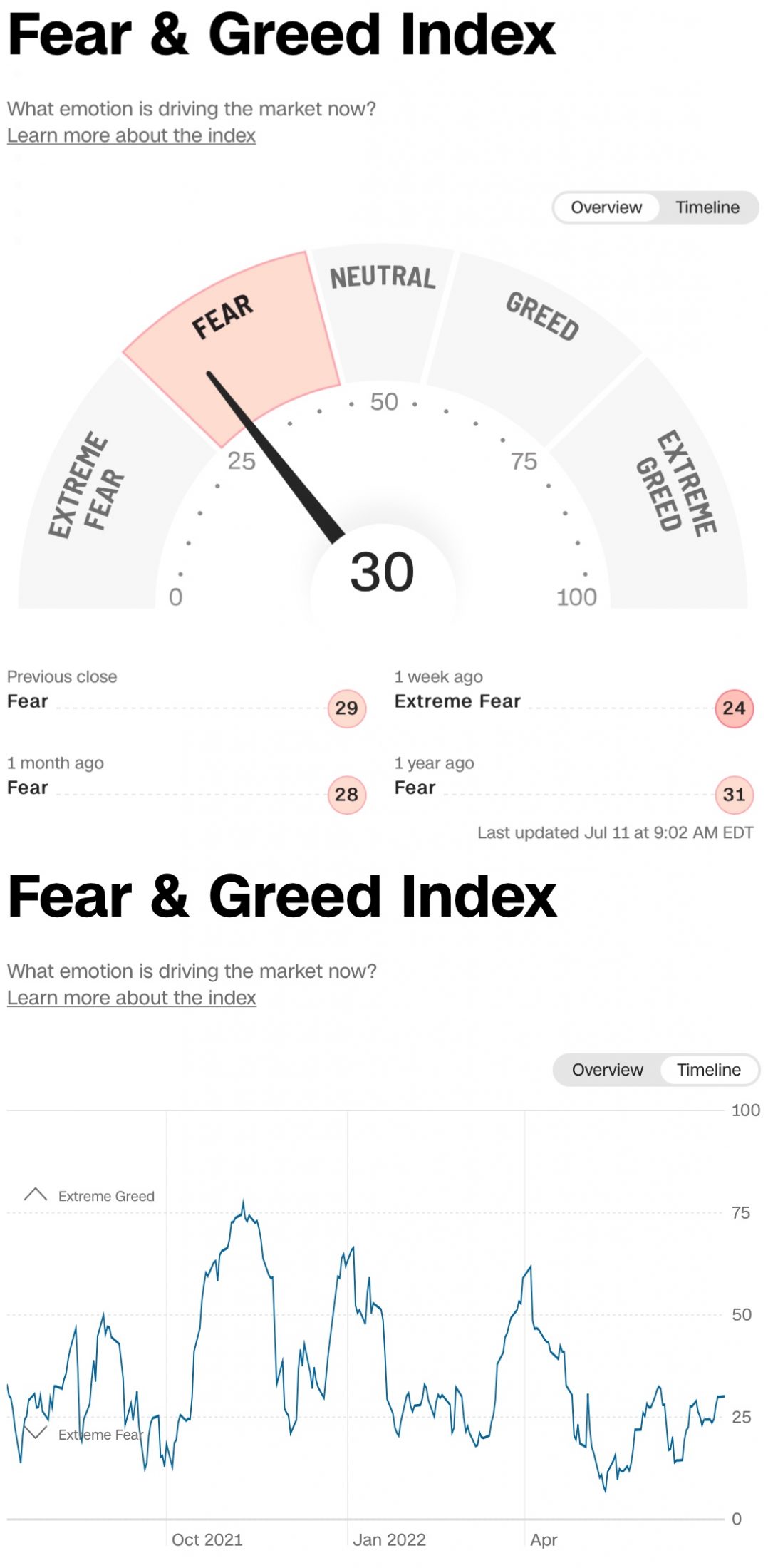 But it's nowhere near that yet. Source: CNN
CNN's Fear and Greed Index still indicates an investor that is scared to put their money into the market, with the index just recently moving into the bottom of "fear" from "extreme fear". 
Factors that are contributing to market fear: 
The S&P still trading well below it's 125-day moving average (which is currently above $4,200). 

Stock price strength (a measure of stock on the NYSE at 52-week highs versus those at 52-week lows) at -8.40%.

Stock price breadth (Using the McClellan Volume Summation Index, this indicator seeks to compare the amount of shares on the NYSE that are rising versus the amount of shares that are falling) which is deep into negative territory at -1,408.66.
For more quick takes on this morning's market-moving news, check out 60 Seconds With Jon Najarian!
https://twitter.com/jonnajarian/status/1546488594910560257
Ready to start trading? Try Unusual Option Activity Essential. Learn how you can follow the "smart money" with a fresh UOA trade idea each week – including technical levels so that you know where to enter and exit!