Friday started positive. The market was trading higher by about a percent after what many called a "goldilocks" unemployment number. However, by noon the rally had already faded after energy giant Gazprom announced that the Nord Stream Pipeline would be shut down indefinitely, citing "issues that required special repair". The state-owned energy giant (the largest company in Russia by revenue) was expected to reopen the pipeline just hours before the reversal. This was a painful shock for Europe, which has been suffering for months due to its heavy reliance on Russian gas and oil. Europe recently saw its gas prices spike to all-time-highs in March, before cooling slightly over the following months. Despite the reprieve, the average price of gas in Europe is still four times higher than it was last year.
Russia's decision to close the Nord Stream pipeline will likely exacerbate the issue.
Escalating Tensions
According to the European Union and Siemens Energy, this isn't actually due to an issue with the Nord Stream pipeline. They believe this was instead a direct response to the G-7 agreeing to put a cap on the price of Russian oil. The agreement was made earlier that day. This isn't the first time that Russia has used the Nord Stream to punish Europe. In June, Russia cut the daily flow of natural gas via the Nord Stream pipeline from roughly 1,750 gigawatt-hours per day to roughly 700. Then, the Nord Stream was shut down completely for a 10 day period in July. After reopening the pipeline, daily flow was cut in half once again to roughly 375 gigawatt-hours per day. Today, it rests at zero.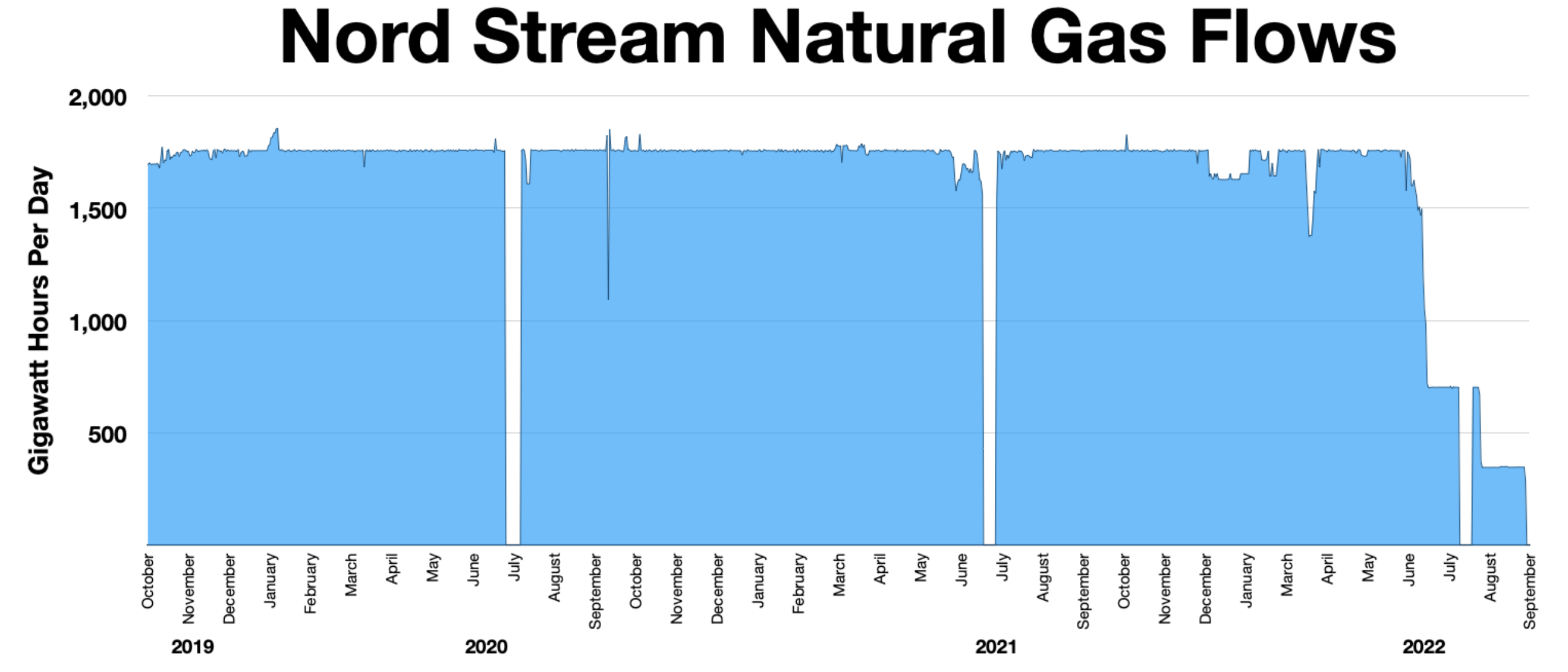 Source: Nord Stream
Fears of being completely cut off from Russian energy weigh heavily on the continent. Preparing for the worst, Europe has begun the panicked process of filling its energy storage facilities ahead of what many believe will be an especially cold winter. On the bright side, they're ahead of schedule, having reached over 70% capacity in August. However, according to Marcel Fratzscher (president of the German Institute for Economic Research) that may not be enough to avoid a gas shortage. Additionally, this is likely the first of many winters that will be characterized by a tight supply of European energy.
In hopes of one day freeing itself from the grips of Russia, Europe is considering several alternative sources of energy, with nuclear energy being a strong front-runner for its positive climate impact and scalability. Throughout 2022, this has led stocks in the uranium sector higher, with names like Cameco Corp (CCJ) becoming the target of consistent unusual options activity. However, as promising as nuclear energy is for the future of Europe, it will take a considerable amount of time and resources to make that a present reality. Until then, Europe will have to continue using all of the tools at its disposal to scrape by.
Need help following these wild intraday swings? Check out this free video to learn how Market Rebellion's Chartered Market Technicians hunt for technical breakouts and breakdowns.
Why it Matters for American Markets
There are a few frightening things about the European energy shortage. The first is the humanitarian aspect. While heat-related deaths typically get more coverage, cold is the bigger killer — an issue that CNBC Worldwide Exchange anchor Brian Sullivan frequently uses his platform to bring awareness to.
"More Americans have died in the past 40 years from cold-related weather than hot. Sometimes people have to choose between heating or eating." – Brian Sullivan
In the event that Europe's extra storage isn't enough to prevent a shortage, some of those people may not even have a choice. However, Europe has regulations in place to protect households — meaning that in the event of a moderate shortage, the brunt of the pain would likely fall on the shoulders of businesses. That spells trouble for an economy that is highly reliant on fossil fuel. It affects more than just transportation services like buses and airplanes. It affects the industrial sector, the steel and cement industry, construction, manufacturing, water treatment, the production of some rubbers and plastics, the list goes on and on — Europe's businesses are highly dependent on the steady flow of energy.
Even if Europe can get the energy shortage under control, the fear has already slowed the European economy. Altogether, the IMF estimates that a gas shortage would reduce German GDP by -1.5% in 2022, -2.7% in 2023, and -0.4% in 2024, with no gains to come in subsequent years to come due to "deferred economic activity". Adding fuel to the fire is Europe's high rate of inflation — which the IMF estimates could rise by 2% in 2022 and 2023 depending on the severity of the shortage. Add in that the European Central Bank recently proposed front-loading big rate-hikes to curb demand and fight inflation (despite the fact that central banks have no ability to modulate energy inflation), and it becomes clear why so many people believe that the gas crisis in Europe is leading the continent toward a full-blown recession.
Across the pond in America, the issue for our stock market and the health of our own economy is that Europe and America are so closely intertwined. A strong enough recession in either region could create a contagion — especially considering how uneasy the American economy already is about the possibility of a recession. The weakness in the European economy is already having unintended consequences for the earnings growth of American stocks. American companies that rely on European customers have seen shrinking revenue due to a Euro that is now worth less than the dollar — the first time since 2002.
Along with a stronger dollar comes issues of a widening trade deficit, which risks reducing economic output, at the same time making foreign products exported to the U.S. cheaper and more competitive. If the European consumer becomes starkly weaker, that will have an additional negative impact on the earnings growth of American stocks. And on the other end of the spectrum, a weaker Euro means higher prices for imported goods (like oil) that are shipped to Europe — which are priced in U.S. dollars.
If you're feeling like this is all a perfect storm of bad news, you aren't alone — so did all of Friday's sellers.
Trading the News
Despite the horrific nature of this news, it's important to remember that there is always opportunity in the stock market — especially for traders who are familiar with options and willing to play both sides. Obviously, there are plenty of outright bearish traders who will see this news as a negative catalyst that could draw the S&P 500 back down to the June low of $3,636, or roughly 7.5% lower than where the S&P stands currently.
There are also plenty of bullish traders out there who see this pullback as a powerful buying opportunity. Fundstrat's Tom Lee gave an interview on Friday to CNBC's Closing Bell: Overtime to discuss his view that the S&P 500 can still finish the year at 4,800. A key piece of his bullish viewpoint: bearish market sentiment coupled with a belief that September's CPI Report will come in far below expectations. That could offer under-exposed investors the piece of mind they need to deploy capital, and could give the Fed the cover it needs to raise rates by 50 basis points rather than 75 — a bullish catalyst.
And then of course, there's the institutional option activity. Market Rebellion has seen consistent unusual options activity in the energy sector — and the recent pullback hasn't slowed those traders down. Over the past week, we've flagged several huge bullish out-of-the-money option purchases — all expiring within a short period of time.

Today, energy was one of the only sectors to finish in the green, and it makes sense why. As Russia looks ahead to its upcoming meeting with OPEC Plus, it's expected to cut production in order to bolster falling prices — something that will have a global effect on the price of energy, and likely on the price of energy stocks.
The unusual options activity you see above is just the tip of the iceberg. Want to see what the smart money's buying, the second they start building their position? Learn more about how you can get inside our Unusual Options Activity trading room at this link, or by clicking the banner below.