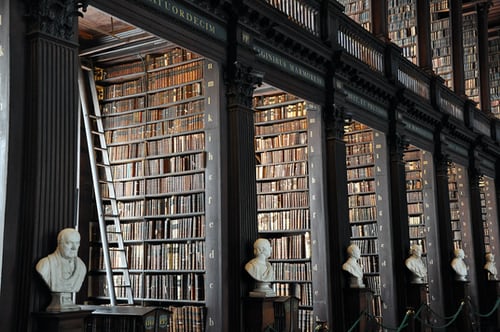 What if I told you there was a better way to trade unusual options activity?
At Market Rebellion, we believe our way of doing things differentiates us from the crowd. Sure, there's plenty of options trading education out there. But you won't find resources quite like the ones we created.
In trading, it's important to take advantage of anything and everything that can help you reach the front of the pack. And our team developed the tools that can get you there.
Let's take a look at three core parts of our unusual options activity services.
Gain access to our eyes and ears to unusual options activity: Heat Seeker®
If you could get your hands on the most critical data in the options market, wouldn't you take advantage of it? Something like that could give you a clear edge over other traders.
We follow data to help us identify where the smart money is and what they're up to. These traders often make huge, out-of-the-money options trades with little time to be correct. They seem to know something the rest of us don't. And we might be able to ride their coattails IF we pay attention.
But determining if a trade is really UOA is more complicated than meets the eye. There are plenty of reasons someone might place an unusually large options trade besides having inside information.
They could be hedging a large position. Or maybe the stock in question has an upcoming earnings release or product launch. Known catalysts like these can attract many traders, and the sheer volume of their options trades can appear unusual — even when they're really not.
At Market Rebellion, we've spent years of work and millions of dollars developing the framework needed to decipher between an odd-looking trade, and something that's truly unusual. We affectionately refer to this computer algorithm as Heat Seeker.
Our patented algorithm captures every single options trade placed in the market. That's 180,000 trades a second. All in an effort to filter through the fog and determine if someone might be trading on non-public information.
Heat Seeker collects all the order flow data in real time and tries to identify compelling activity ahead of what might be market-moving events. Usually this means picking out call activity, but it can spot downside put buying as well.
To put it simply, our system helps uncover extraordinary buying patterns that can tip us off before a stock moves. And we're the only show in town with a beast like this.
Learn from top-notch analysts
Now, having access to all this information is great. But the data really means nothing if you don't have a team of experts that can analyze and make use of it. Never mind the ability to deliver you actionable strategies in a way that's easy to understand.
Every day, these analysts look through trades that Heat Seeker flags to scrutinize whether the activity is really unusual. For example, they compare the flagged trade to other trades to ensure that they're not paired with stock or part of a hedging transaction. If they are, that would suggest that the trade is not unusual options activity.
Our analysts also look into whether there are any events on the horizon that might explain the UOA. This could be earnings reports, upcoming drug or FDA announcements, any merger activity in the industry… or anything else that might suggest that there could be someone out there who "knows" something.
In addition, we take a look at the technicals of the chart in many cases. Structuring a trade is just as important as identifying it. For UOA, we like to make smart trades from both a strike price and timing perspective. We don't YOLO out-of-the-money options. We want the opportunity to be right, even if there isn't any news on the horizon. That's why we prefer in-the-money options and moving to a slightly longer-dated strike (for more on this, check out how Theta is the most important options trading concept you may not know).
This level of detail is critical for trading unusual options activity successfully, and without it, screeners just provide a lot of noise.
Become part of a trading community
Perhaps the biggest benefit of joining any Market Rebellion service is the sense of community. All of our unusual options activity services provide users with the opportunity to participate in exclusive members-only forums.
After all, this is about learning to trade using UOA—not relying on UOA to dictate all of your trading decisions. Like other trading styles, UOA is an indicator, not a guarantee.
In these forums, you can communicate directly with analysts and other members in a question and answer format, browse topics presented by other traders, or create a new topic to discuss.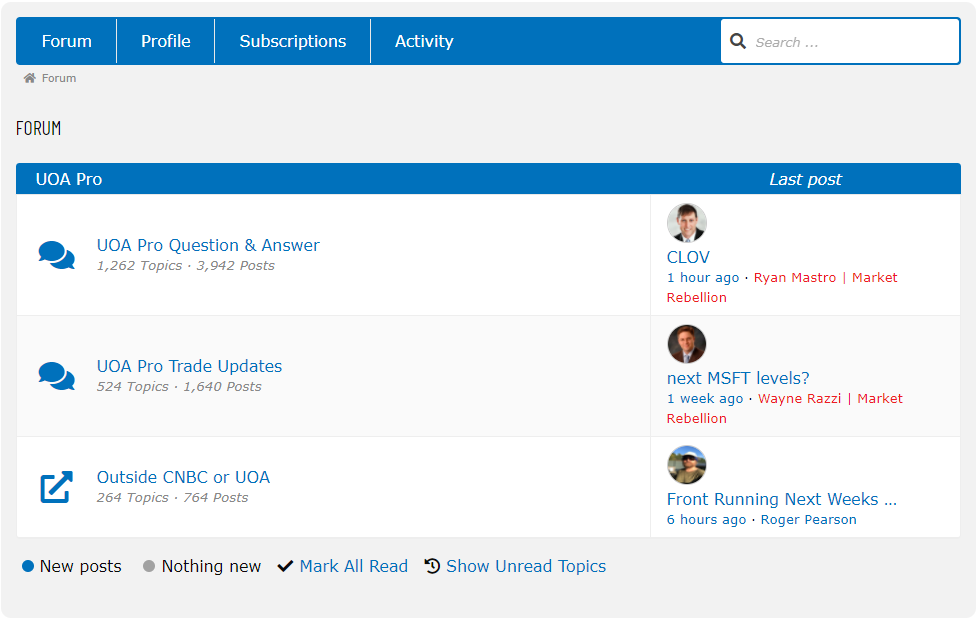 Our analysts make every effort to answer as many questions as possible and will speak directly to open trade ideas. But you can also share your own views and gather insight from other traders on what they're seeing in the market.
UOA Elite (designed for advanced options traders) takes this concept to the next level with its Unusual Activity Chat. This is a live environment where members and analysts discuss trades, market moving news, and technicals as they develop.
There's just no community like a UOA community.
The bottom line
So if you're looking to become a better trader, or even starting from scratch, we believe our unusual options activity services will give you the keys needed to succeed.
To learn more specifics on exactly how we trade, check out How We Trade Unusual Options Activity.