Good morning Rebels! It's Wednesday, and the indices are trading higher this morning after a slew of Q2 earnings from Starbucks, AMD, Paypal, Airbnb and more — despite boiling tension between the US and China over Nancy Pelosi's visit to Taiwan.
A Brief Update on the China, Taiwan, Pelosi Situation
China has now: 
Scheduled military training drills from August 4-7 in many of the waters surrounding Taiwan

Banned food imports from more than 100 Taiwanese companies

Urgently summoned US Ambassador to China, Nick Burns

China's Vice Foreign Minister says the US must "pay for its mistakes"

Flew fighter jets across the Taiwan Strait

Activated civil defense warning sirens in homeland China
In related news: a cyberattack hit the office of Taiwan's president yesterday. (Who could have done this?) Additionally, the US State Department has issued "Worldwide Caution" to American citizens. But on the other hand, China has made grandiose threats before during Trump's presidency that never amounted to anything, so who knows what — if anything — will come of this. However, with market volatility running low, and the market continuing to climb higher, this could be a good time to grab a cheap hedge in case one of these headlines or developments spook stocks.
Speaking of China's effect on stocks, let's talk about Starbucks.
Starbucks Q2 Earnings: It's a Beat!
BREAKING NEWS: People still love expensive coffee. 
We know, it's a shocker. But it's true. Starbucks reported earnings last night, narrowly beating top and bottom line estimates.
SBUX Earnings per share: 84 cents adj. vs. 75 cents expected

SBUX Revenue: $8.15 billion vs. $8.11 billion expected
This is despite the mobility restrictions that took place last quarter which dragged revenue in China — Starbucks' "second home market". Starbucks' executives have said that they haven't seen consumers trading down from their premium products despite the economic conditions — something the CEO attributes to Starbucks' customer-focused drink customization and the growing popularity of cold beverages, which generally fall into the premium category of Starbucks' offerings. The stock is up 2% in the premarket on the news. 
Let's speedrun more Q2 earnings from last night and this morning.
Q2 Earnings Brief
Paypal: It's a beat!
PYPL Q2 Revenue: $6.81B vs $6.76B Expected 
PYPL Q2 EPS: $0.93 vs $0.85 Expected
Robinhood: Slight EPS beat, revenue miss.
HOOD Q2 Earnings Revenue: $318M vs $352M Expected 
HOOD Q2 EPS: -$0.34 vs -$0.36 Expected
HOOD Q2 Monthly active users: 14M vs 15.5M Epected
HOOD to cut around 23% of its workforce (this follows other recent job cut announcements from HOOD)
SoFI: Revenue beat, EPS in-line.
SOFI Q2 Earnings Revenue: $356.1M vs $346M Expected 
SOFI Q2 EPS: -$0.12 vs -$0.12 Expected

AMD: It's a beat!
AMD Q2 Earnings Revenue: $6.55B vs $6.52B Expected 
AMD Q2 EPS: $1.05 vs $1.03 Expected
Caesar's Entertainment: Revenue beat, big EPS miss
CZR Q2 Earnings Revenue: $2.82B vs $2.77B Expected 
CZR Q2 EPS: -$0.57 vs $0.25 Expected
Electronic Arts: It's a big beat!
EA Q2 Earnings Revenue: $1.77B vs $1.25B Expected 
EA Q2 EPS: $0.47 vs $0.30 Expected
Wrapping Up
It seems like week after week, Q2 earnings are showing a slight sign of revenue slowdowns, but nothing near the level of economic turmoil that many analysts had been expecting. This is allowing stocks that have been beaten down for months, many of which far off their all-time-highs, to gain on earnings that aren't all that great. In other words: the market already priced in bad earnings, and these earnings weren't that bad.
Next On Deck: MPO, LCD, BOOK, ET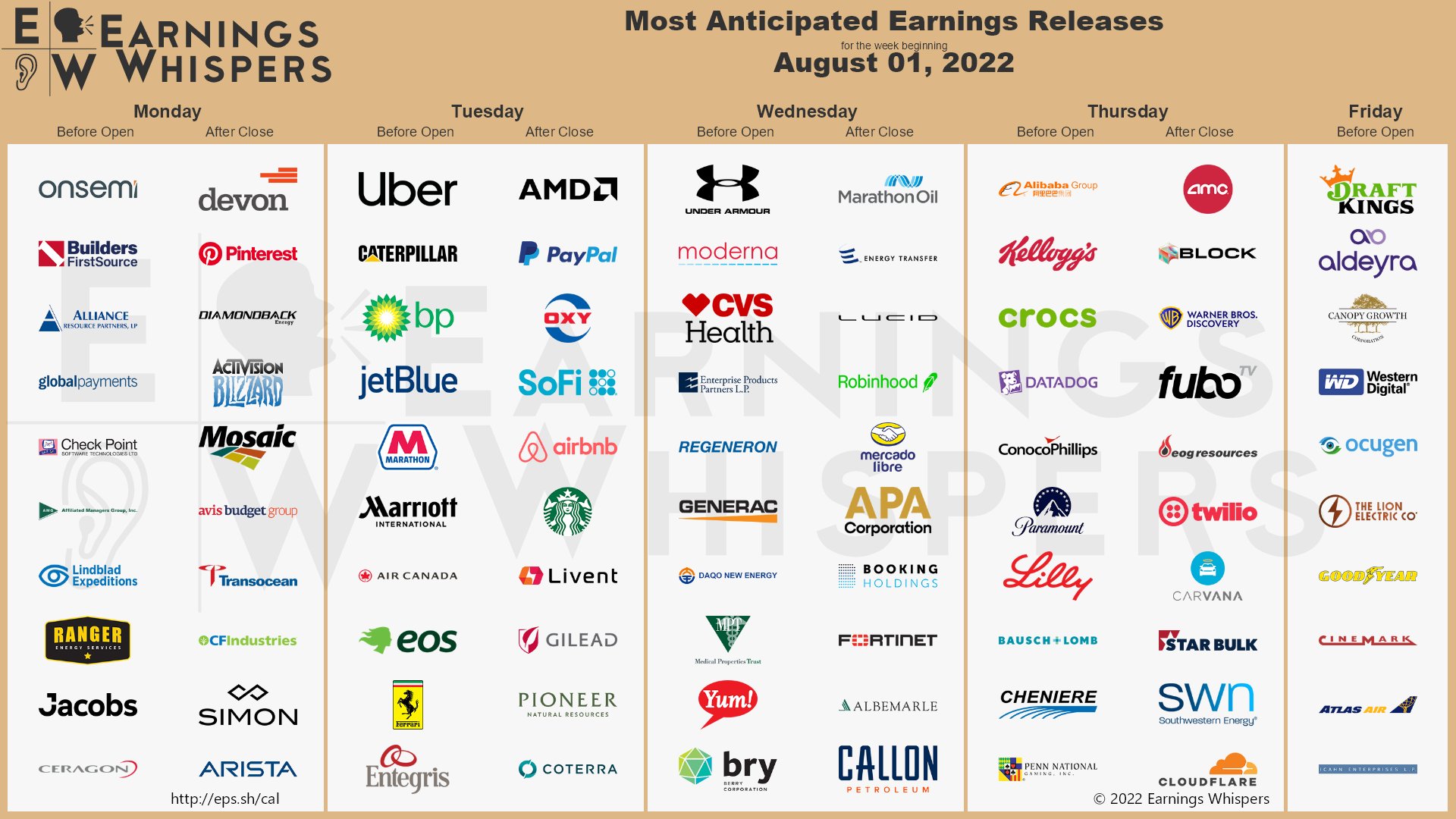 Source: Earnings Whispers
For more quick takes on this morning's market-moving news, check out 60 Seconds With Jon Najarian!
https://twitter.com/jonnajarian/status/1554811273174552577