Thursday Morning Rebel Brief — Second Quarter of Negative GDP Growth, Market Doesn't Seem to Care
Wow, we should change the definition of a recession more often!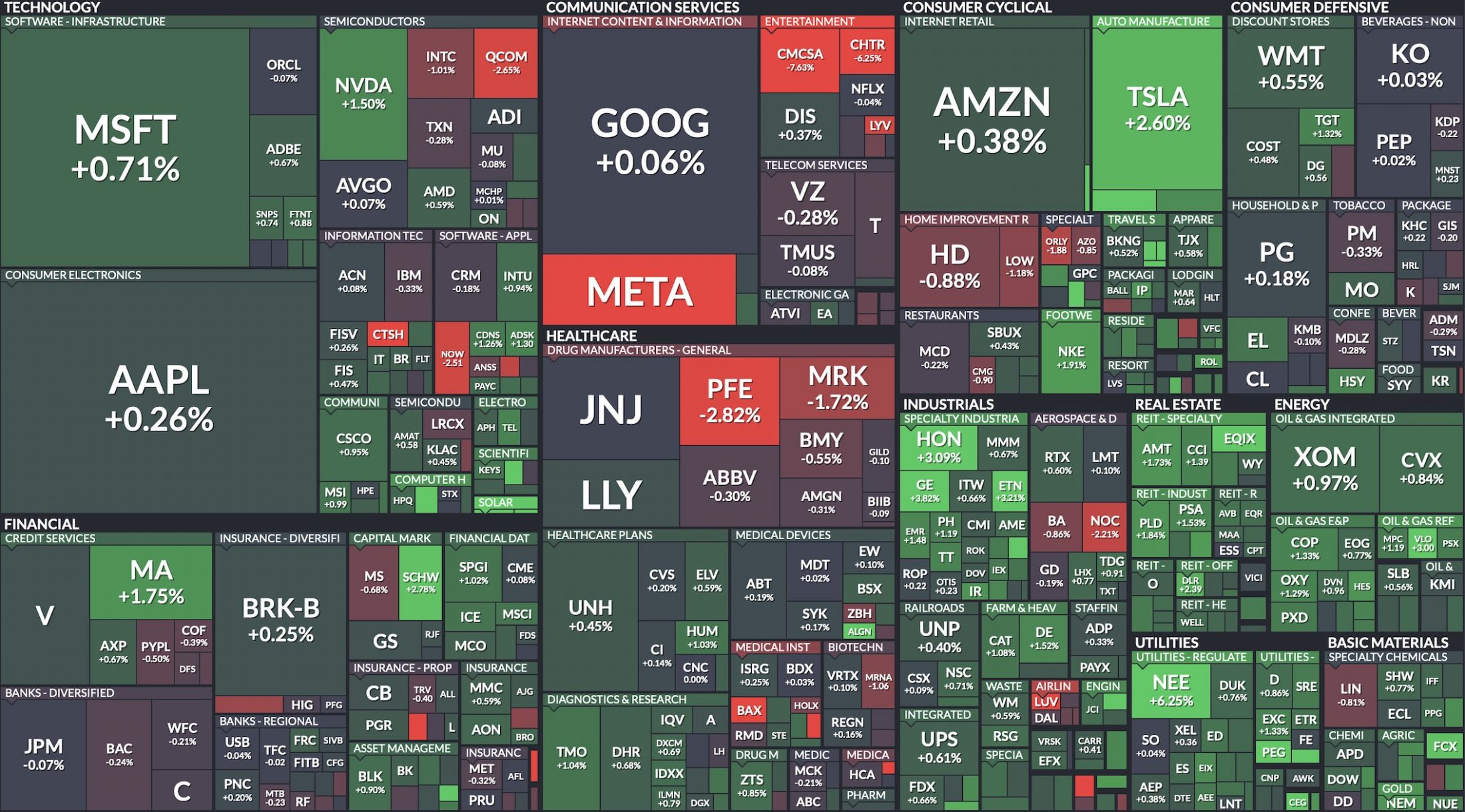 Hey, I'm not complaining. Source: FinViz
Good morning Rebels! The market is trading relatively flat this morning, sustaining much of yesterday's massive gains, with the renewable energy sector rallying off of news that Senator Joe Manchin will back a bill in support of solar energy. Let's get right into it.
FOMC Rally Ahead of GDP Release
After commentary from the President, as well as Treasury Secretary Janet Yellen and Fed Chair Jerome Powell that we're definitely not in a recession, the market is comfortably absorbing news that second quarter GDP expectations are not that negative. 
Yesterday during the FOMC (which included a 75bps rate hike, in line with expectations), Powell was asked point blank if he thought the US economy was in a recession. He said no. Asked whether the GDP would affect his opinion, he said that it was something that the Fed would of course be watching but to "take it with a grain of salt", adding that the initial GDP estimates often get adjusted a great deal. (We talk about how to hedge with options a lot — this is an example of hedging with words.
And boy, let me tell you: The market loved it. The Nasdaq surged for its largest single-day percentage gain in all of 2022-2021. 
So after all that hedging, we heard the advance estimate of GDP from the Bureau of Economic Analysis this morning.
July 28 GDP Q2: -0.9%: Are we in a recession now?
Though this is a second quarter of negative economic growth (the first quarter GDP indicated -1.6% negative growth), it's technically not a recession until the National Bureau of Economic Research declares it one. They'll rely on additional metrics to grade the slowdown, with specific interest in job loss data. Reading between the lines, yesterday's FOMC speech from Powell indicated that the labor market has remained very strong — it was one of the points he cited when he told reporters that he didn't believe we were in a recession. 
Powell also was quoted saying, 
Households are in about as strong financial shape as they've been in a very long time – or perhaps ever.
Additionally, while any negative economic growth is bad, it's possible that investors were expecting a much worse number. The Atlanta Fed's GDPNow tool was forecasting more than -2% GDP as recently as late June.
These combined factors may play into why the market is so sanguine this morning. Perhaps investors are finally willing to look past the bad news. 
Speaking of situations where investors will have to look through some bad news…
Meta Earnings: Miss on the Top and Bottom Line
META EPS: $2.46 v $2.55 Expected (Miss)
META Revenue: $28.82B v $28.95B Expected (Miss)
META Daily Active Users: 1.97B, +3% year-over-year
META Significantly guides Q3 revenue lower, $26.0B-$28.5B v $30.3B Expected
META shares are currently down more than 7%.
Qualcomm Earnings: Beats EPS but Lowers Guidance
QCOM EPS: $2.96 v $2.86 Expected (Beat)
QCOM Revenue: $10.9B v $10.9B Expected (In-line)
QCOM Guides Q3 forecast lower on weakening smart phone demand, causing the stock to fall more than 4% in early trading.
Ford Earnings: Monstrous Beat on Top and Bottom Line
F EPS: $0.68 v $0.43 Expected (Beat)
F Revenue: $40.2B v $32.7B Expected (Beat)
Mastercard Earnings: Top and Bottom Line Beat
MA EPS: $2.56 v $2.36 Expected
MA Revenue: $5.5B v $5.27B Expected
Tonight we'll be looking to round out big tech earnings with the release from Apple (AAPL), Roku (ROKU), Intel (INTC) and more.

For more quick takes on this morning's market-moving news, check out 60 Seconds With Jon Najarian!
https://twitter.com/jonnajarian/status/1552647187645046784