September CPI Report:
August Consumer Price Index Month-over-Month: +0.1% vs -0.1% Expected
August Consumer Price Index Ex-Food & Energy: +0.6% vs +0.3% Expected
August Consumer Price Index Year-over-Year: Increase of +8.3% vs +8.1% Expected
Core CPI year-over-year: Increase of +6.3% vs +6.1% Expected
Fed Rate Outlook for September FOMC: 81% chance of 75 basis point hike, 19% chance of 100 basis point hike
Fed Swaps Terminal Rate: April 2023 now pricing in 4.20%
_
What's rising: Shelter, food, medical care expenses, household furnishings and operations, new vehicles, motor vehicle insurance, and education.
What's falling: The energy index, airline fares, communication, used cars & trucks.
While the broad energy index (-5.0%) assisted by a steep decline in the gasoline index (-10.6%), some subcategories like natural gas (+3.5%) and electricity (+1.5%) have risen — something that's likely to continue as Europe's Nord Stream Pipeline remains shut down.
Elsewhere, the food index (+0.8%) saw it's largest 12-month increase since 1979, and is up 11.4% year-over-year. Some of the largest inflationary forces in the food index came from items in the "foods at home" category, like cereal, bakery products, bread, hotdogs and eggs.
US 10 Year Treasury Reaction
Market Rebellion Co-Founder Pete Najarian often talks about the 10 Year Treasury's inverse relationship with the Nasdaq. That inverse relationship held up well this morning, with the 10 Year Treasury surging to levels not seen since June 14th.
The Nasdaq's decline was equally swift, erasing all of its overnight gains, currently trading lower by -4.26% on the day. And it isn't alone:
September CPI Creates Bearish Trade Set-Up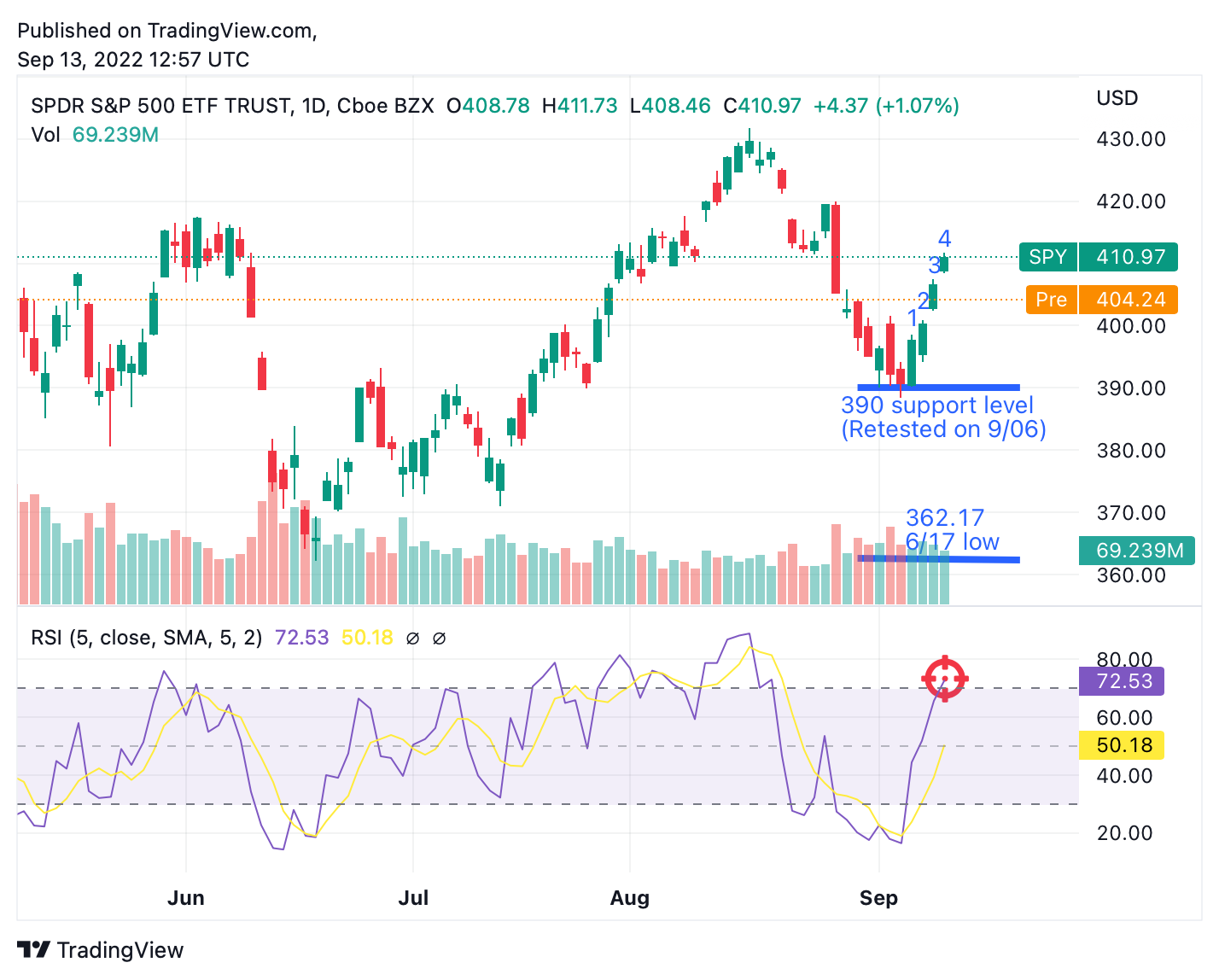 2022 has been a trader's market, and that doesn't look like it's going away any time soon.
Last week, we called $390 a crucial level of support that the SPY ETF (and consequently the S&P 500 Index) needed to bounce off of to prevent a return to June's lows. It did just that — bouncing swiftly by more than 5% over the following four trading days. Following the bounce, the market became short-term overbought, with some RSI timeframes reading above 70. If the market got what it wanted — a steep drop in inflation and the perpetuation of the "peak-inflation" narrative — then it may have been able to sustain the move and take the next leg higher. That is not what the September CPI Report gave the market. Now, that $390 level that served as support on September 6th (as well as in July) will likely be tested once again. With the velocity of this downward move, and the September 21st FOMC meeting looming in the market's near future, it's possible to finally see a retest of the June lows as many strategists have suggested.
It didn't take long for institutional "smart money" traders to latch onto the bearish price action with several massive option purchases.
S&P 500 Year-End Price Targets: Will Bulls Hold On?
Tuesday's hot CPI print and subsequent bearish move calls into question the S&P 500 year-end price targets of some of the more bullish strategists on the street, like JPMorgan, which has been holding firm on its 4,800 S&P 500 year-end price target.
"Cooling inflation" and a favorable September CPI Report have been a big part of the bull's thesis on how the S&P 500 can return to all-time highs with only 76 trading days remaining in 2022. Conversely, the bear case was largely about the worsening macroeconomic environment, the energy shortage in Europe, and the effect of Fed tightening on stock market valuations. Put another way — the analysts at Morgan Stanley, Bank of America, and Piper Sandler didn't include "inflation goes higher in September" on their bear-market bingo card, but it's certainly helping their case.