Double tops and double bottoms are two of the most easily identifiable technical patterns, but the insights that they provide can be invaluable. 
What is a Double Top? What is a Double Bottom?
In technical analysis, a double top occurs when the price of a stock rejects at upper resistance on the chart, returns to the level of resistance again, and then fails to break past it a second time. When price rejects twice at the same level of resistance after a defined bullish price trend, that's a double top. 
A double bottom is the same thing, flipped upside down. A double bottom occurs when the price of a stock finds support at a certain level, bounces, returns to the same level of support, and then bounces once again. Opposite of the double top, a double bottom must occur following a defined bearish price trend. 
A double top (or a double bottom) is a reversal pattern. In technical analysis, reversal patterns are used to predict a change in price trend — meaning these technical patterns can help traders know when to enter or exit positions. Think of it like this: Double tops predict the top, double bottoms predict the bottom.
Double tops and double bottoms can also form into a triple top or triple bottom — which is where price returns once more to the level of resistance or support and creates a third peak or trough in the chart. Triple tops and triple bottoms are considered an even more reliable technical pattern than double tops or double bottoms. These technical patterns can occur on any time frame, from intraday to months or even years. 
Why Do Double Tops and Double Bottoms Work?
The logic behind double tops and bottoms is simple — the market has decided unanimously that the price of a stock is too high, and should be sold (in the case of a double top), or is too low, and should be bought (in the case of a double bottom) at a specific, defined level. 
Double tops and double bottoms are so prevalent and widely recognized that they can become a self fulfilling prophecy. Traders, institutional investors, and even algorithms who trade on technical analysis may deploy capital large enough to create momentum. For instance, if an institution with a large pre-existing long position sees a double top, they may sell some or all of that position — which may create bearish downward price action.  
As with any technical pattern, volume is extremely important for judging the conviction of the market — particularly at the levels of support and resistance. If, in the case of a double top, the level of resistance is sold with above average trading volume, that indicates a market that is convinced the stock in question should not rise above that level of resistance. 
Trading Double Tops and Double Bottoms
Trading double tops and double bottoms is relatively uncomplicated. Traders who are looking for an entry point to a long position in a stock that is in a defined bearish downtrend can search for a high volume double bottom. Traders who are looking for an exit point to a pre-existing long position in a stock that is currently in a defined bullish uptrend can use a high volume double top pattern as their exit point. Bearish traders can use these same patterns in reverse — using double tops as a point of entry for a short position, or double bottoms as a place to exit. 
As we mentioned above, it's paramount to search for above-average volume when trading these technical patterns. Low volume trading is like judging who's going to be president when only 1% of the votes have been counted — a lot can happen when the rest of the market steps in and deploys their capital, and they may not care about the small volume of traders who sold at the resistance level. But if the volume is high, you can be a little more certain that most of the traders who care about this stock have "cast their vote". 
Let's look at a couple of instances of double tops and double bottoms on real charts.

Example of a Double Top in Amazon (AMZN)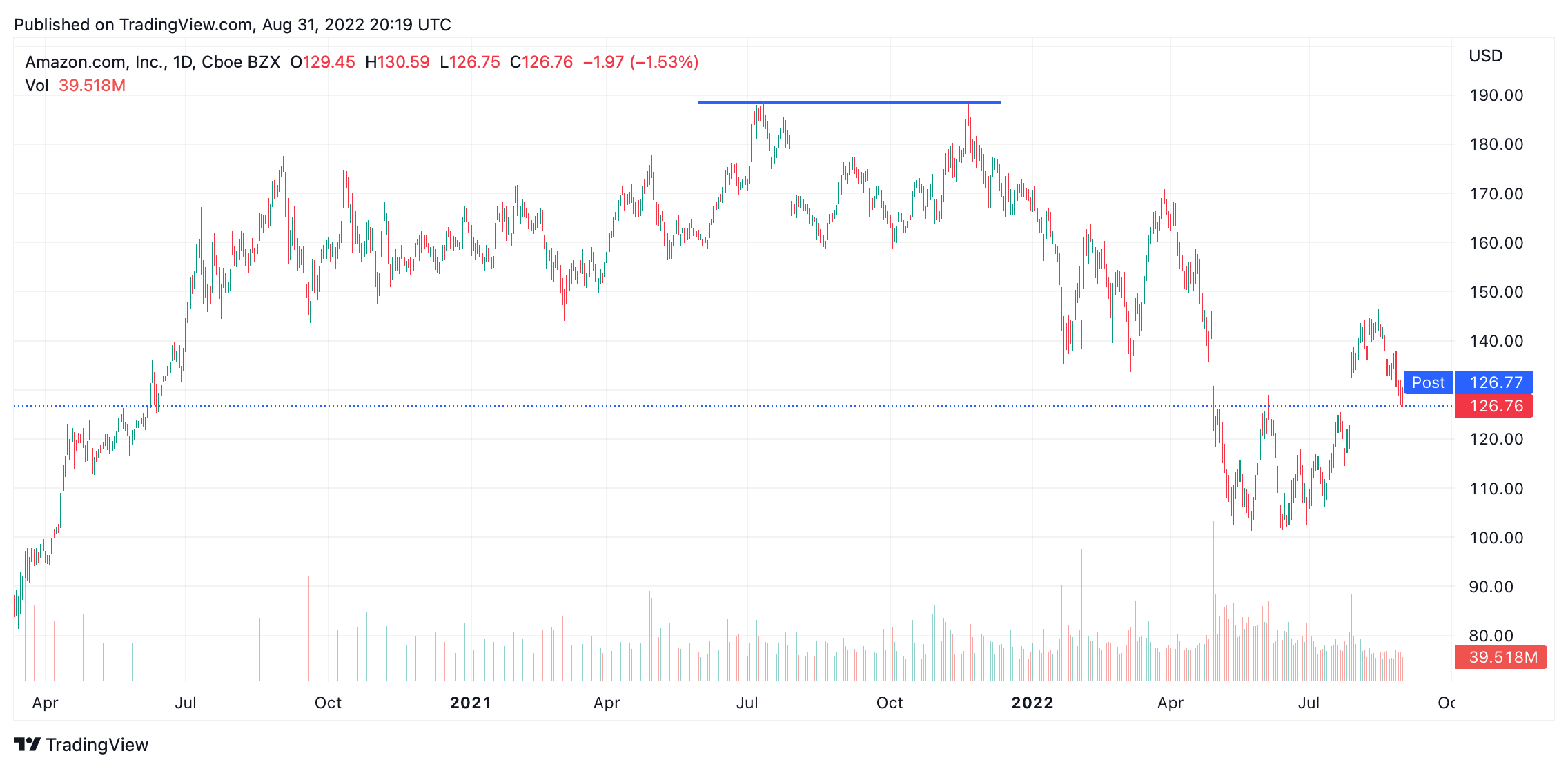 Source: TradingView, Market Rebellion
Shares of Amazon (AMZN) had been rallying out of the Covid-19 lockdown, and even for a long time before that — however, Amazon couldn't escape the clutches of the double top shown above. Amazon rejected the $188 level of resistance, gapped down, and after filling the gap, rejected once again at the same $188 level. This began a steep bearish reversal for shares of Amazon, which would go on to lose roughly 46% of its value over the following months. 
EXTRA CREDIT: Can you spot the double bottom that put a stop to Amazon's bearish decline?
Example of a Double Bottom in Exxon (XOM)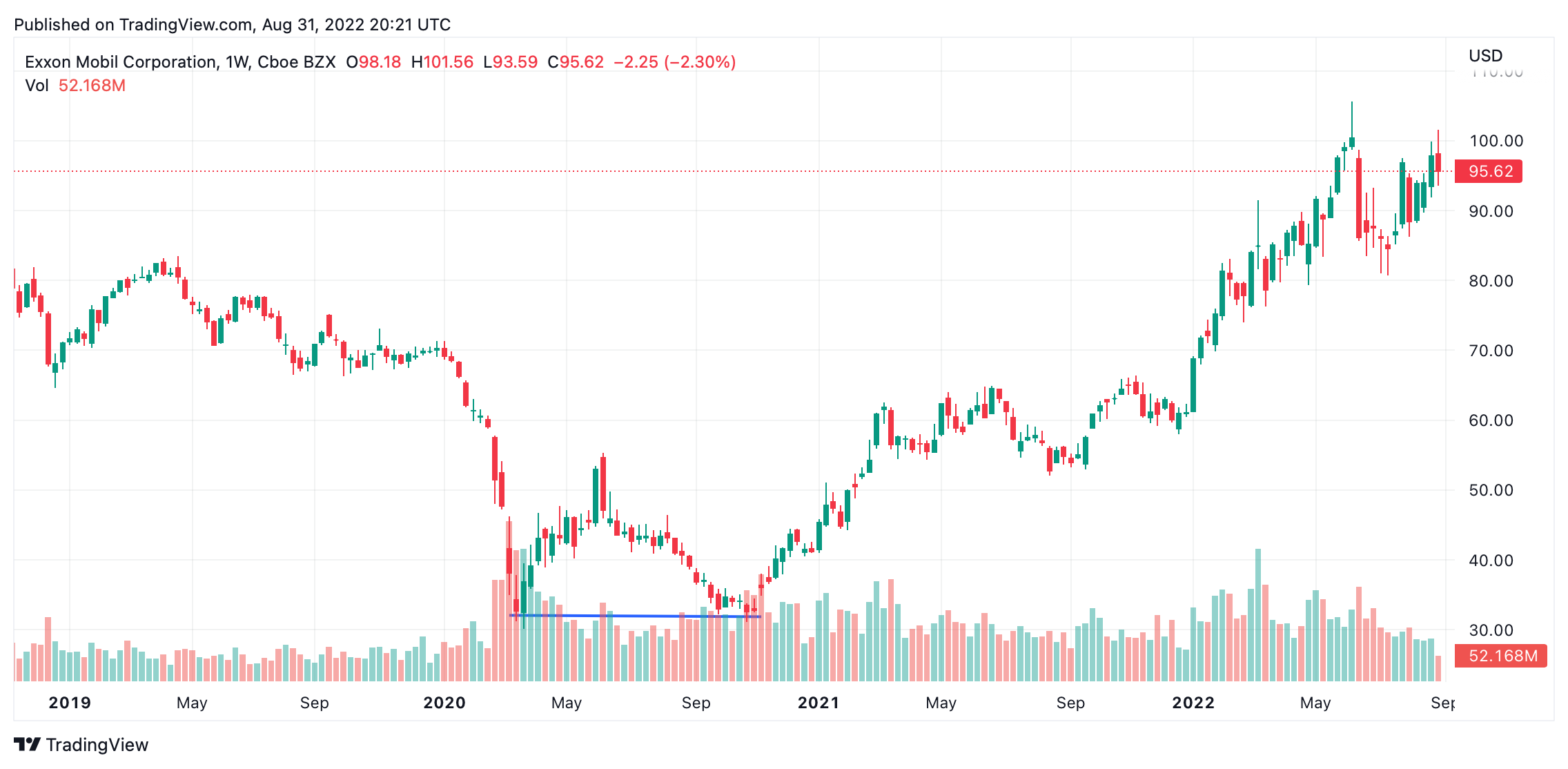 Source: TradingView, Market Rebellion
Shares of Exxon (XOM) fell dramatically to kick off 2020 (and had been in a bearish downtrend for several months before that). From the start of the year to the height of the pandemic, Exxon had lost more than half of its value in only three months. When the rest of the market started to move higher, Exxon attempted to join in, rallying briefly off the $31 level before crashing back down. However, in November, shares of Exxon found support once again at the $31 level — kicking off a powerful bull run that sent it more than 3X higher.
The Bottom Line
Market Rebellion's Ron Ianieri used to tell traders, 
"Keep it simple. Don't get analysis paralysis." 
What he meant by that is that technical analysis is a deep rabbit hole. There are literally hundreds of different indicators, patterns, and strategies that technical traders defer to when making trades. They all have merit, but often, it helps to lean on the most widely recognized technical patterns and indicators. And there are very few technical analysis tools more recognizable to traders than the double top, and the double bottom.