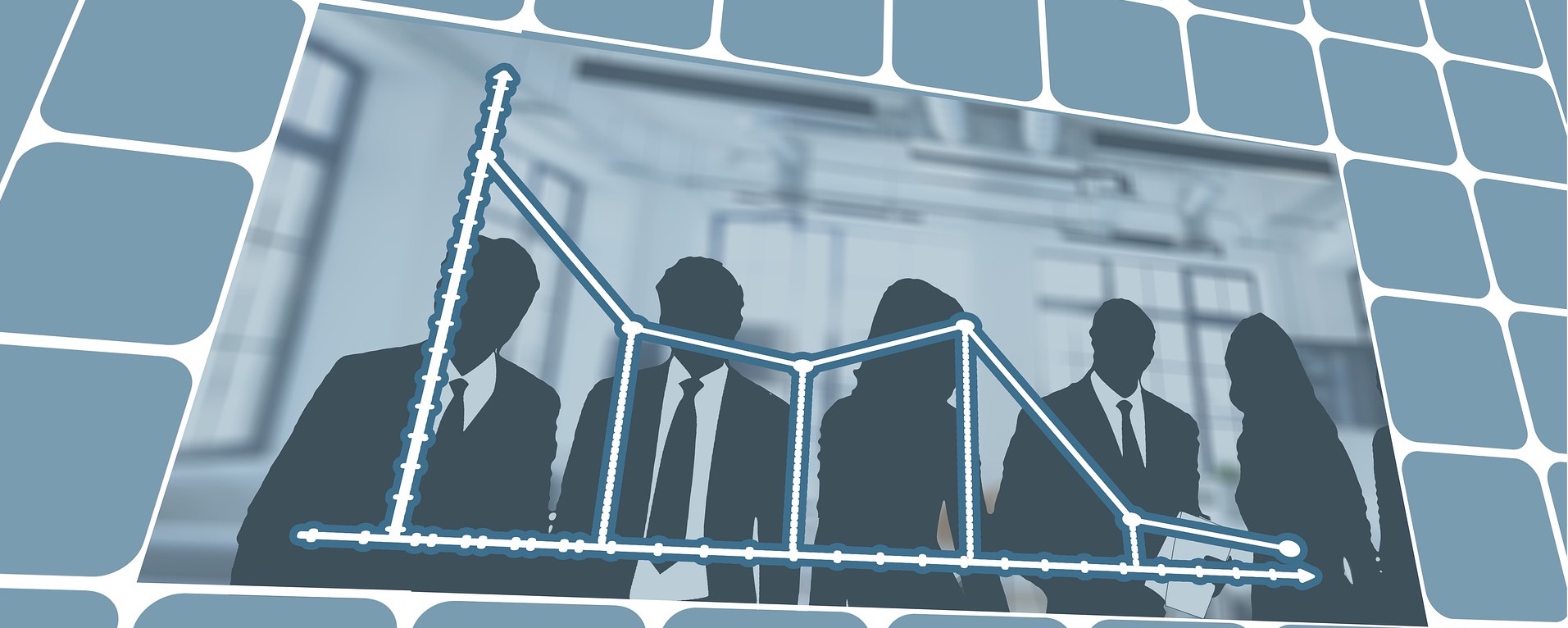 Last week, Bloomberg wrote that "Powell has the chance to reset market expectations at Jackson Hole" — and on Friday, that's exactly what he did. Source: Pixabay
When Jerome Powell took the stage on Friday morning, he told the audience he was going to be "short" and "direct" with his message. He stayed true to that promise — only speaking for ten minutes. But what he said was enough to rattle markets for the next 6 hours. The gist: "Higher for longer". After invoking Paul Volcker and "the 1970's", Powell warned that the Fed would stay the course in its fight against inflation, even at the cost of causing some pain along the way. This was a very different Jerome Powell than we had seen at prior FOMC meetings.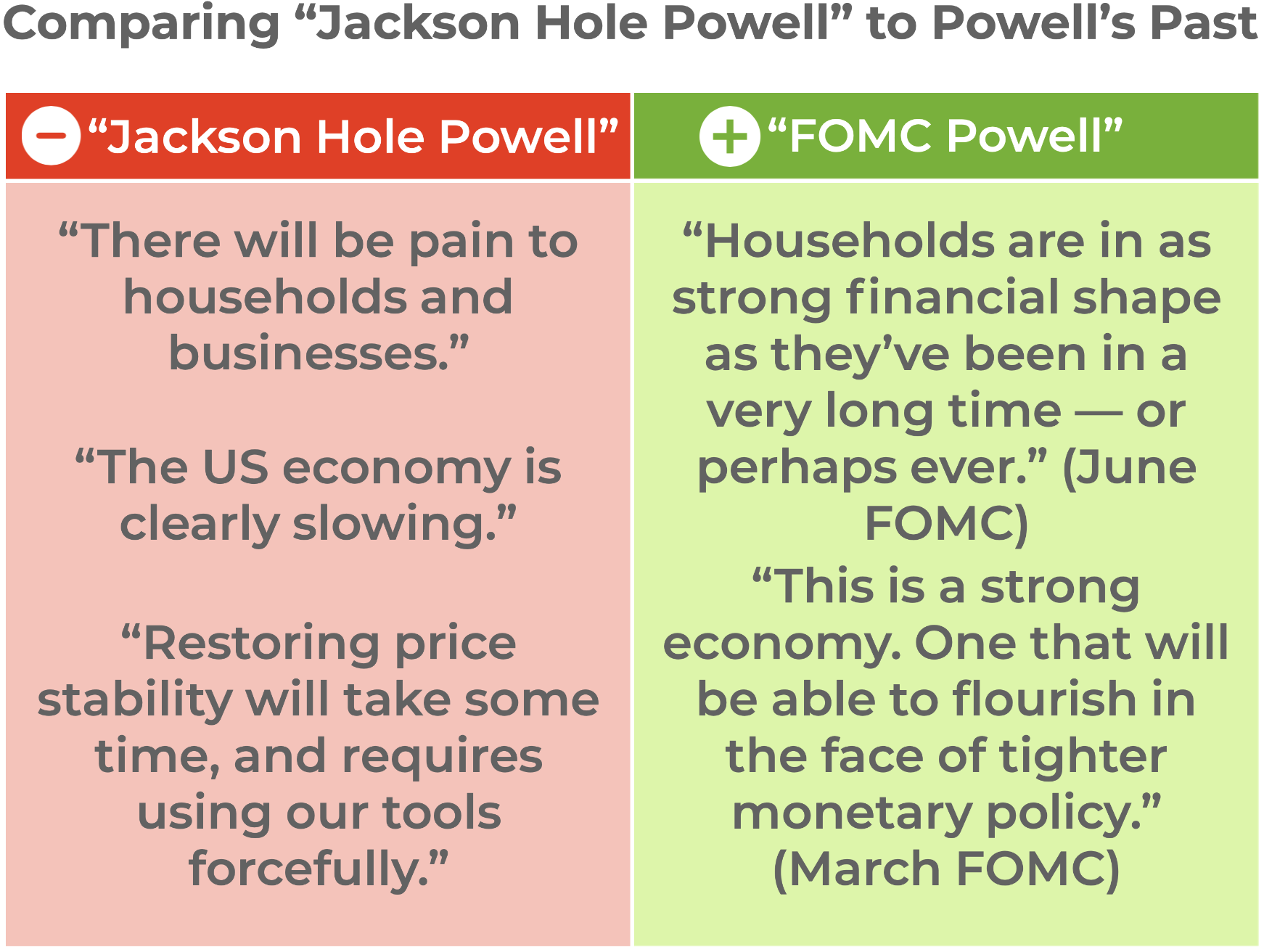 "Forcefully". Source: Market Rebellion
Market Reaction to Powell's Speech at Jackson Hole
Within ten minutes, the narrative of the "Fed Pivot" was dead. By the end of the trading day, the Nasdaq had fallen 3.94%, the S&P 500 had fallen 3.37%, and the Dow Jones Industrial Average had fallen 3.03%, making August 26th the worst-performing day in the market since June 12th.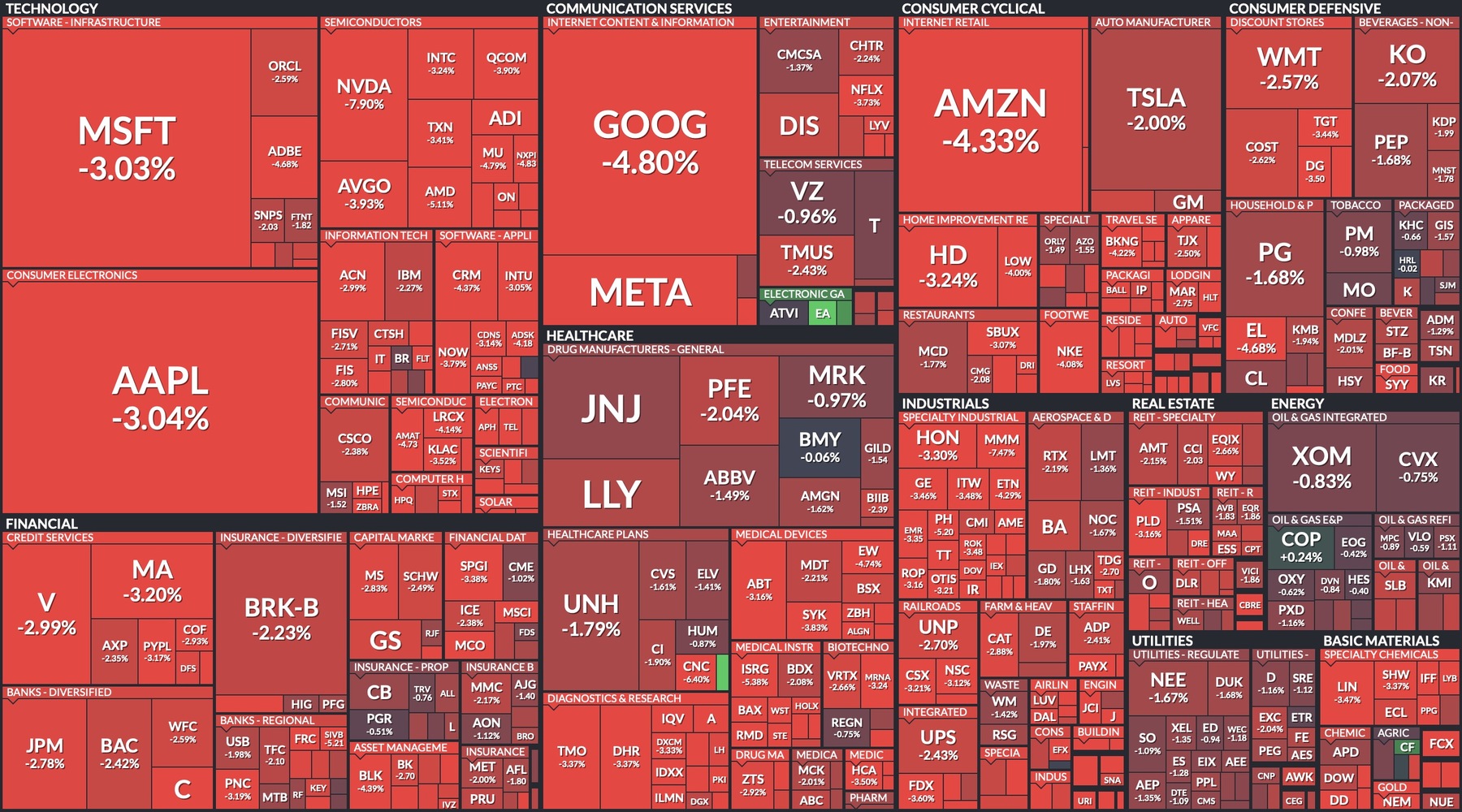 Few were spared from the Powell Plummet. Source: Finviz
A Handful of Winners
Only five S&P 500 holdings finished in the green on Friday:
Electronic Arts (EA): +3.57%

Molina Healthcare (MOH): +3.36%

Take-Two Interactive (TTWO): +1.59%

CF Industries (CF): +0.81%

ConocoPhillips (COP): +0.04%
The top performing stock, Electronic Arts, was pushed higher by rumors that Amazon (AMZN) was going to take a shot at acquiring the video game company. However, sources told CNBC's David Faber that the rumors were inaccurate. Friday's second place contender, Molina Healthcare, hit its 52 week high during intraday trading on the back of several analyst upgrades, most recently from Wells Fargo (WFC). 

494 Losers
494: That's how many S&P 500 stocks finished in the red following Jackson Hole (one stock — Nielsen Holdings (NLSN) finished flat). The top five worst performers: 
3M Co. (MMM): -9.54%

NVIDIA (NVDA): -9.23%

HP Inc. (HPQ): -8.94%

Align Technology (ALGN): -7.52%

Monolithic Power Systems (MPWR): -7.35%
The worst performing stock of the day, 3M, just can't seem to escape the bad news. The company is facing over 230,000 lawsuits in relation to selling defective combat ear plugs. Even though 3M is filing for bankruptcy, a judge ruled Friday that it cannot use that filing as a shield to halt or prevent the lawsuits. The second worst performer, NVIDIA, reported disappointing earnings and poor guidance on Wednesday after issuing several warnings ahead of the print. Though NVIDIA managed to recover its overnight losses on Thursday, it was no match for the "Powell Plunge".
S&P 500 Performance by Sector
While it didn't finish positive today, one sector has stood out above the rest of the pack this week: Energy. Despite finishing red on Friday, energy outperformed all other S&P 500 sectors, losing only 1.17%. That's considerably better than the S&P 500's worst performing sector of the day: Technology, which fell 4.27% on Friday. When you zoom out to the one week view the outperformance becomes even more pronounced: Energy is the only sector that finished this week in the positive.
5-Day S&P Sector Performance:
Energy (XLE): +4.25%

Materials (XLB): -1.26%

Financials (XLF): -2.55%

Utilities (XLU): -2.56%

Technology (XLK): -3.14%

Consumer Staples (XLP): -3.20%

Industrials (XLI): -3.36%

Real Estate (XLRE): -3.8%

Healthcare (XLV): -4.24%

Communication Services (XLC): -4.39%

Consumer Discretionary (XLY): -4.69%

It's a Trader's Market 
For investors in 2022, it's likely been a painful 8 months. But for traders, the volatility has set the stage for many incredible trading opportunities. It didn't take long for large financial institutions to latch onto the momentum with massive unusual option trades. For example, last week Market Rebellion identified two colossal option purchases made in Occidental Petroleum (OXY) worth a combined 30,000 contracts — some of which were bought just hours before the announcement that Warren Buffett would be permitted to own up to 50% of the stock. Maybe an institutional trader knew something ahead of the press release, or maybe it was a well-timed momentum play targeting the top performing stock in the S&P 500 (+136.80%). It doesn't matter why the trade worked. What matters is that the trader found a bright green spot in a highly volatile market. These institutional option trades are visible in order flow — and if you know what to look for, you can find and follow them.
Five remarkable unusual option activity trades that Market Rebellion has spotted recently:
The bottom line: 2022's market was complex and volatile long before Jackson Hole, and it's likely to stay that way for the foreseeable future. But that doesn't mean you have to stay away — you just need to have the right approach. Not sure where to start? Market Rebellion's Unusual Options Activity can help you find the opportunity in volatility — discover how today.