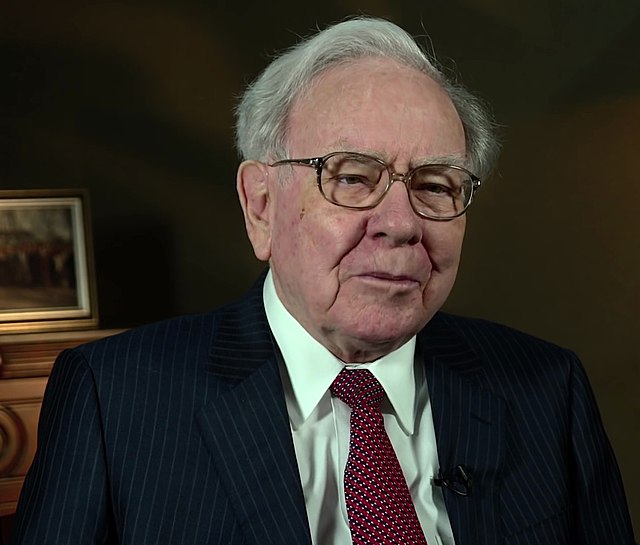 Berkshire Hathaway has been stockpiling shares of Occidental Petroleum Corporation (OXY) for months. Today, CEO Warren Buffett revealed his plans to increase BRK.A's total stake in the oil and gas producer to 50% of the company's total shares.
In a Federal Energy Regulatory Commission (FERC) filing made public early this afternoon, Berkshire Hathaway requested to acquire up to 50% of OXY's common stock. The move would mark a 150% increase in Berkshire's already enormous 20% stake.
Shares of Occidental Petroleum roared to the upside on the initial filing news, before hitting new highs at $72.49 just hours later following the FERC's approval of the request. OXY ended the session up 9.88% at $71.29 apiece.
It's the biggest daily increase for OXY's stock price since Buffett first re-engaged his bullish stance on the company in late February. But while a nearly 10% jump in Occidental shares is certainly impressive, it pales in comparison to the wild action seen today on the options chain…

Unusual Options Activity in OXY
Here's a free lesson on why we track unusual options activity order flow to the "smart money."
It's no secret that Warren Buffett is a BIG bull when it comes to Occidental. He's revealed as much with his initial stake earlier this year. And he's made no bones about his confidence in CEO Vicki Hollub.
Following their February 25th earnings call, Buffett said he "read every word" of the transcript, and that Hollub was "running the company the right way, this is exactly what I would be doing."
So, with that in mind, let's take a look at the unusual options activity that preceded today's OXY run — a perfect example of why we follow the "smart money."
With the Energy Select Sector SPDR Fund (XLE), an ETF that tracks energy stocks, and most other oil and gas stocks trading flat on the day (including Occidental which opened at $64), our Unusual Options Activity analysts alerted subscribers to an unusual purchase of 3,000 short-dated OXY August 26 $66 Calls, trading for roughly $1.18 at the time.

Given the greater context of the market action mentioned above, this trade struck our UOA team as pretty unusual. However, the situation would shortly become much more clear as OXY began jamming higher.
Just a couple of hours after this first unusual trade, the news that Berkshire made the FECR filing dropped, and shares of Occidental jumped over 6% to test the $69-level. Then, as the stock retraced to around $68, our Unusual Options Activity analysts alerted members to yet another OXY hit.
Prior to news of the FECR approval being released, our Heat SeekerⓇ algorithm identified massive buying of 27,700 OXY August 26 $70 Calls trading in a range of $0.38 to $1.77.

Shortly after, the FECR approval was public news and shares of Occidental soared to near 52-week highs over $72 before closing just above $71. As for those options, the August 26 $66 Calls closed the day at $5.80 and the August 26 $70 Calls finished at $2.98 — a daily increase of 367% and 831%, respectively.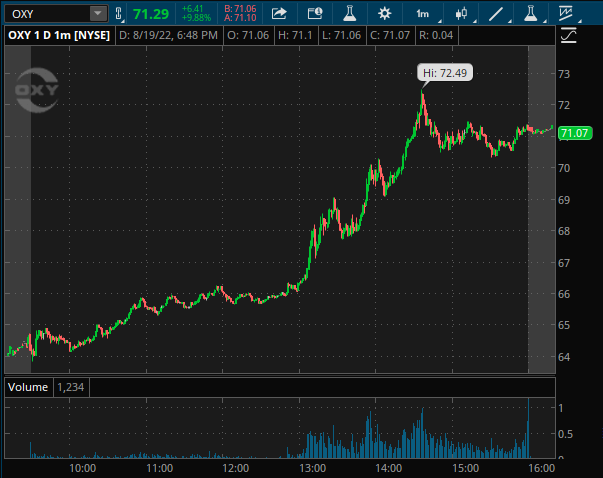 The Bottom Line
At the end of the day, there's no way of knowing who these traders are for sure. Whether it was insiders, powerful institutions with access to intel the rest of us lack, or perhaps even Warren Buffett himself!
To us, it really doesn't matter. Jon and Pete Najarian pioneered the Unusual Options Activity strategy in hopes of uncovering unusual options trades just like these — to find opportunities to follow traders who seem to have tomorrow's newspaper today.
Start following the Smart Money! Try Unusual Option Activity Essential and discover how you can get fresh UOA trade idea each week – including technical levels so that you know where to enter and exit!