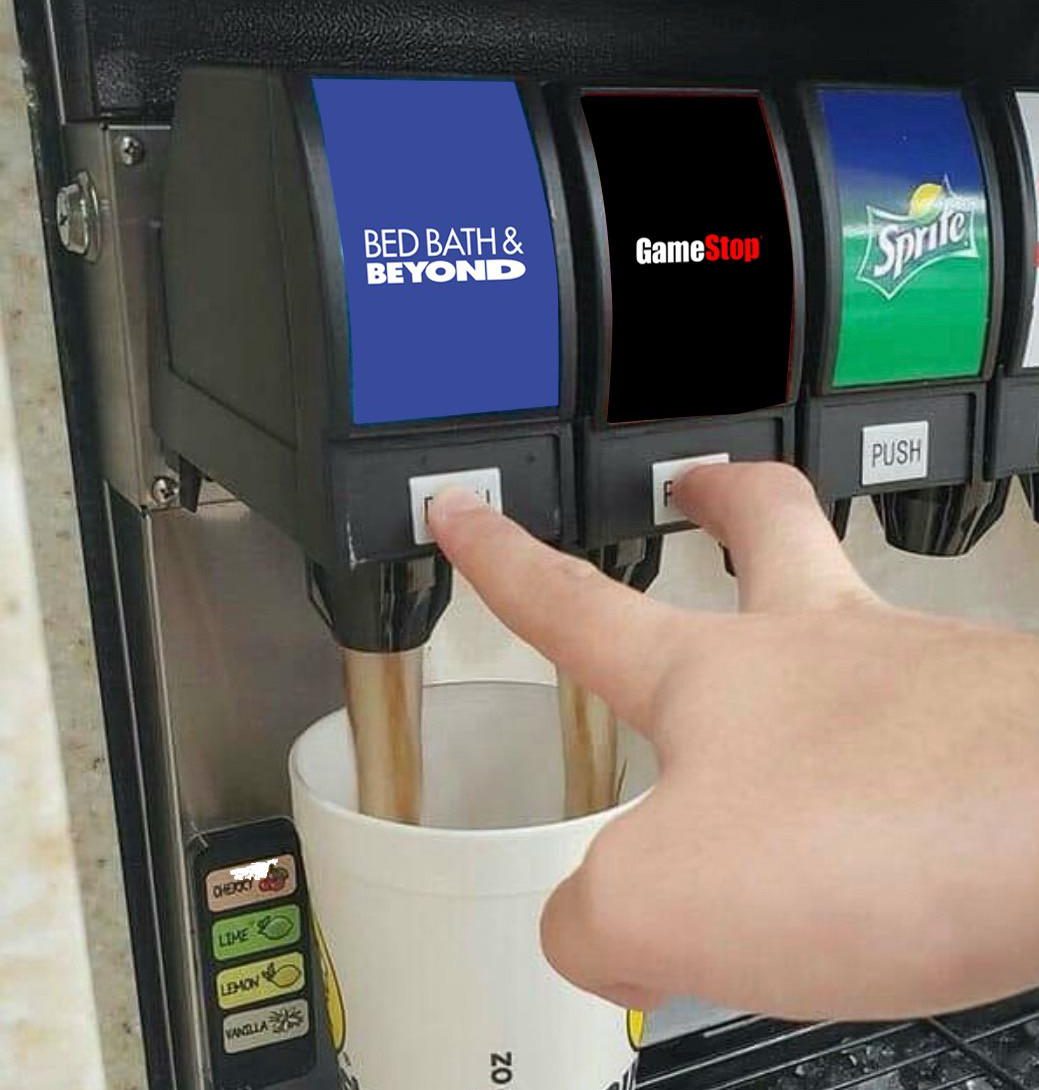 Is it Monday? Or is it memeday? Source: r/wallstreetbets
Today a number of stocks with high short-interest surged, including the big-three meme stocks: Gamestop (GME), AMC (AMC), and Bed Bath & Beyond (BBBY) — but this isn't relegated to just today. All throughout August the pot has been boiling for these three wallstreetbets favorites'. Let's take at how their moves stack up with one another below.
Comparing The August Moves of GME, AMC, and BBBY
GME is up over 24%

AMC is up over 68%

BBBY is up over 125%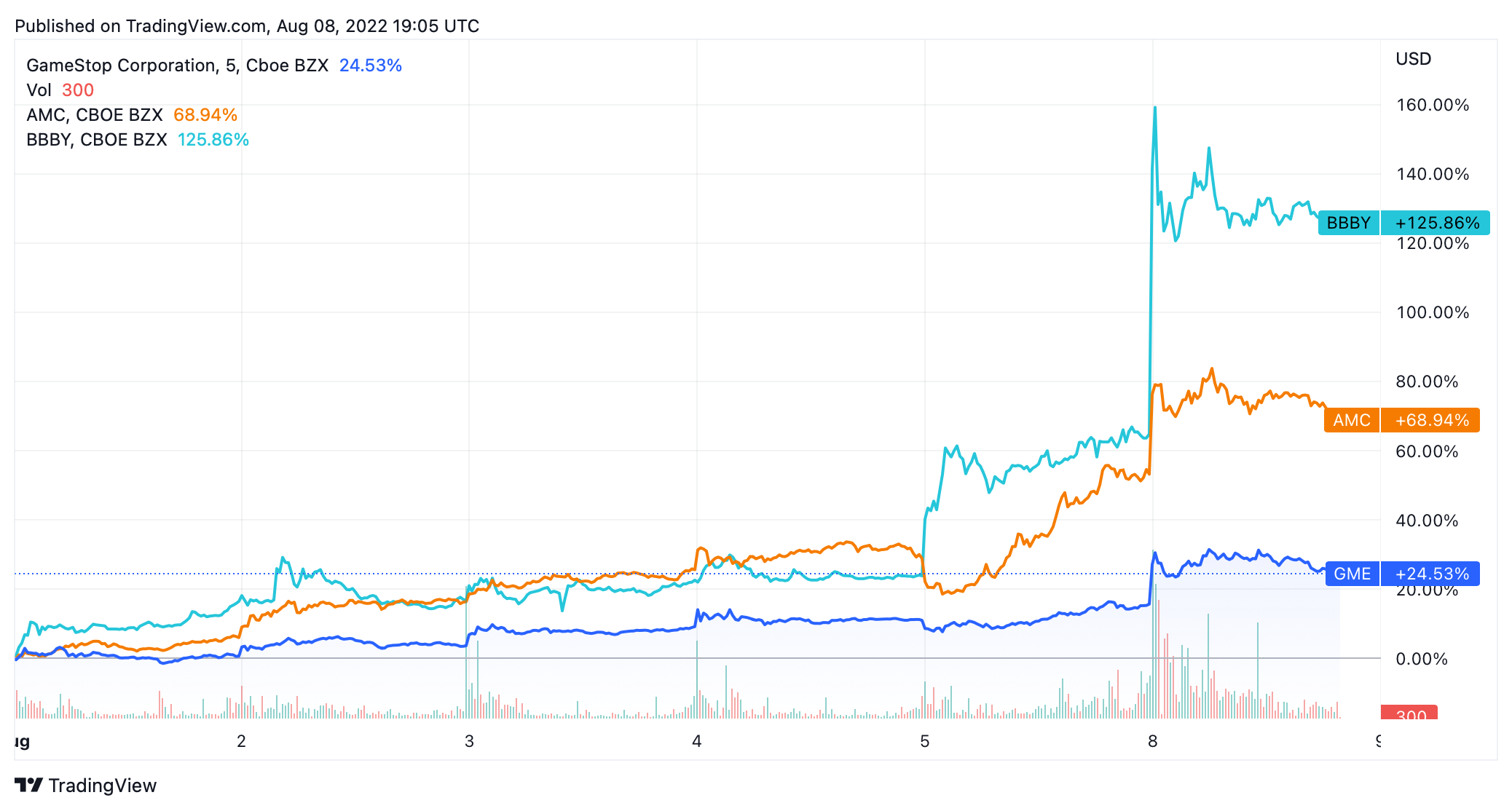 Source: TradingView
Realistically, other than high short interest, there isn't really a catalyst for any of this. There usually isn't. 
It's true that GameStop split its stock (which historically helps propel stocks higher — no matter stuffy old analysts crone about how they don't matter). 

And it's true that AMC is providing a dividend in a new, unique form (the listing of "APE units").

And it's true

that Ryan Cohen, the same activist investor who has taken on mythic status for GME-fans, has expressed continued interest in Bed Bath and Beyond. 
But none of these three things are really catalysts for a stock to have double (or in BBBY's case — triple) digit gains over the course of eight days. 
Nonetheless, it happened, and a few option traders are having a really great day. We're talking about Wall Street Bets here, so we would be remiss not to mention some of the biggest YOLO bets surrounding the most recent episode of meme-mania.
A "Business" Loan. You Know, for BBBY'isiness.
Let's start with this user, who took out a $27,000 "business" loan (he even provided proof of the loan) and went all in on shares of BBBY.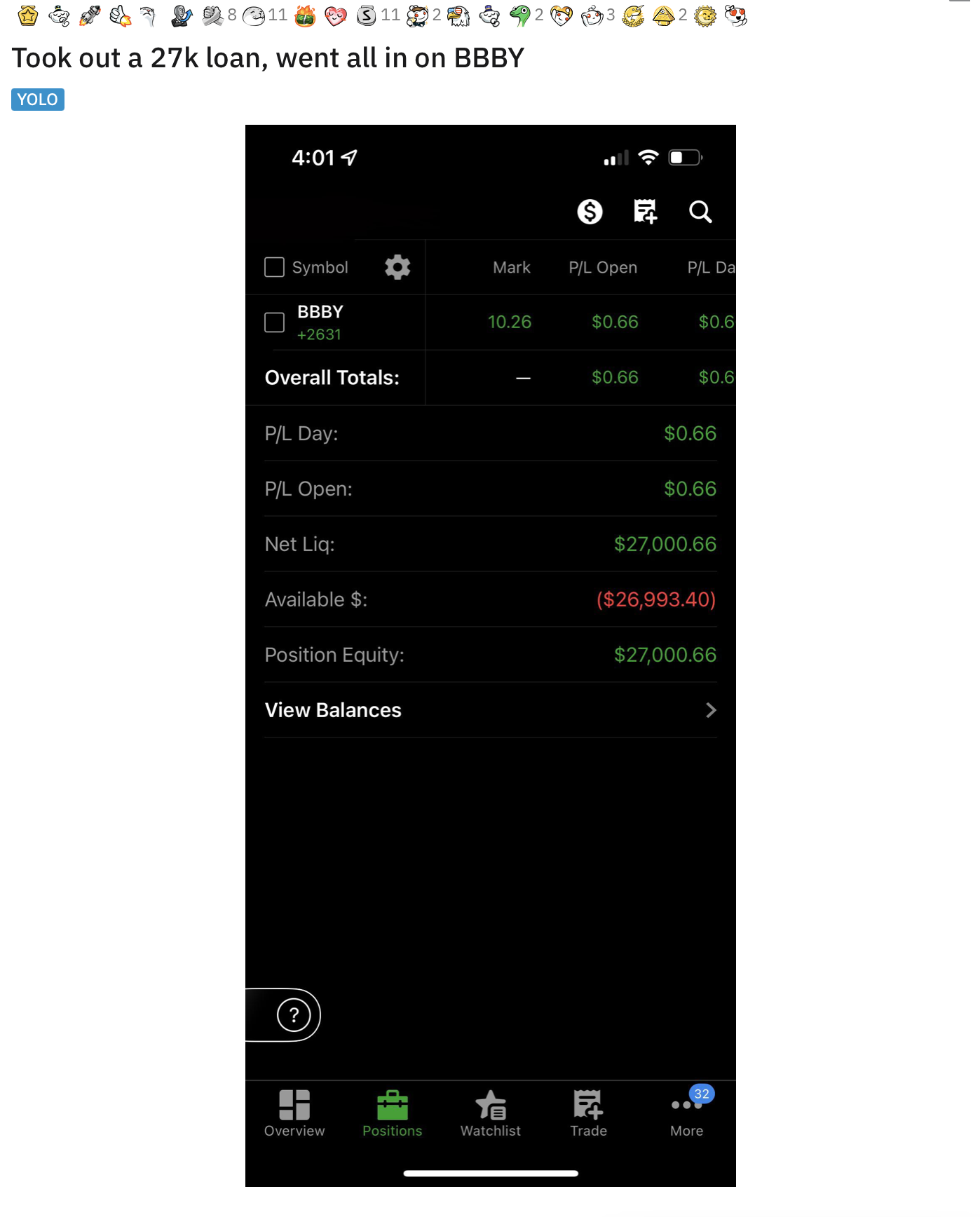 -Source: r/wallstreetbets
With 2,631 shares at a cost basis of $10.26, his investment is already up more than 10%. Of course… These are shares, and compared to the next user, 10% is child's play.

A High-Stakes Gamble on Far OTM $8 BBBY Weeklies

This user purchased 500 OTM $8 strike calls on BBBY last week — held through the weekend despite being up 452%, and woke up a quarter-millionaire.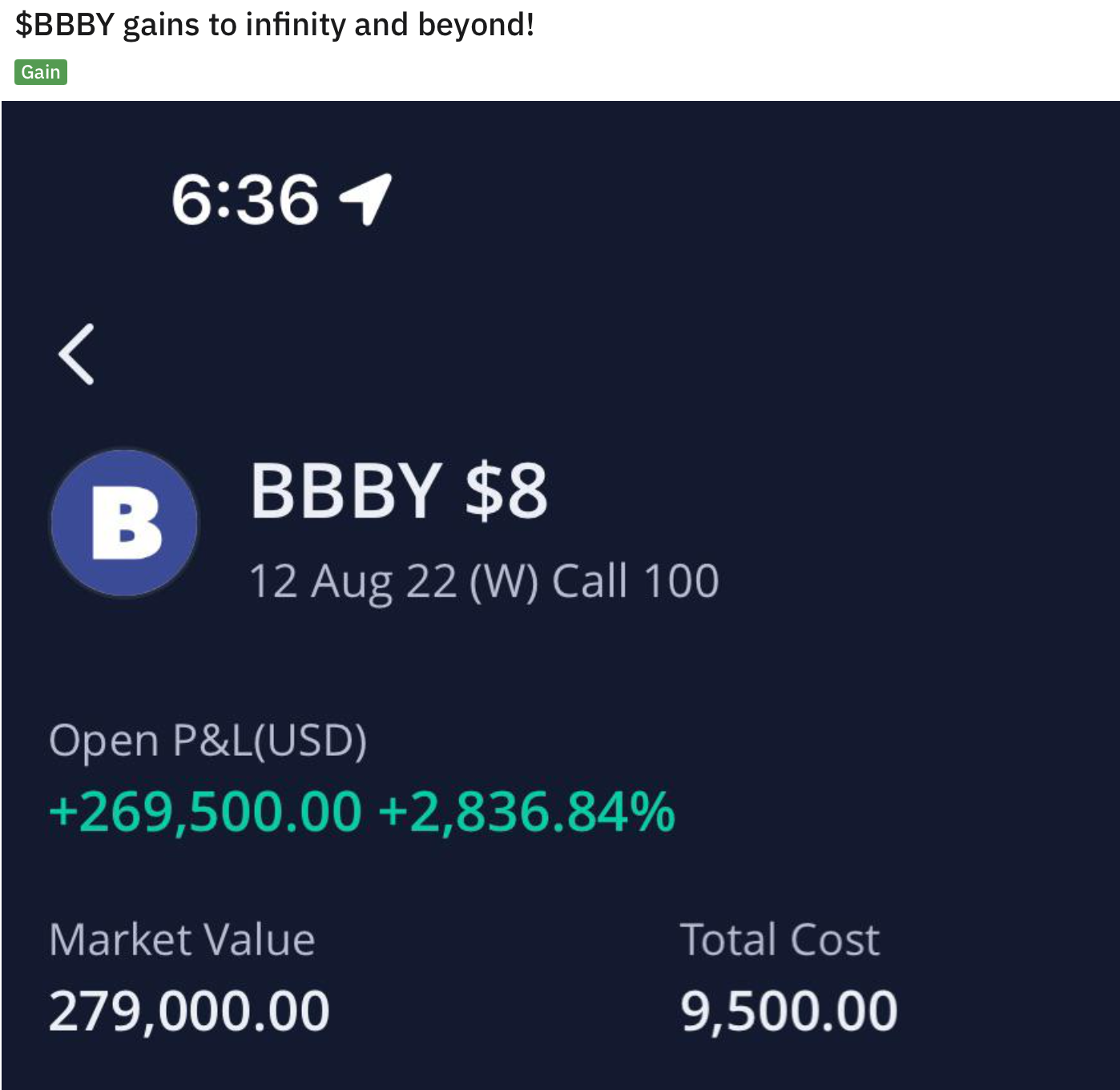 Source: r/wallstreetbets
Let's be clear: This isn't an advertisement to make dangerous trades. This is a representation of how powerful options can be. The trader above, for example, accessed the leverage of 50,000 shares for just $9,500. That was a risky bet for sure, but absolutely less risky than actually buying 50,000 shares (which at the time of writing would cost nearly $550,000). 
In either case, that's a risky maneuver, but who are we to judge? This man or woman just changed their life over the course of a single week. And they aren't alone. Wallstreetbets are full of traders who grabbed onto the bottom of this rocketship last week, and woke up today to a changed life. That's what's so incredible about the stock market, and options in particular — one slam-dunk prediction can literally alter the course of your life, forever. 
That's why the stock market is the single greatest tool for creating generational wealth in our time. And no one knows that more than the traders who cashed in on Monday's meme-mania.