Good morning Rebels! Or… I mean is it? It's a good morning for bears — but if you're long equities, it's probably not a great morning. That's because the CPI Report came in at 8:30 this morning (You know, that thing everyone has been talking about since last CPI Report?) and… we'll get into it in a moment, but let's just say Finance TV got to break out its favorite phrase again: "This is the worst inflation number since 1981!" 
But you didn't have to watch Finance TV or FinTwit to be able to see what the CPI Report was — you could have just looked at the market and seen all of those big red candles at 8:30 on the dot.
CPI Report: +1.3% vs 1.1% Consensus
If you were looking for a summary of the CPI Report: Inflation is up no matter how you slice it. The White House warned us of this on Monday with this press conference:
Karine Jean-Pierre expects upcoming inflation numbers from June to be "highly elevated." pic.twitter.com/vXL0t3F1v4

— Townhall.com (@townhallcom) July 11, 2022
We already warned you above that we were going to break out the phrase "the worst inflation since 1981", but that's the best way to describe it. Here's the breakdown:
-June Month over Month Consumer Prices +1.3% vs +1.1% estimate (Highest month-over-money increase since 2005)
If you strip out food and energy (the core CPI), it's still bad:
-Core CPI (Ex-Food & Energy) +0.7% vs +0.5% estimate (High was +0.9% in April)
And if you look at the year over year increase, well…
-YoY Consumer Prices Up 9.1% vs 8.8% expected, YoY Core CPI Up 5.9%
This is not what the Fed (or bulls, or people who have to fill up their gas tank) were hoping for. To be specific, the fed is looking for a sequence of month-on-month declines. With analysts at JP Morgan and Morningstar having reported prior in June and then later in July that this could be "the peak of inflation", the market has started to get a little impatient with its inflation expectations. As commodity futures prices have fallen dramatically over the past month, there are likely some market participants who were drawn back into the bull put ahead of this CPI Report. That selling could create additional downside pressure as we go through the rest of the week.
As we reported yesterday, out of the previous six CPI Report days in 2022, 5 of them led to a red close for the S&P, and the one that finished in the green was a tepid +0.27% in January. 

Impact on The Market
The major indices (and most of the market) plummeted at 8:30 — here's the S&P heat map: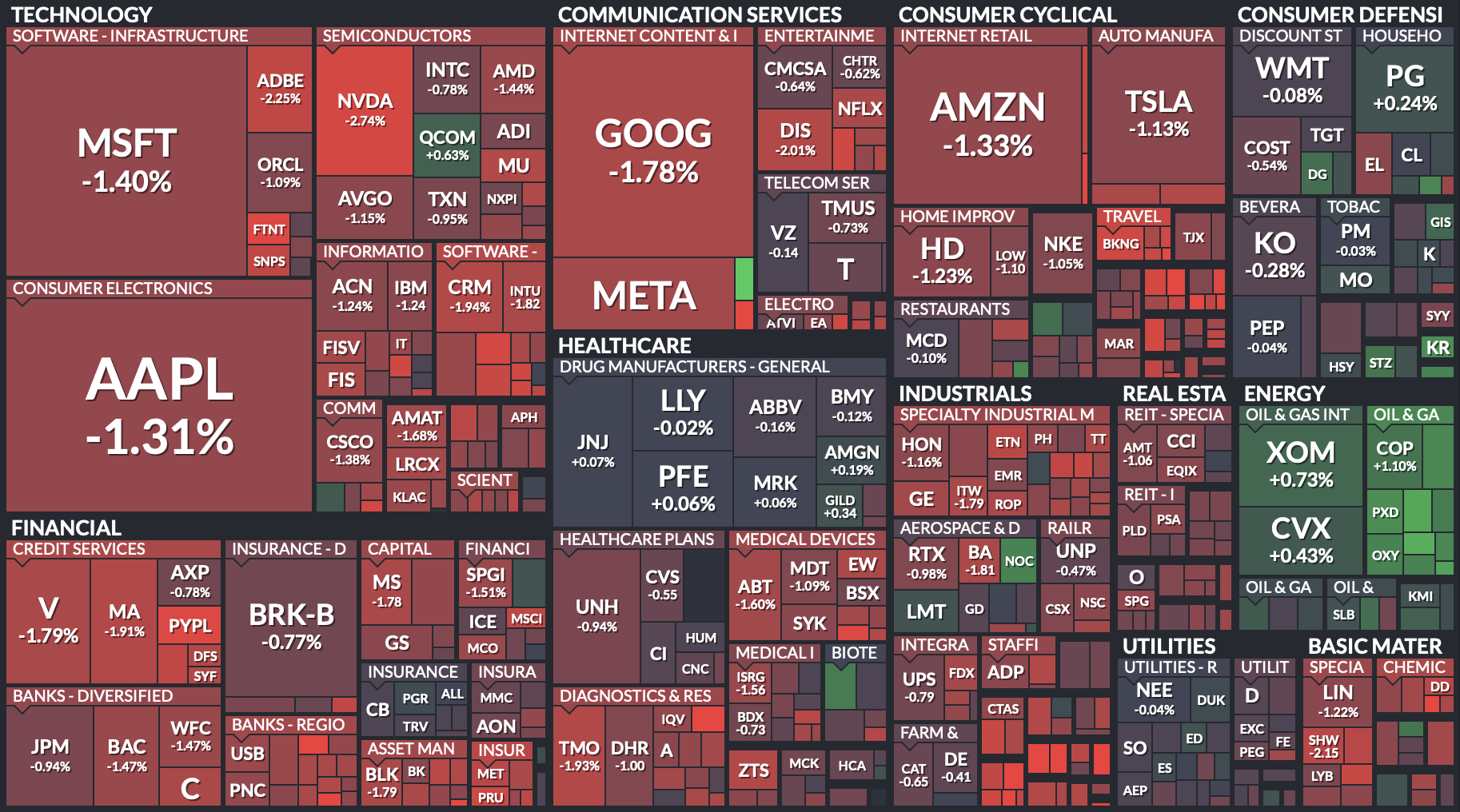 Source: FinViz
Conversely, the 10 Year Treasury soared to 3.02%, with the 2 Year Treasury even higher at 3.169% — a continued inversion which often is a symptom of an incoming recession. This is the largest inversion since March 2010.
The Dollar Index (DXY) has also risen dramatically, hitting a 20-year high of 108.57 — with the Euro and USD currently trading equal to one another.
According to CME's FedWatch, the impact on the US Interest Rate Futures were also immediate, with the CME's FedWatch tool pricing in a 75 BPS hike in September (25 BPS above the 50 BPS previously expected).
US rate futures have also shifted more hawkish, with a 22% chance of 100 BPS in July, and 79% of 75 BPS.
Analysts Steven Blitz believes this may be just the beginning,
"The Fed can kiss that soft landing goodbye. The Fed is going to a 4% Fed Funds Rate, and it is trying to get there as fast as possible. That is the minimum and I think they will get there by year end,"
Ready to start trading? Try Unusual Option Activity Essential. Learn how you can follow the "smart money" with a fresh UOA trade idea each week – including technical levels so that you know where to enter and exit!
For more quick takes on this morning's market-moving news, check out 60 Seconds With Jon Najarian!