The calendar spread allows option traders to take advantage of elevated premium in near term options with a neutral to mildly directional view — and it's a common trade structure deployed by Market Rebellion's Chief Technical Analyst, AJ "The Oracle" Monte.
When to Use Calendar Spreads
Collecting premium — When you believe that near-dated options are overpriced, and about to decline in volatility.

Neutral bias — When you believe that a stock is not going to make a big directional move before the option expiration.

Lower cost basis — When you want to own a long-dated option at a lower price.
Want more vital trading insight? Visit The Rebel Hub for daily video updates from Jon & Pete Najarian, comprehensive option trading guides, market news and more! 
How to Construct a Calendar Spread Step-By-Step:
Purchase a long-dated option

Simultaneously sell-short a nearer-dated option in the same stock, with the same directional view

As time decay takes effect on the nearer-dated short-option (also called the "front money" option), the trader has the option to either:

Buy-to-close the short-option for (hopefully) less than they paid

Let it expire (hopefully) worthless

Roll the short-option to continue exposure to the trade
Traditionally, calendar spreads use the same strike in both options, which makes the profit/loss diagram look like this: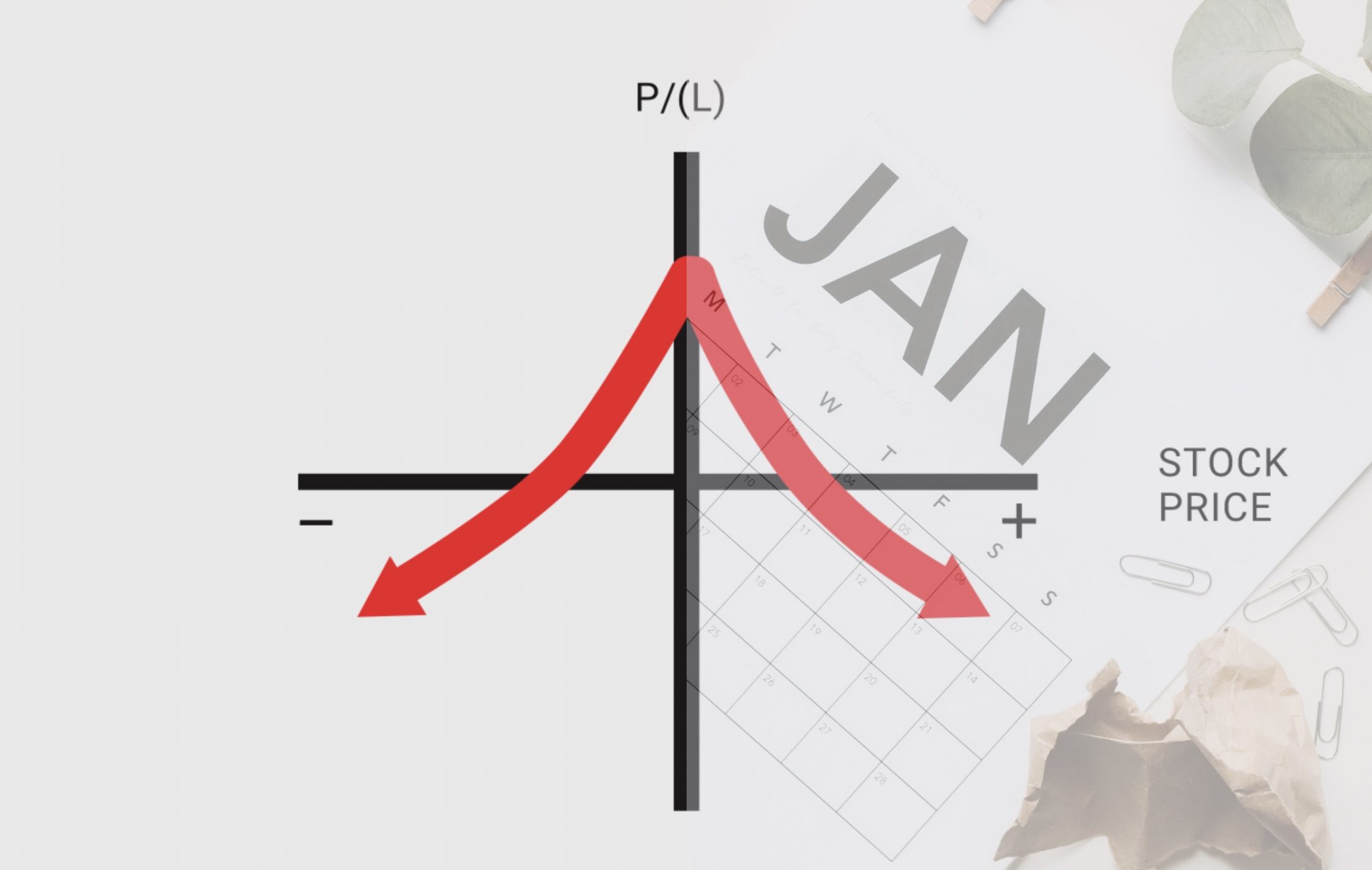 Calendar spreads work best when the stock expires at the short-strike. This is a similar P/L to the short iron butterfly.
However many traders (including Market Rebellion's AJ Monte) like directionality to these trades — the diagonal spread. Rather than selling an option at the same strike as the long option, diagonal spreads use a short option that is further-from-the-money than the long option, which creates a payout structure similar to a vertical debit spread (the max value becomes the distance between the two strikes). Traders do this not only to give their trade a directional bias, but also because OTM options are the biggest victims of time decay. 
Ready to start trading? Try Options Oracle. Led by Chartered Market Technician AJ Monte, Options Oracle combines diagonal calendar spreads with technical analysis to set up powerful two-pronged swing trades.
Real Life Trade Example: Diagonal Put Calendar Spreads in iShares Russell 2000 ETF (IWM)
Diagonal calendar spreads are one of the most popular trade structures used in AJ Monte's Options Oracle. Here's an example of a diagonal calendar spread trade that he put on this past January in the iShares Russell 2000 ETF (IWM).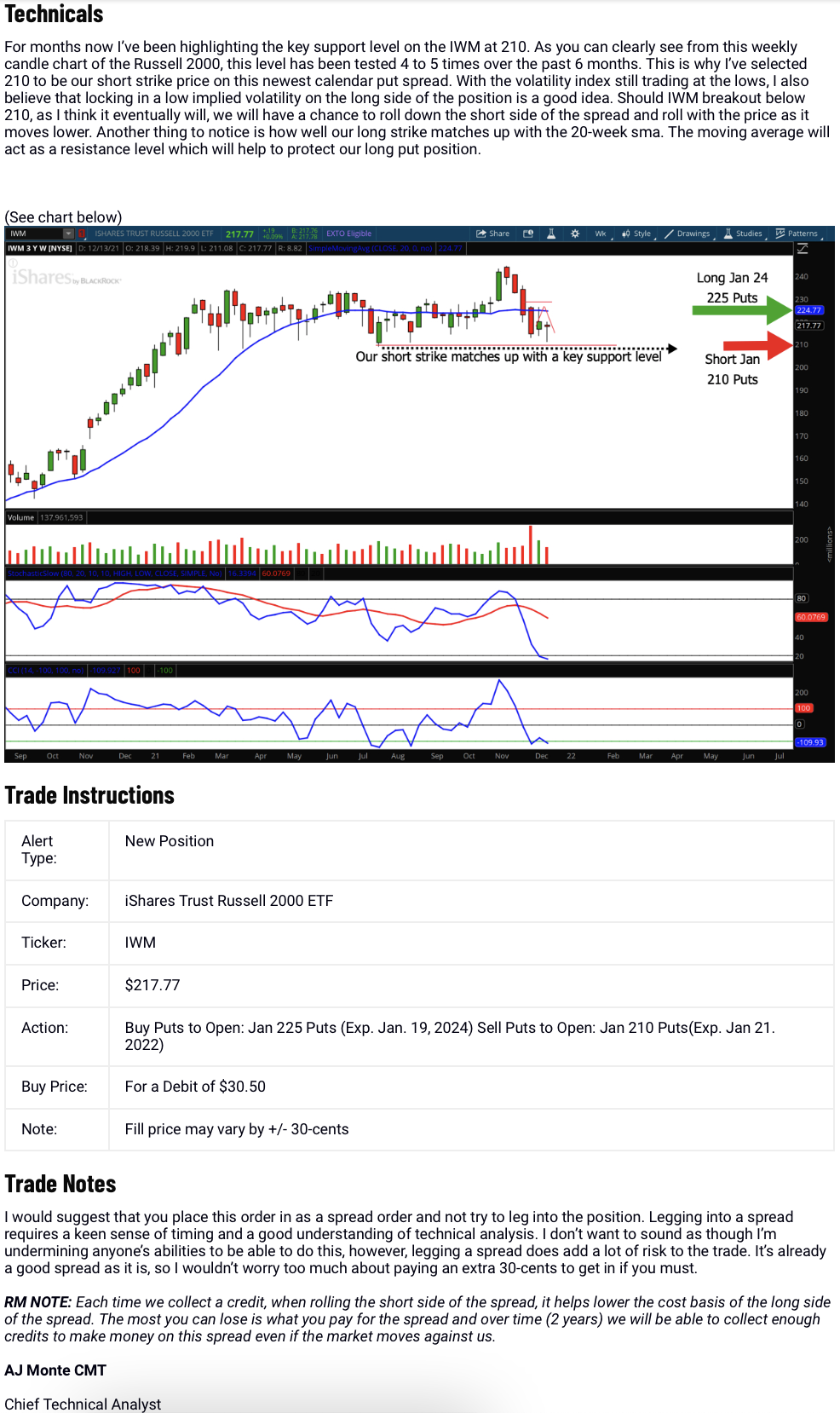 Source: Options Oracle
In the trade above, AJ Monte buys ITM $225 strike put LEAPS (meaning options that expire more than a year from purchase) resulting in a -$34.50 debit and simultaneously sells OTM $210 puts roughly a month away from expiration for a credit of +$4.00 — for a total debit of $30.50. The trade takes a mildly bearish view on the IWM Small Cap ETF, and caps potential profit from the $225 long put at the $210 short-strike until expiration. 
A look at the chart indicates that this trade did move in AJ's favor — by January 18th the IWM fell to $207, $3 below the $210 short-strike. As a result, AJ collected a portion of the premium by rolling the short option to the following month. By March, AJ had lowered the cost basis of his January 2024 $225 strike put LEAPS from an initial debit of -$34.50 to -$24.95 — all the while, the option was gaining value. At the time of writing, those $225 put LEAPS are trading for a mid price of $49.05 — nearly twice that of his cost basis. 
The Bottom Line: Calendar spreads and diagonal spreads offer a way to sell options and collect premium with limited downside risk. If you're interested in learning how to trade calendar spreads with help from a Chartered Market Technician, check out Options Oracle. Trade like the pros by trading with the pros.