KEY TAKEAWAYS:
Shares of Exxon (XOM) have soared 184% since November 6th, 2020.

Market Rebellion identified significant unusual options activity in this name, as well as many other stocks in the energy sector following November 6th — including thousands of option LEAPS which have yet to expire, and are currently trading higher than their initial purchase price by an order of magnitude.

Energy prices have fallen since June, but are still materially elevated on a year-over-year basis.

This dramatic rise in the energy sector was set in motion by a series of policies put in place by President Biden intended to help shift the United States away from fossil fuels, and toward renewable energy. 
_
After many months of pain at the pump, energy prices are finally starting to cool. In fact, this week gas and crude oil prices have fallen to pre-Russia/Ukraine levels. Problem solved, right? 
Not quite.
While many attribute the recent run-up in energy costs to "Putin's price hike", a look at the chart tells a different story.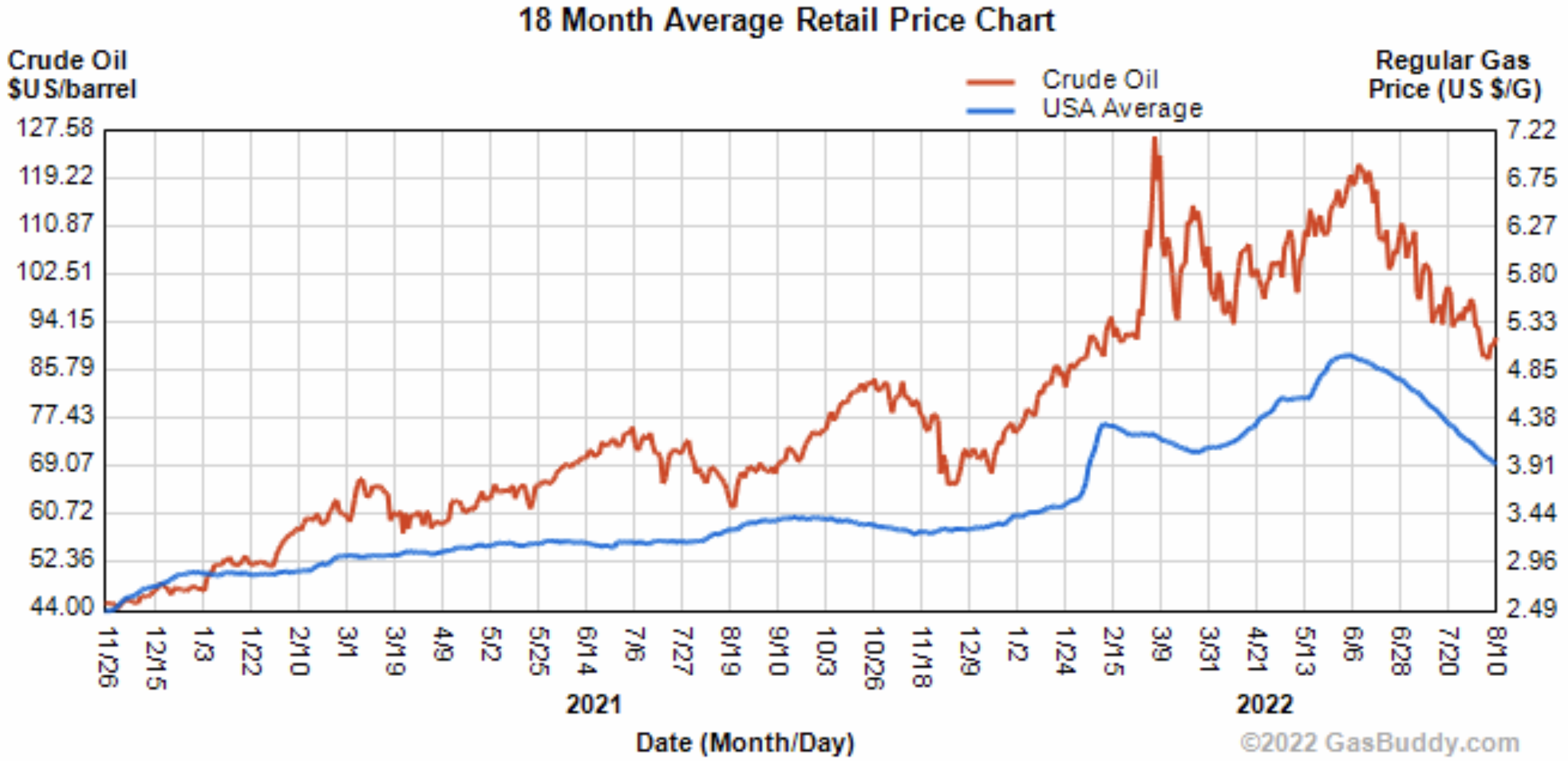 Crude oil and gas prices over an 18 month period. Source: GasBuddy
You can trace the climb in gas, crude oil, and even energy stocks back to a specific day in November of 2020. What was that day?
Biden Wins the 2020 Election, Triggering a Massive Rally in the Energy Sector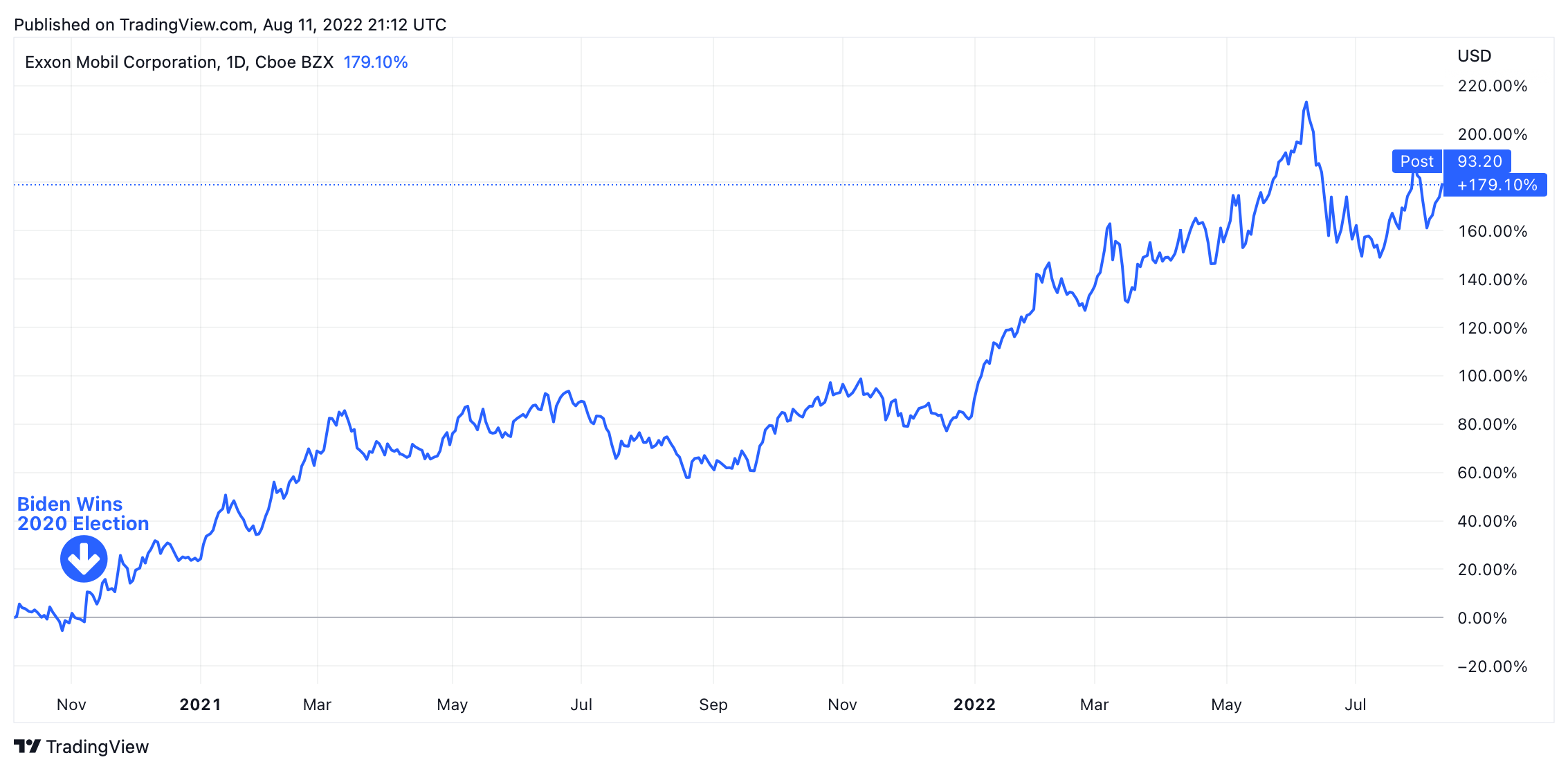 This isn't a meme stock you're looking at — it's Exxon. Source: TradingView
Unusual Options Activity in Exxon LEAPS Following Biden Election

Not pictured: Thousands of other unusual bullish purchases bought in this and other energy names. Source: Market Rebellion's Unusual Options Activity. 
Beginning on Election Day, the "smart money" had their hands all over Exxon calls. But it wasn't just the sort of short-term calls you see above. We saw multiple massive purchases of LEAPS — options that expire more than a year out in time. Here are two of them: 

The foresight involved in buying Exxon call LEAPS with the stock at $41.23 is one example of why we follow the smart money. 
Ready to start trading the technicals? Try Rebel Weekly. Ride the waves of market momentum with two actionable trade ideas designed to capture technical break outs and break downs — delivered to your inbox every week.
What are these Exxon LEAPS worth now?
That 11/24/20 purchase of 5,300 $30-strike LEAPS cost the buyer $7.3 million dollars. Today, those LEAPS are worth $33.4 million. 

That 10/07/21 purchase of 5,500 $62.5-strike LEAPS cost the buyer $2.9 million dollars. Today, those LEAPS are worth $17.5 million.
_
The call LEAPS above expire in January of 2023, meaning that if they were bought today, they wouldn't be LEAPS — it's the fact that they were bought on November 2020 and October 2021 that makes them LEAPS. That means if these buyers held past the one-year mark, all of the potential gains shown above would be taxed at a much lower long-term capital gains, rather than short-term capital gains. Essentially, it means they would get to keep more of their profit. 
These were multi-million dollar institutional trades. But you didn't have to spend millions to make a killing on XOM. 
Analyzing the Data: Exxon $50-Strike January LEAPS
Let's look at the price appreciation in (what was) one of the highest volume XOM LEAPS — the $50-strike call options expiring January 2023.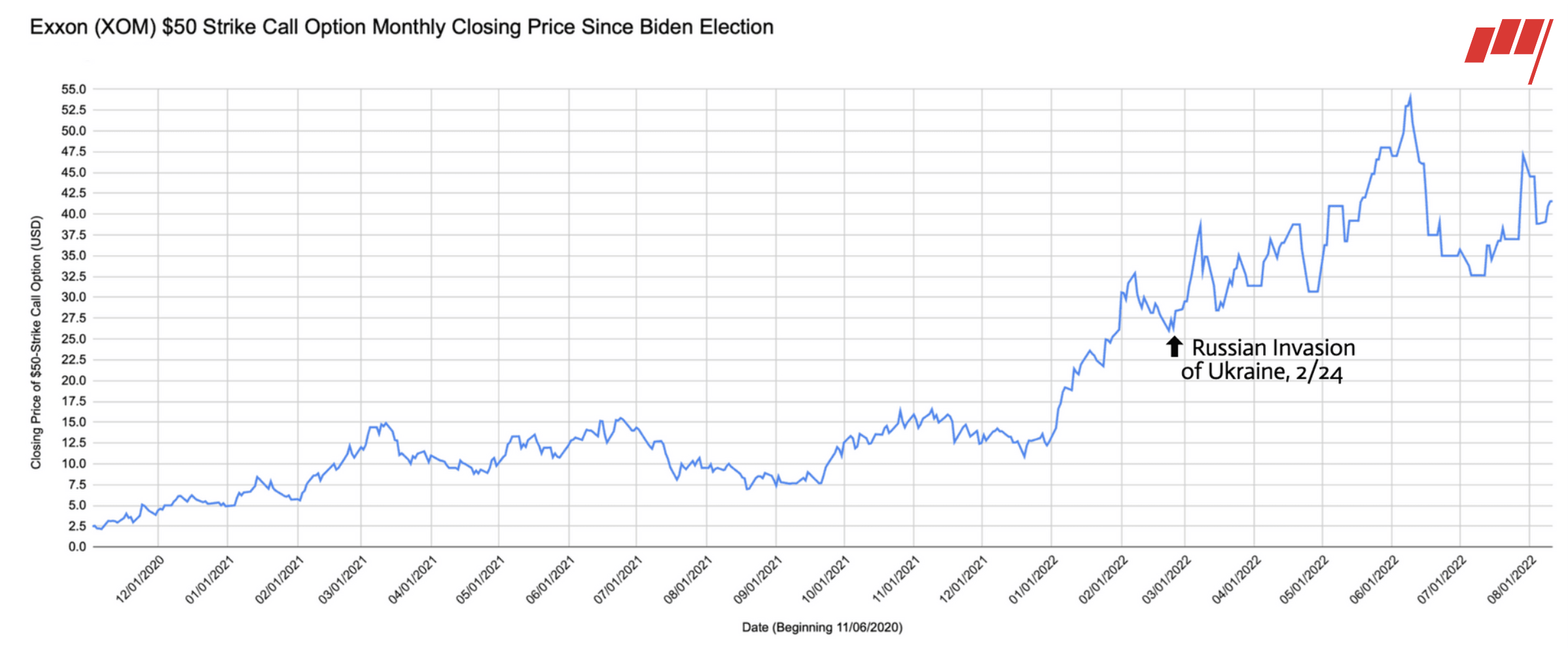 The premium price of $50-strike Exxon LEAPS from 11/06 to present day, with Russian Invasion of Ukraine annotated. Source: Market Rebellion
On 11/06/2020, the day Biden was elected president, these $50-strike Exxon LEAPS traded as high as $2.40 before closing at a trade price of $2.15. With Exxon trading at $32.78, these options were more than 50% out-of-the-money — however, because they were LEAPS with more than two years to expiration, theta decay isn't really an important factor here. When looking at the pricing of LEAPS, we care more about delta and implied volatility.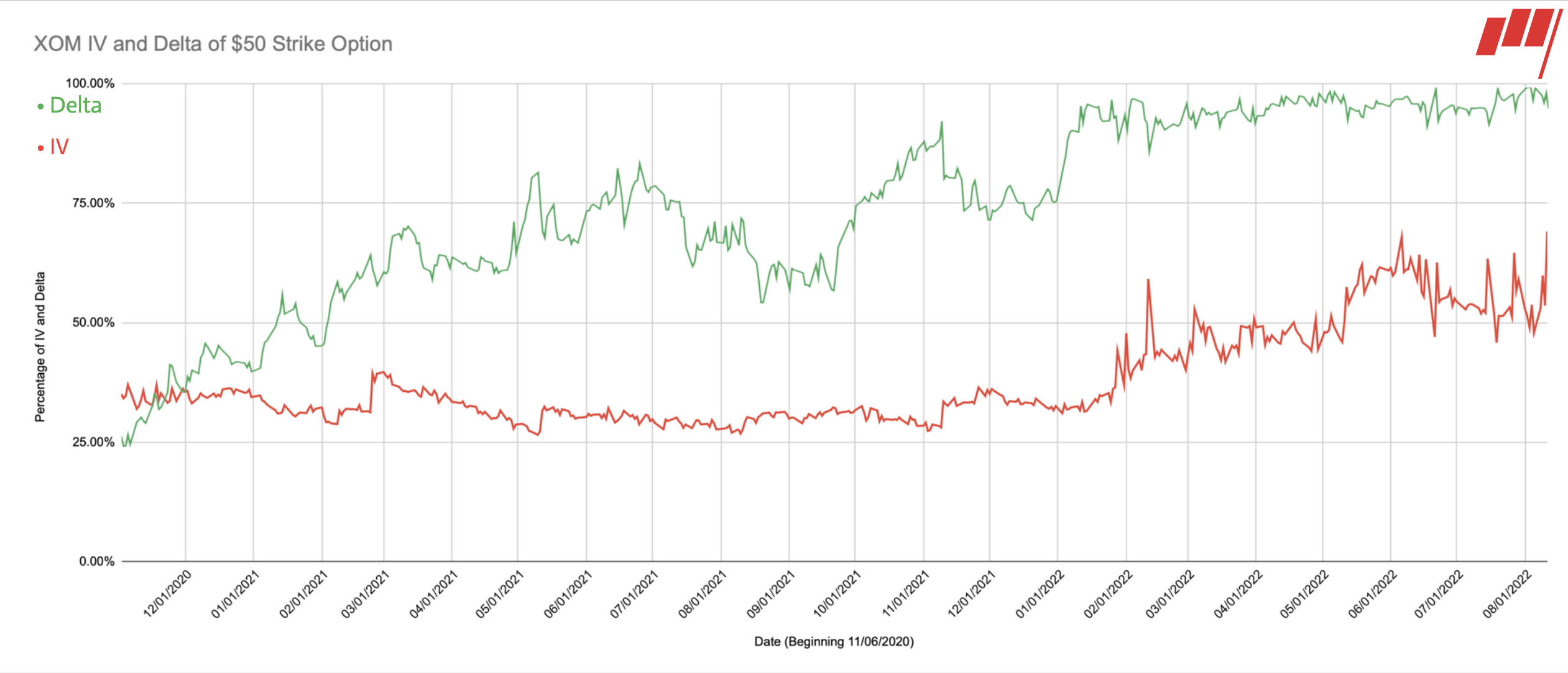 Chart of IV and Delta in $50-strike XOM LEAPS over the same period. Source: Market Rebellion
On November 6th, 2020, these Exxon options traded at a delta of roughly 25 — meaning two things:
The option market was giving these options a de-facto

25%

chance of expiring in-the-money.

These options commanded 25-shares-worth of pricing power. A $1 move in Exxon shares, a $0.25 move in these options.
At present day, these options command a delta of 99.4 — meaning both the likelihood of expiring ITM and the leverage of shares that they command have both risen nearly 4-fold.
Additionally, implied volatility remained relatively stagnant in Exxon until the Russian invasion of Ukraine — meaning these options weren't "pricing-in" any abnormally large future price moves. That's the set-up we're looking for when we're considering entering LEAPS. 
So let's answer the question:
Ready to start trading? Try Unusual Option Activity Essential. Learn how you can follow the "smart money" with a fresh UOA trade idea each week – including technical levels so that you know where to enter and exit!
How much money would you have if you invested $1,000 into Exxon LEAPS in November of 2020? 
On 11/06, with the $50-strike Exxon LEAPS trading at $2.15, you could have purchased four option contracts for a grand total of $8.60 ($860) — leaving you with $140 cash to spare. At present day, those same calls are worth $43.20 ($4,320), and have previously traded as high as $54.00 ($5,400). That means altogether your $1,000 investment in four Exxon LEAPS would currently be worth $17,420 — far outpacing the already impressive 184% gain in XOM shares during the same period.
Why Have Energy Prices (and Energy Stocks) Risen so Dramatically Since Joe Biden's Election?
As we depicted above, the price of gas and crude oil (and for that matter, most other commodity prices) were already rising prior to the conflict in Ukraine — and it really began on November 6th, 2020. 
And we're not the first to point this out. At a recent FOMC meeting, when Fed Chair Jerome Powell was asked by Tennessee senator Bill Haggerty,
"Given how inflation has escalated over the past 18 months, would you say that the war in Ukraine is the primary driver of inflation in America?" 
Powell responded,
"No, inflation was high before — certainly before the war in Ukraine broke out."
Why did Joe Biden winning the 2020 election seem to mark the bottom for all things "energy"? 
It's the result of a forward-looking market front-running a specific set of anti-oil policies from a politician quoted as saying "We are going to get rid of fossil fuels." 
Ready to start trading? Try AJ's Options Pro. Led by Chartered Market Technician AJ Monte, AJ's Options Pro combines diagonal spreads with technical analysis to set up powerful two-pronged swing trades.
A Timeline of Biden's Anti-Energy Policies
January 20-27th, 2021 (Biden's First Week of Inauguration):

Keystone XL Pipeline canceled

New oil and gas leases halted

February 19th, 2021: United States rejoins Paris Climate Agreement

May 7th, 2021: Biden declares 30% of land off limits to oil & gas companies

May 28th, 2021: Biden proposes budget that would increase taxes on oil and gas companies

June 1st, 2021: Biden halts drilling in ANWR, Alaska

June 30th, 2021: Congress reverses Trump's natural gas regulations

August 11th, 2021: Biden calls on OPEC to increase production in order to combat the rising cost of oil (despite America being one of the top three producers of oil in the world, behind Russia and Saudi Arabia)

October 7th, 2021: Biden reverses Trump-era NEPA regulations

October 29th, 2021: Biden directs federal agencies to apply a $51 per ton "Social Cost of Carbon"

November 15th, 2021: Moratorium on oil drilling in Chaco Canyon, New Mexico

November 17th, 2021: Biden urges FTC Chair Lina Khan to investigate oil and gas companies retail prices

March 21st 2022: SEC proposes "anti-oil" rule, requires companies to disclose greenhouse gas emissions.

May 12th, 2022: Biden cancels all remaining energy lease sales
_
We're just going to be blunt (before some of you get up in arms and rush to Twitter): We have no political lean towards either side.
For what it's worth, these policies were likely crafted with good intentions. Biden's goal wasn't to cause the greatest inflationary episode in over 40 years. It was an attempt to pivot toward renewable energy, to decrease US reliance on fossil fuel, and to fight global warming. 
However, unfortunately for President Biden, the road to hell is often paved with good intentions.  
The Bottom Line: Sometimes the Stock Market Just Makes Sense
When Russia invaded Ukraine (and got sanctioned by most of the planet) the VanEck Russia ETF (RSX) fell from $25 to $5.65 in just over two weeks — and the CORN & WEAT ETFs soared. That makes sense. 
When Elon Musk revealed a massive stake in Twitter (TWTR) after dropping multiple hints that he might buy the platform, Twitter shares rocketed higher overnight by more than 26%. That makes (some) sense. 
And of course, when Elon then said he was postponing the Twitter deal on May 13th, shares of Twitter dropped 11% overnight on fears that the deal would be dead in the water. That makes (some) sense, too. 
So when a sitting president says he wants to eliminate fossil fuels, and puts into action a several-month-long campaign aimed at decreasing the supply of oil and gas… while demand remains constant… 
It makes sense that the price of oil and gas, as well as shares of the companies that produce them, are soaring higher. 
What ties these three seemingly unrelated events together? The fact that the smart money was ahead of them all.